A TUCSON PASTORELA to Return for 21st Year at Borderlands Theater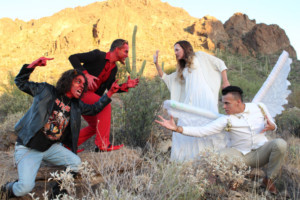 Borderlands Theater presents a holiday favorite, the 21st Annual, A Tucson Pastorela, written by Milta Ortiz and the ghostwriters. Local theater professional Marc David Pinate directs. A Tucson Pastorela runs December 14-17.
This holiday tradition remains generously infused with farcical satire lampooning 2017's biggest political and pop cultural events. The shepherds and their flock embark on a harrowing journey to find el baby Jesus, but first they must make it past Lucifer and his minions' traps fueled by disguises. Alas, Archangel Michael and his sidekick Gabriel are in tow with a few disguises of their own to outsmart those nasty devils and help bring Christmas cheer!
A Tucson Pastorela is synonymous with Borderlands Theater and holiday fun. The play is a Tucson staple that draws fans year after year, some even memorizing iconic phrases and repeating them with the actors on stage. During the holiday season, Borderlands Theater takes time to reminisce and poke fun at the year's major events. True to the Pastorela format, the devils disguise themselves in some of the year's most memorable characters to trick the shepherds and stop them from welcoming el baby Jesus. It's a good thing that the angels are near with a few disguises of their own to guide the shepherds to their destination. Political figures, huge and small, athletes, pop stars, iconic movie and hit TV series characters are all game when it comes to A Tucson Pastorela. This year has been full of political and social snafus that you can almost guess as to who will show up.
Started in the middle ages, the tradition of the Pastorela was brought to the southwest by Spanish missionaries. In that vein, A Tucson Pastorela is influenced by the Mexican Catholic tradition and folklore. Traces of its medieval roots are still present in the rhyming couplets and allegorical characters. The Borderlands version presents a more farcical ride, broad physicality, bawdy humor and a heavy dose of political satire that pulls from commedia del arte and Chicano Theater aesthetics. A Tucson Pastorela showcases traditional Pastorela/Christmas songs as well as parodies of current pop music.
The intergenerational cast brings laughter, holiday cheer, and family fun to its audience. Some kid humor, some adult fun, some physical comedy and at times a wink to the audience. While some of the political satire might be more for the grown ups, the spectacle is sure to impress one and all. Preshow entertainment every night rotating Mariachi, Folklorico and Danza Azteca! And of course piñatas after every performance!
Milta Ortiz is a playwright from the Bay Area, who now calls Tucson home. She recently finished her play Sanctuary and a few poems at Djerassi Resident Artist program. She wrote and directed Solving for X for the Working Classroom in Albuquerque. Her play, Más was produced at at Su Teatro in Denver March 2017, co-produced in the Bay Area by Laney College March, 2016 and Ubuntu Theater Project May 2016. Más premiered at Borderlands Theater in September 2015 and was nominated for an American Theatre Critics/Steinberg New Play Award and Citations, and a Tucson Mac award for best drama and touring Arizona Universities. Más was developed at Borderlands Theater through an NNPN residency, selected to the Latino Theater Commons Carnaval play festival and made the Kilroy List. Other produced plays include 20th Annual A Tucson Pastorela, Sonoran Shadows (a shadow play,) 19th Annual A Tucson Pastorela, Disengaged, 18th Annual A Tucson Pastorela, Fleeing Blue and Scatter My Red Underwear. Milta worked extensively as a teaching artist and received individual artist grants to write, develop and produce her solo work in the Bay Area. She teaches theater at Pima Community College. Milta earned an M.F.A. from Northwestern University's Writing for the Screen and Stage program and a Creative Writing B.A. from San Francisco State University. She is a proud mom to bubbly preschooler.
Director Marc David Pinate is a theatre artist, musician and educator. His acting career includes work with Teatro Visión, Shadowlight Productions, Su Teatro, Campo Santo and the Magic Theatre where he played the role of Tiresias in the world premiere of Luis Alfaro's award winning play, Oedipus El Rey. As a director he has worked with El Teatro Campesino and Stanford University in California; Steppenwolf and American Theatre Company in Chicago; and Arizona Theatre Company to name a few. His directorial aesthetic merges performance and the sacred to create liminal spaces where experiments with form and physicality engender affective moments of beauty and healing. Marc was the recipient of a three-year directing residency funded by the Doris Duke Foundation at La Peña Cultural Center in Berkeley, California. During his residency he founded the Hybrid Performance Experiment (The HyPE) known for their guerrilla theatre performances on Bay Area Rapid Transit trains and mall food courts. Marc was a member of the spoken word troupe, Chicano Messengers of Spoken Word for which received a National Performance Network commission in 2004 to co-author Fear of a Brown Planet. He is a National Slam Poetry Champion and fronted the band, Grito Serpentino, a spoken word and music ensemble that toured throughout the country and produced two albums. Marc was a program director at Movimiento de Arte y Cultura Latino Americana, a Latino arts center in San Jose, California and at the historic, Galería de la Raza, in San Francisco. He's taught acting at San Jose State University's department of Television, Radio, Film and Theatre. In June 2013, he completed an MFA in Directing from The Theatre School at DePaul University in Chicago where he directed Terell Alvin McCraney's In The Red and Brown Water as his thesis project.
---
IF YOU GO:
A TUCSON PASTORELA
At Leo Rich Theater, 260 S Church Ave, Tucson, AZ 85701.
12/14/17 - 7:30 pm ($10/$16/$22/$27 Family four pack $30!)
12/15/17 - 7:30 pm ($10/$16/$22/$27)
12/16/17 - 2 pm Matinee ($10/$16/$22/$27)
12/16/17 - 7:30 pm ($10/$16/$22/$27)
12/17/17 - 7:30 pm ($10/$16/$22/$27)
Tickets: $10-$27
To purchase advance tickets, call the Tucson Convention Center at (520) 791-4101, or visit in person at 260 S Church Ave, Tucson, AZ 85701.
Order tickets online at www.borderlandstheater.org.
For more information, contact Borderlands Theater at (520) 882-7406.
Photo by Marc David Pinate.
Related Articles View More Phoenix

Stories

Shows
More Hot Stories For You