Click Here for More Articles on ATLANTIS THEATRICAL
Review Roundup: What Do the Critics Think of the International Premiere of WAITRESS in the Philippines?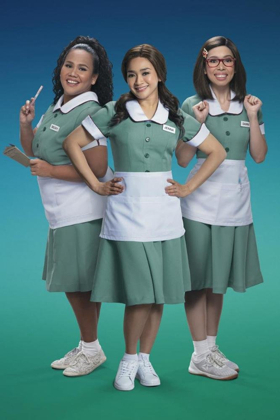 Atlantis Theatrical Entertainment Group presents the international premiere of the Tony-nominated musical WAITRESS. The show, which continues to run on Broadway and will open in London's West End next year, features music and lyrics from six-time Grammy nominee Sara Bareilles, and opened on November 9, 2018, at the Carols P. Romulo Auditorium, RCBC Plaza in Manila.
WAITRESS tells the story of a pie maker named Jenna who, despite the mundanity of her life, finds comfort and reckoning in the simple magic of baking. With the help of her two friends Dawn and Becky, she dreams of a way out of her loveless marriage and musters the courage to change her life for the better.
Let's see what the critics are saying...
---
Rachel Malaguit, Coconuts: According to a statement released by Atlantis Theatrical, the group behind this staging, Gallo was inspired by the designs of actual diners in the American South, as well as the set of the show Pushing Daisies.
Thanks to his vision, the audience sees a cheerful-looking diner that efficiently transforms into a kitchen, a ladies' room, a hospital, and even a bus stop. The transitions from one place to another were flawless.
The entire production was fantastic and it was so enjoyable that I didn't notice that two hours had already passed by.
Philip Cu-Unjieng, Metro.Style: But beyond the storyline, Waitress truly takes off with the music of Bareilles. It soars, it fills the heart, and Joanna Ampil is so up to the task, one would be hard-pressed to find a dry face when she sings the plaintive "She Used To Be Mine" in the second act. This is part of the magic conjured up by the musical, how the lightness and quirky humor of the first act, develops into real issues and sticky situations that we all have to face up to in order to keep our lives from being too messy.
Lea Salonga, Inquirer.net: I do have two personal standouts though, in Bituin Escalante (that woman just acts and sings from the most primal, earth-shattering place) and Nino Alejandro (in probably his most demanding and surprising role to date), with an honorable mention to Emeline Guinid in a scene-stealing turn as Dr. Pomatter's nurse.
Vladimir Bunoan, ABS-CBN: Ampil, fresh from her award-winning movie turn in "Ang Larawan," confidently takes on Bareilles' tricky musical runs like those in "What Baking Can Do," and stuns in the dramatic 11 o'clock number - and the musical's most known song - "She Used to Mine."
Related Articles