MATILDA THE MUSICAL Forced to Cancel Performances Due to COVID-19
Matilda The Musical at The Theatre at Solaire officially opened 6 March 2020.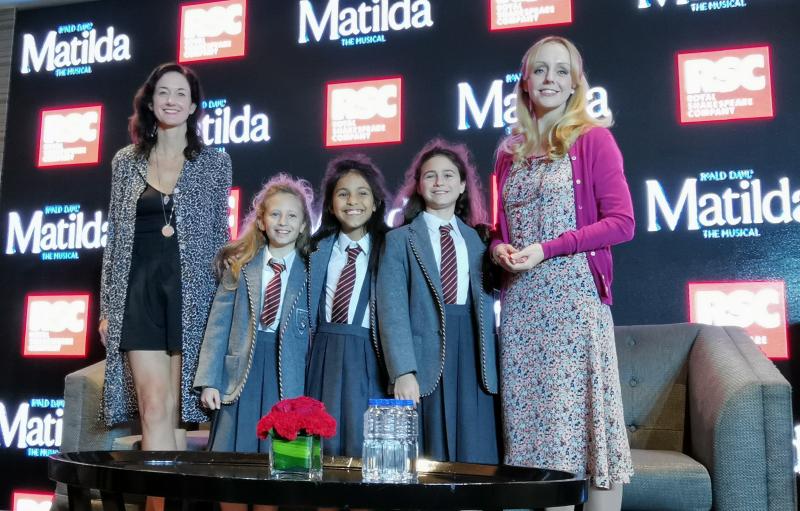 (L-R) Matilda The Musical's Natalie Gilhome, resident director, the three Matildas: Zoe Modlinne, Sofia Poston, and Zara Yazbek Polito, and Haley Flaherty, who plays Miss Honey, meet the media on its opening day in Manila.
Manila, Philippines - Given the recent developments on COVID-19 and the government's mandated community quarantine, GMG Productions, along with GWP Entertainment and Virtus Live, has announced that the remaining performances of Roald Dahl's Matilda The Musical have been canceled.
Tickets booked from today, 13 March 2020, until the show's previously announced closing date, 22 March 2020, will be refunded.
To process the refund, call TicketWorld at 6328 891 9999 or email tickets@ticketworld.com.ph.
The announcement came just hours after President Rodrigo Duterte delivered his public address on measures to combat COVID-19, an infectious disease caused by a new virus that's spreading quickly in many countries.
These measures include maintaining social distance and imposing community quarantine in Metro Manila in the next 30 days. All classes are also suspended until 12 April 2020, and large public gatherings are prohibited, among others.
The Department of Health (DOH) has confirmed at least 52 people have contracted the disease.
Matilda The Musical at The Theatre at Solaire officially opened 6 March 2020.
Winner of over 50 international awards, including four Tony Awards and seven Olivier Awards, Matilda The Musical tells the story of an extraordinary five-year-old schoolgirl who dreams of a better life away from her dysfunctional family. Gifted with above-average intelligence and a one-time telekinetic power, Matilda takes a stand - never hunkering down - and forges her destiny.
Matilda The Musical, the multi-award winning musical from the Royal Shakespeare Company, features the book by Dennis Kelly and music and lyrics by Tim Minchin. Some of its popular songs include "When I Grow Up," "Revolting Children," and "Naughty."
Photo: Oliver Oliveros