Click Here for More Articles on THE PHANTOM OF THE OPERA
BWW Interview: Roxmouth, Picerno, Leisy Talk THE PHANTOM OF THE OPERA World Tour
Manila, Philippines--Broadway's longest-running musical, "The Phantom of the Opera," returns to Manila again this 2019 at the Theatre at Solaire. This Andrew Lloyd Webber musical is a classic, and since 2012, its return to the Philippines has been much-awaited. This new world tour of "The Phantom of the Opera" has 130 cast, crew, and orchestra players working on it, bringing international audiences a show of unparalleled quality and caliber.
Last February 26, 2019, the cast performed excerpts from some of the most memorable songs from the musical including "The Phantom of the Opera" (The Phantom and Christine), "Notes/Prima Donna" (André, Firmin, Raoul, Carlotta, Madame Giry, and Meg), "All I Ask Of You" (Raoul and Christine), and "Masquerade" (entire company). The orchestra also played the Entr'acte while the stage was being prepared.
After the performances, several members of the cast were interviewed outside the theatre, including Jonathan Roxmouth (The Phantom), Meghan Picerno (Christine Daae), and Matt Leisy (Raoul).
Jonathan Roxmouth (The Phantom)
What is your personal take on Erik [Yes, the Phantom has a name]? Do you think the Phantom is more than just a disfigured character causing chaos and killing people or is there more depth to him?
I think if Phantom were just a disfigured person causing chaos and killing people, we would not have a show. I do not think that is interesting. I think all of his behavior is a reaction to how he has been treated or how he has not been treated, and I think there is so much there to mine. This is a man who feels things on a level that most of us have never felt. He can see things, he can feel things, and vast, he is grappling with all of those, feelings and things, it is coming from a place of innocence, a child-like innocence, stunted in many ways. And he is trying his best to communicate with somebody. He can't. It is not in him until he falls in love. And then he can do it through his music, but he still can't get to her [Christine] until that beautiful final scene.
In many ways for me, the Phantom is so deep and complex that everything he does on the surface level has one impression, then you look at it again and you see another reason, then you look at it again and you see, "Oh my goodness, that is why he did that!" So, he is very layered. If he was not very layered, I would not be as drawn to playing him. And it has to have layers, otherwise, the audiences are not going to fall in love with him. As people will tell you, complicated people are more interesting than simple people, and I think that is true.
How was it playing Che and then Billy Flynn and then the Phantom in a relatively short span of time?
Going from Che to Billy Flynn to the Phantom last left me very confused, because I do not know where there is a shot of the lady in the balcony or to dance with a bunch of girls with feathers or throw a chandelier at the soprano who sings during press courts. It is a whirlwind. There is a lot to be said about the fact that it is kind of been a Lloyd Webber sandwich. I did "Evita," then I did "Chicago," and then now I am doing Phantom. I think it is sandwiched between the two. It is the best kind because they are all such different roles that they all have such great scores, but Phantom, you know, is always going to have that edge over any other musical because we have this full orchestra. We have this music that was written by a man who was in love with his soprano originally, you know, Lloyd Webber wrote it for Sarah Brightman and that comes out. You hear a little bit of it, you go, "Oh! What is happening?" and it is somebody professing their love for somebody through the creation that they have, so it is very nice to come back to it. I feel I have been very fortunate to play the roles that I have and to travel the way that I have and see different parts of the world that I never thought I would see. "Evita" in Singapore, "Chicago" in China, and Phantom in the Philippines. It is an embarrassment of riches in many ways, I have to say. So, how do I feel? Grateful. I think it is the only appropriate word. I am excited to see where this goes.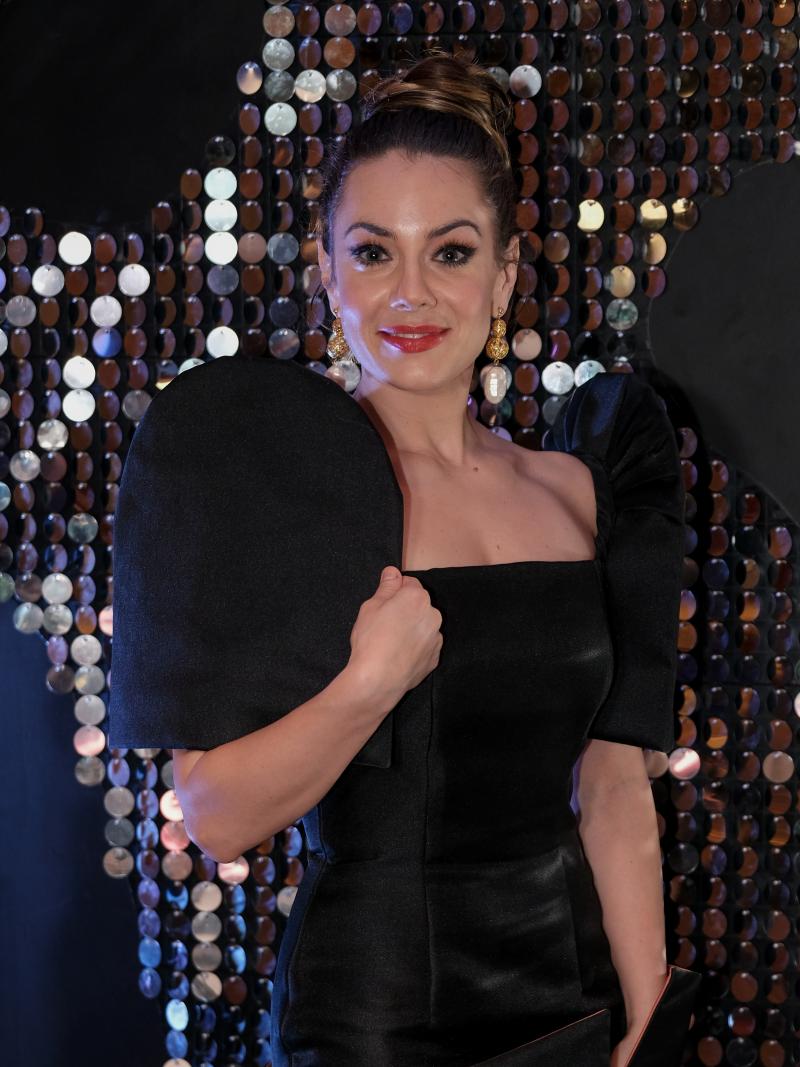 Meghan Picerno (Christine)
Are the vocal demands different in playing Christine from "Love Never Dies" to Christine in Phantom?
Yes. So, the vocal demands are different from "Love Never Dies" and "The Phantom of the Opera." They are both extremely challenging, truly. I am from the opera world. I can tell you, without my opera training, I am not really quite sure how I will be able to do either role every single day. It is absolutely stunning music.
The challenge is, so Christine in "The Phantom of the Opera" is a teenager, you know? She is a protégé. But she is at the beginning of her career, and in "Love Never Dies," she is a full-on diva. She has been living in the opera world for 10 years, and the difference of color and style, there has to be a little bit of nuance happening, because, of course, even myself, I know what it is like to sing when I was 18 or now at 28.
There is a difference, and there is growth. The style itself, the music is a little bit different. I mean, both are absolutely glorious scores. The orchestration, the sweeping melodies are beautiful, and both need to be taken as separate entities and stylized in a way that are appropriate for that. It is different, yeah, but I like the challenge actually. And again, it is hard but I love it. I love it.
What do you think sets your Christine apart from the other portrayals of Christine?
Ooh, that is a tough question! Well, first, I have to say that to be able to play Christine in this long line of amazing female performers is really quite an honor, and a privilege, and a responsibility. She is an iconic role that everyone around the world knows, and to have the great honor to be Christine Daaé in this first world tour is nothing that I take lightly. Sarah Brightman--what a glorious performer to be the original one.
I think for me, everyone does something a little bit different. I mean, me, Meghan Picerno, is a little different than other people who played Christine. For me, personally, I think that as a woman of 2019 and I consider myself a very strong woman, I, as much as I can, infuse strength to her. It must be done though very carefully because, of course, we are in 2019 here. She was not. She did not have the same kind of opportunities or privileges. She did not have the #MeToo movement. But, that being said, I do, as much as possible, try to infuse strength, because I do find her very strong. I think that there are challenges that she deals with and she is a teenager! And I remember when I was a teenager. When you're dealing with these challenges, your first time dealing with them is not always your most graceful, but then you learn from it.
I think something that is very special about her is, through the course of the show even, which is such a short time, you see her learn and you see her gain her strength. I mean, by the end of the show, she makes the choice, and I find that very exciting. And, of course, my opera training, the way that I approach the music is definitely from a classical background, and I think that will add a flavor and a color that is slightly different.
Do you have any other dream roles?
In the musical theater world, I would love to be in "My Fair Lady." Eliza is, yes, love! Something new. Something that has not been written yet, I would love to do. I think revivals in general, you know, like, Rodgers and Hammerstein. I think, Laurey in "Oklahoma!" But dream role's Eliza in "My Fair Lady." It is big, for sure, for sure. Something new, I think something new! Why not? Someone write me something.
How is it working with the local crew?
Oh, I love them! Everyone is so nice! Hello, Ellen! This is for you! She is my dresser. I love that, mixing the cultures and coming together for all one purpose, so it is really wonderful. And everyone is so nice here. You guys are nice, everyone is nice! It is fantastic!
How is it working with Jonathan?
Oh my god, I love Jonathan! He is great. I respect him so much as an artist and I feel a very kindred spirit to him. Our energies are very equally matched. We are very fiery, passionate people, and I think you can feel that onstage. I trust him implicitly, which is also absolutely necessary. When you are going down emotional vulnerability, to have someone that you know is there for you is absolutely needed, and he is, so I trust him and it is exciting. Because there are that passion and fire and the talent all in one, it is so exciting because you know you have the voice. He is very handsome, of course, so it is not bad to look at when he is onstage. Most importantly, there is a camaraderie there and respect from each other on and offstage that you do not always get and it is really special. It is such a privilege to be able to do this with him every single day as we discover our characters and our relationships onstage together so I could not have asked for a better partner. Watch out, Manila! He is incredible. Mind-blowing.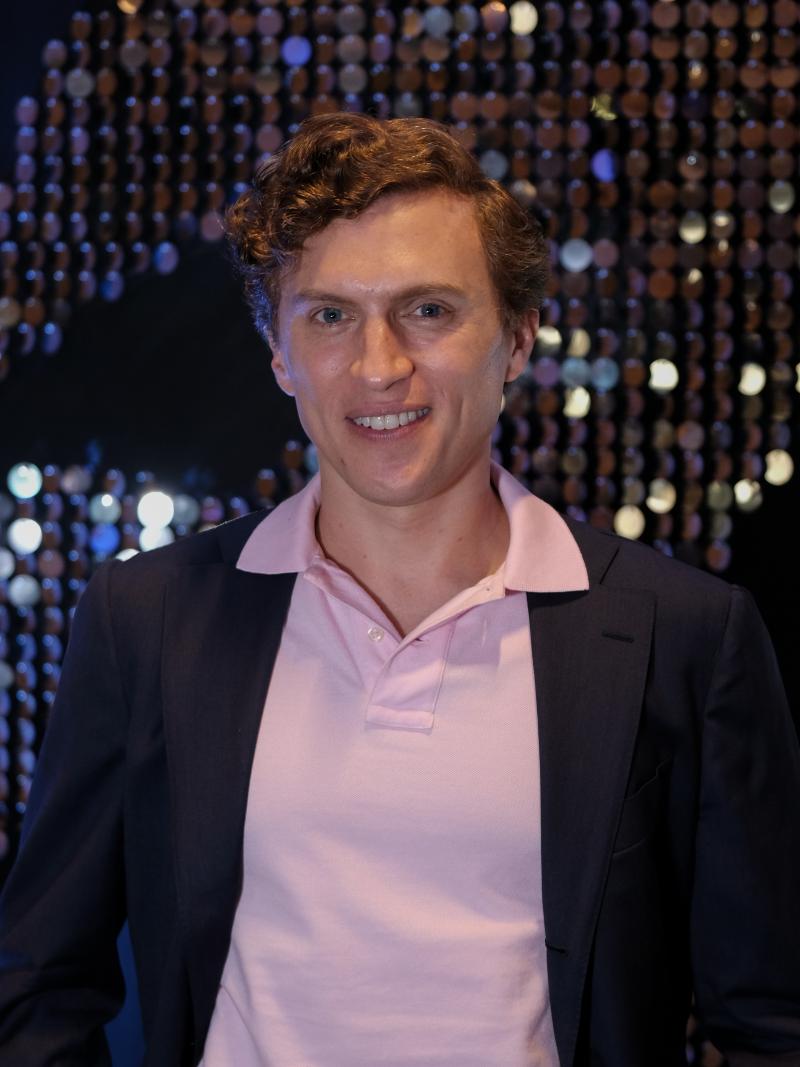 Matt Leisy (Raoul)
What is the most difficult part of playing Raoul?
I think the most difficult part about playing Raoul is that he has a really hard time winning Christine over. He must do a lot of things to get her to pick me, like risking my life. She is a little high-maintenance.
How is it working with Meghan?
She is lovely. I love working with her onstage. She is amazing, she is beautiful. Yeah, it is pretty easy.
What is the difference of the magic of Phantom when you watch it as an audience and when you work on the production itself?
There is so much magic in it, like actually kind of like magic tricks, and so, I am very curious so I was very much about wanting to make sure I was around during the tech rehearsals like "How does the Phantom disappear?" and like "How do all these things work?" On one hand, it is kind of like, "Oh you saw the guy behind the curtain!" but it does not spoil it for me. It is fun to know how things happen. It is still magic, like, sometimes before we go on stage, I will be like, "Hey, we are on Phantom!" Sometimes it is just so easy to forget. We are in this iconic show and I have seen it a bunch and have a lot of friends be in it and I am like, "I am doing that iconic scene right now! That famous song, I can't believe it!" It is cool and very surreal at the same time.
What is your favorite part of the show, as an audience and as Raoul?
I tend to like the drama. As an audience member, I love the moment that the Phantom has at the end. I hope I am not spoiling anything, but he sees the monkey, and he is like, "Masquerade." It breaks my heart because you see that little boy kept in the dark because his parents were like, "Oh you are too ugly, people can't see you!" and then you see that poor broken soul. But it is also sweet, too, because he has a little taste of love, and to share that with him... and, yeah. I do not want to give anything away. That is as an audience member. And then for me, I love being up on that rooftop and doing "All I Ask of You." It is so romantic, even just like, looking at the set. I love climbing to any roof and I then can't imagine what it is like on top of the Paris Opera House. Maybe one day they will let me go up there.
What do you think sets megamusicals like Phantom, Les Mis, and Miss Saigon apart from the latest musicals of this time like Frozen and Hamilton?
There is a reason that these big blockbuster shows have stuck around. They strike a chord with people. I definitely love them for what they are. I never got to do "Les Mis," maybe one day. Yeah, that is another one, it is like you just do not get sick of it. It is so weird. And then you want to go back and you are like, "Oh, there is a new cast!" It is like, "Oh, I want to see this person do that." It is kind of crazy, somehow the story and clearly the music, too... I also like where musical theater is going, too, like, I really enjoyed "The Band's Visit," hope you get a chance to see that.
Right before this, I did a production of "Sweeney Todd" set in an actual pie shop. It only seated 130 people, I think. You ate pies before the show and then we literally would be up on tables and that close to people, singing at them and talking to them. It was cool production, it came from London.
It is so great, the theater is so different from production to production. So, to get to do that is epic. This is, I think, the biggest musical I have ever done, like, on the scale, it is just such a huge set and so many actors on it. And then next show you do could be completely, could be very barebones and minimal costumes and set like in a little tiny theatre. It is so cool, theater is pretty awesome.
What can we expect from you after the Phantom? Do you have any plans or anything coming up?
Oooh! I am enjoying, I mean, we have not even opened yet. So, I definitely going to live in the world of Phantom for a while, but yeah, who knows? "Hamilton" would be fun. There is only one part I could be in--King George. That is definitely on my bucket list so, hey, put me on that! I would probably sing in the Phantom for a while. Maybe there are some new projects coming in, in the works, that I could maybe get attached to.
In Manila, "The Phantom of the Opera," presented by Lunchbox Theatrical Productions, Concertus Manila, PLDT and Smart, plays at the Theatre at Solaire in Paranaque City. Check out tickets (P1,900-P7,250) at TicketWorld.com.ph.
"The Phantom of the Opera" world tour includes extended performances in Manila (Feb. 20-Mar. 31), Singapore (April 24-May 26), Kuala Lumpur (Jun 15-30), Tel Aviv (Aug. 12-31), and Dubai (Oct. 16-30). More engagements will be announced.--with additional reporting by Oliver Oliveros, Chester Conde
Photos: Mark Francis Parallag
Related Articles