13th OF SEPTEMBER Tours Anew, this Time in Germany
This Filipino adaptation of 'The Insanity of Mary Girard' debuts at Theaterwelten 2022 on Oct. 15.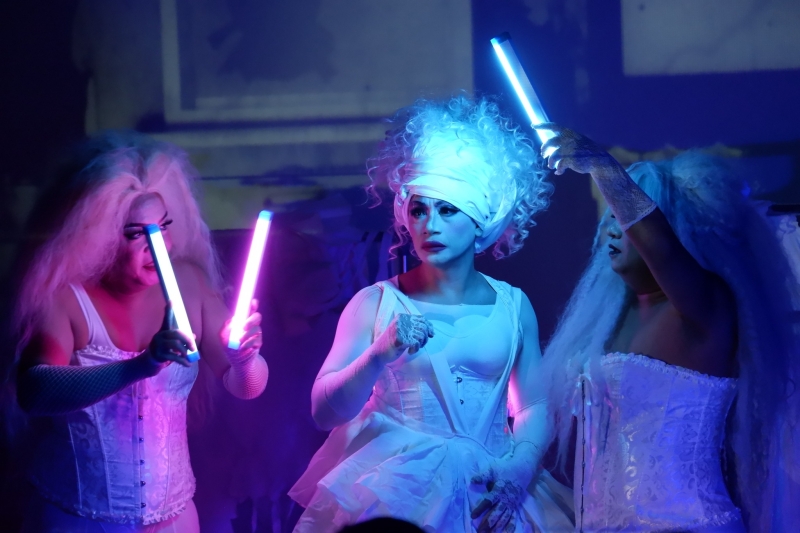 Film-theater actor Lao Rodriguez takes on the role of Mary Girard in this Filipino adaptation of Lanie Robertson's "The Insanity of Mary Girard." He is supported by his fellow actors Marco Calilao and Norman Florida. (Axl Guinto/Teatro Pinas)
Manila, Philippines--Be Our Guest Theatricals Philippines, led by artist-teacher Riki Benedicto, is at it again: bringing "13th of September," a Filipino adaptation of Lanie Robertson's "The Insanity of Mary Girard," to international audiences. Following its pre-pandemic performances at the 9th Festival International de Theatre De Mont-Laurier, in Quebec, Canada, "13th of September" is set to debut at the touring edition of Theaterwelten in Esslingen, Germany, on Oct. 15, 2022.
Theaterwelten is an international theater festival hosted once every two years. Relegated by the COVID-19 pandemic in the past two years, conducting the festival via a virtual space, the festival is back before live audiences, with performances from Zimbabwe, Lebanon, Chile, the Philippines, Ukraine, Mexico, Germany, and Israel.
Filipino playwright Eljay Castro Deldoc, and his dramaturg, Drew Espenocilla, reimagine Ms. Robertson's short play, an unsettling, highly-theatrical piece based on the true story of a woman from Philadephia, named Mary Girard, who spent the last 25 years of her life in an asylum.
In Mr. Deldoc's able hands, he depicts present-time Mary Girards [Filipinos] as victims of a harsh society whose leaders are oblivious to the awful truth--that the Philippines is living within a culture that emphasizes time-tested resilience and eccentric humor amid deep suffering, making it difficult to talk about mental health, especially among the older, more conservative Filipinos.
In "13th of September," Mary Girard's story is told by esteemed actors Marco Calilao, Norman Penaflorida, and Lao Rodriguez, who now takes on the role of Mary Girard. They are backed by production designer JayLo Conanan, production and stage manager Katreen Dela Cruz, lighting designer Roldan Lozano, and projection designer Ces Valera.
Besides directing the "13th of September, Mr. Benedicto will also conduct a workshop about the fundamentals, aesthetic aspects, and dramatic power of stage combat.
Thanks to the Philippine and German governments, the Philippines' National Commission for Culture and Arts, and the Bund Deutscher Amateurtheater for their aid in the production.
Oliver is a seasoned public relations and digital marketing professional who works with CEOs and young professionals to hone their creativity, stakeholders' engagement strategies, and writing a... (read more about this author)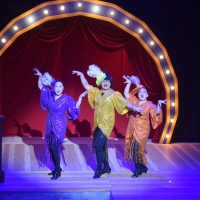 Check Out Performance Photos from PETA's New Musical, WALANG ARAY

November 29, 2022

Before media guests and prospective show investors, Philippine Educational Theater Association has just presented some generous excerpts from the company's newest original musical comedy, 'Walang Aray,' a humorous, entertaining tribute to a classic favorite, Severino Reyes' 19th-century zarzuela 'Walang Sugat.'
---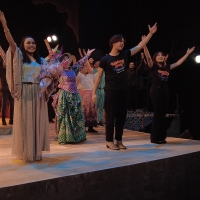 Video: PETA Welcomes KD Estrada and Alexa Ilacad

November 28, 2022

Philippine Educational Theater Association, which produced hit musicals 'Rak of Aegis' and 'Care Divas,' has officially welcomed young stars-singers KD Estrada and Alexa Ilacad to its family. Estrada and Ilacad, both Star Magic contract artists, are set to lead PETA's return to producing original Filipino musicals via 'Walang Aray,' a humorous and entertaining take on Severino Reyes' 1898 zarzuela 'Walang Sugat.'
---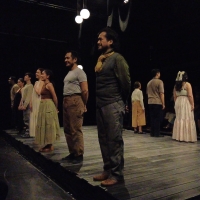 Video: CAROUSEL Cast, Musical Director Take Opening Night Bows

November 27, 2022

Repertory Philippines, one of the country's pioneering theater companies, officially opened its 85th season with a reimagined production of Rodgers and Hammerstein's classic 'Carousel' on November 26.
---
VIDEO: After a Three-Year Wait, Gian Magdangal to Play Billy--Finally

November 23, 2022

Over three years ago (blame the COVID-19 pandemic), actor-singer Gian Magdangal was announced to play the conflicted leading man, Billy Bigelow, in a reimagined take on a classic, 'Carousel.'
---
Carlo Vergara's INDAYUGANG BANAL Streams Online, Now Thru Nov. 27

November 21, 2022

Maiba 18 Productions, Teatro 77, and Benilde Theater Arts present illustrator-playwright Carlo Vergara's newest play with songs, 'Indayugang Banal: Isang Superpowered Komedya.'
---