Review Roundup: PETER PAN at Arden Theatre Company Receives High-Flying Critiques!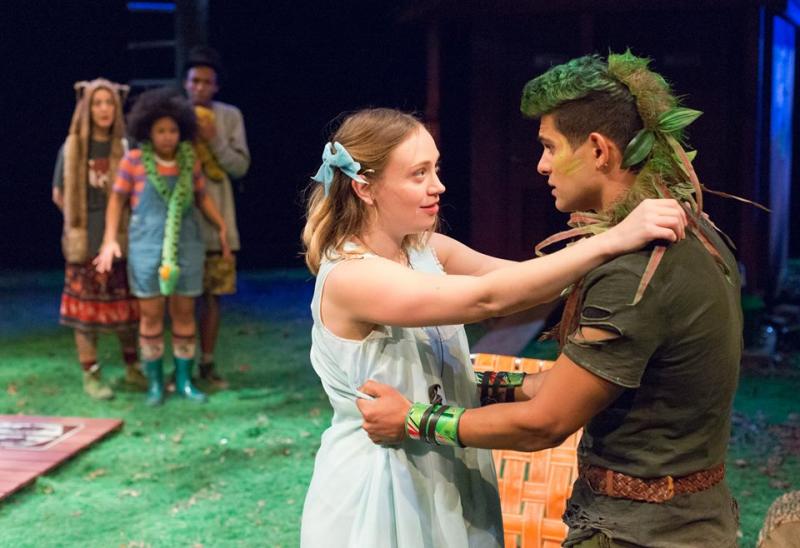 Arden Theatre Company celebrates the 20th Anniversary Season of Arden Children's Theatre with Peter Pan, adapted to the stage by Douglas Irvine from the books by J.M. Barrie. Whit MacLaughlin directs on the Arden's F. Otto Haas Stage at 40 N. 2nd Street in Philadelphia. The Honorary Producer is the Hamilton Family Foundation.
Helping director Whit MacLaughlin is assistant director Camilla Dely. The producing artistic director is Terrence J. Nolen. Scenic design is by David Gordon. Costume design is by Olivera Gajic. Lighting design is by Thom Weaver. Sound design is by Chris Colucci. Stage manager is Kate Nelson.
The role of Captain Hook is being played by Barrymore Award-winning actress Catherine Slusar. Cast also includes Jo Vito Ramirez as Peter, and Emilie Krause as Wendy. Eliana Fabiyi, Brandon Pierce and Leah Walton.
PETER PAN is currently showing at Arden, and by popular demand, dates have also extended recently to January 28, 2018!
PETER PAN includes weekday matinee performances for students and weekend performances for families. Single ticket prices start at $34 for adults and $18 for children, with discounts available for groups of 20 or more, seniors, students, military, and educators. Arden Children's Theatre 2-play subscriptions are available for $26 - $50. Call the Arden Box Office at 215.922.1122, visit www.ardentheatre.org or walk-up at the box office at 40 N. 2nd Street in Old City, Philadelphia.
Post-show question and answer sessions follow each performance. Audience members can also meet and greet cast members in the lobby following each performance.
Let's see what the critics had to say!
Mark Cofta, broadstreetreview.com: "MacLaughlin's clever staging and the superb cast's committed performances make this Peter Pan enjoyable. Jo Vito Ramirez is a pugnacious Peter, Emilie Krause his adoring Wendy. Eliana Fabiyi, Brandon J. Pierce, and Leah Walton play multiple roles, often changing in an instant from Lost Boys to pirates to mermaids (inventive costumes by Olivera Gajic). Catharine K. Slusar's introspective Captain Hook is especially refreshing. When men play the role, it's almost drag - think Johnny Depp in Pirates of the Caribbean. Slusar eschews Hook's usual flowing black locks in favor of her own boldly bald pate."
Celeste Mann, DC Metro Arts: "In sum, this is an enjoyable production because it relies on innovative use of props, set, lights and sound, and engages the senses and imagination. There are unexpected turns in this familiar plot that kept me on the edge of my seat. Although there are dark moments and violence in the original Peter Pan stories, they are downplayed and reenacted with slapstick in this production, making it appropriate for all ages."
John Timpane, The Inquirer: "This Peter Pan is manageable for the littlest littles, diverting for the middle littles. There's plenty the family can talk about later, plenty of silliness, some darkness, and only very stylized violence. Parents may find a tear on the lashes at this depiction of the bargain parents always lose with time. When daughter Jane asks Wendy if she can go off with Peter (already forgetting Wendy), what can a mother say but 'Yes, of course'?"
PHOTO: Arden Theatre Company