Cast Announced for LONESOME TRAVELER: THE CONCERT at State Theatre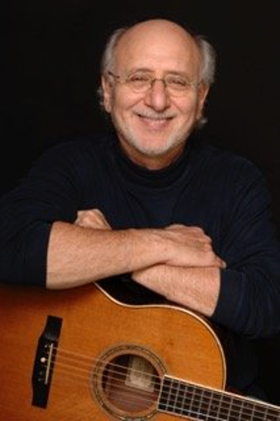 The story of folk music is truly the story of an ever-changing America.
Experience the enduring power and popularity of American folk music with Lonesome Traveler, the stirring concert version of the acclaimed Off-Broadway musical that the New York Times called "illuminating...revelatory...achingly beautiful."
Show time is Saturday, February 3 at 8:00 PM. Tickets are $42 & $35 and can be purchased by visiting the State Theatre Box Office, 453 Northampton Street, Easton, by calling 1-800-999-STATE, 610-252-3132 or online at www.statetheatre.org. Sponsored by WDIY 88.1 FM
Folk legend Peter Yarrow of Peter, Paul & Mary has enthusiastically endorsed the show and will be appearing in this production of the show as a special guest star.
The show celebrates the music of great folk artists including Woody Guthrie, Lead Belly, Pete Seeger and the Weavers, Gordon Lightfoot, Peter, Paul and Mary, Bob Dylan, The Byrds, Donovan, Cat Stevens, Don McClean, James Taylor, Van Morrison with a special tribute to Leonard Cohen.
Charismatic young singers and multi-instrumentalists return us to a time when music brought us together - when it changed us. Complete with period costumes and multimedia projections, this unforgettable concert event features romantic duets, patriotic songs, church hymns, union anthems and songs of protest, taking us from the 1920s to the 1960s and beyond- from the front porches of Appalachia to the nightclubs of San Francisco and New York - from the festival stages of Newport to the sound stages of Los Angeles. Songs like: "If I Had a Hammer," "Puff The Magic Dragon," "This Land is Your Land," "This Little Light of Mine," "Blowin' in the Wind", "Like a Rolling Stones", "Turn, Turn Turn", "American Pie", and "Hallelujah".
An inspiring evening of great music, Lonesome Traveler presents a revealing perspective of the roots forever embedded in our culture, bringing together audiences of all ages.
Peter Yarrow: Special Guest
Peter Yarrow is the legendary singer and songwriter who found fame with the 1960s folk music trio Peter, Paul and Mary. Yarrow's songwriting helped to create some of Peter, Paul and Mary's best-known songs, including "Puff, the Magic Dragon", "Day is Done," "Light One Candle", and "The Great Mandala". As a member of that folk music trio, he earned a 1996 Emmy nomination for the Great Performances special LifeLines Live, a highly acclaimed celebration of folk music, with their musical mentors, contemporaries, and a new generation of singer/songwriters. He also produced three CBS TV specials based on "Puff, the Magic Dragon", which earned an Emmy nomination for him. Peter is a social and political activist and heartily endorses Lonesome Traveler as a way to keep American folk music live for new generations to come.
Audrey Martells: Vocals
Audrey Martells is so honored to perform these legendary songs and excited to join this talented cast and crew of The Lonesome Traveler. Audrey was fortunate to make her theater debut as the understudy for The Lady in "The Scottsboro Boys" Directed by Susan Stroman. Audrey has studied music at Willliam Paterson College and Acting at HB Studios (NYC) and New Federal Theater. Television/Film credits include Chicago (Miramax Motion Picture), and Blue Bloods. Audrey has written songs recorded by George Benson and Randy Crawford. She is also an accomplished vocalist and has worked with Whitney Houston, Jewel, Britney Spears, Joan
Osborne and Steven Van Zandt among others.
Charlotte Morris: Actor, Singer/Songwriter
Charlotte Morris is an actor, singer/songwriter, and musician based in New York. As a recent graduate of Northwestern University, Charlotte is excited to be joninig the Lonesome Traveler family. Next up, Charlotte can be seen in Oregon Cabaret's Once. Look out for her debut EP, To New York, with love, coming this spring. Find Charlotte on social media @charmor17.
Represented by The Roster Agency. www.charlotteamorris.com.
Beau Moore: Guitar & Vocals
Beau Moore is an actor-musician and sound designer who hails from Austin, Texas. His time in NYC has been spent lending all of his skills on different projects as a "swiss army knife" performer and designer. His projects have led him to venues like The Public Theater, New York Theater Workshop, and the Paradise Factory, as well as across the United States on various tours. Proud graduate of the New York Conservatory for Dramatic Arts.
Evan Michael Smith: Vocals
Evan Michael Smith, graduated from Wagner College in New York City. with a BA in Musical Theatre. During his time at Wagner College, Evan stared in the musicalsHAIR as "HUD" and Song For A New World as "'Man 1". Evan's training includes a semester studying at The Gaiety School Of Acting in Dublin, Ireland, as well as the honor of training as an Ensign-Darling Vocal Fellow with the Bushnell Center For Performing Arts in Hartford, CT. Evan has traveled the world performing. From illustrious Broadway stages to the undulating stages aboard NCL and Aida Cruise Ship. Some of Evan's favorite roles include "Victor" from Smokey Joe's Cafe, "The Tin Man" from The Wiz, "Jinx" from Forever Plaid, "Chad" from High School Musical, and " Dr. Martin Luther King" from Keep On Walking.
Justin Flagg: Banjo & Guitar
Justin is thrilled to be back playing these great songs with the Lonesome Traveler team. He appeared in Rubicon Theatre Company's world premiere of Lonesome Traveler in 2011, and stayed with the show through its off-Broadway run in 2015. Justin studied acting at the Royal Conservatoire of Scotland and has appeared on stage and screen throughout the US and UK. Currently he works as Communications Director and environmental policy advisor for New York State Senator Liz Krueger, representing the Upper East Side of Manhattan. Justin has released three albums and appears regularly with his Americana band, The New Students (www.thenewstudents.com).
Samuel Gelfer: Bass & Vocals
Samuel Gelfer is a performer, educator, clinician, conductor and arranger from Brookhaven Hamlet on Long Island. He studied music education and double bass at SUNY Fredonia and received his masters in music from Stony Brook University. He currently teaches orchestra at multiple levels in the Farmingdale school district and maintains a busy schedule of performing on Long island and in New York City. He has appeared "off" Broadway as a musician/ cast member of the show "Lonesome traveler" and is a member of "The New Students," a modern Americana folk band based in Brooklyn. For more information on the new students visitthenewstudents.com.
Syrena Nikole: Guitar & Vocals
Syrena Nikole grew up with a rich, varied performance background singing all genres, and especially loved singing the heartfelt and iconic songs of folk rock. She is thrilled and grateful to be performing in "Lonesome Traveler". She studied at Fiorello H. LaGuardia High School for Performing Arts majoring in vocal performance, and the Manhattan School of Music for opera. Aside from being a musician, she is an actress, songwriter, aerialist, fire dancer, and belly-dancer. She is currently belly-dancing for the Metropolitan Opera's production of Thaïs. You can follow her artistic journey on her social media accounts and websites www.SyrenaNikole.com,www.SyrenaDance.com.
Matt Gelfer: Artistic Director, Fiddle, Guitar & Mandolin
MATT GELFER is a multi-instrumentalist performer, educator, composer and arranger. He grew up on Long Island's South Shore with one foot planted firmly in the classical tradition and the other in fiddling and bluegrass. He can be seen playing fiddle, mandolin, and guitar in the Brooklyn-based folk band The New Students along with his fellow Lonesome Travelers Justin and Sam. Together they have released three albums of original songs. He is a proud graduate of Berklee College of Music.
James O' Neil: Artistic Director & Writer
James O'Neil (Writer/Director) is Co-Founder and Artistic Director Emeritus of the nationally acclaimed Rubicon Theatre Company in Ventura, California. He recently received both Drama Desk and Outer Critics' Circle nominations as writer and director of Lonesome Traveler, A Journey Down the Rivers and Streams of American Folk.
For Rubicon, Jim has directed Driving Miss Daisy starring Michael Learned (NAACP Award for direction), A Streetcar Named Desire starring Linda Purl (Independent Award), The Glass Menagerie starring Susan Clark, The Night of the Iguana starring Stephanie Zimbalist and Efrem Zimbalist, Jr. (also at the Royal Manitoba Theatre Centre in Canada), Man of La Mancha starring George Ball, Jennifer Shelton and Jamie Torcellini, Fiddler on the Roof starring Jay Brazeau and Eileen Barnett and featuring violin virtuoso Nuvi Mehta as The Fiddler (Independent Award), All My Sons starring George Ball and Robin Pearson Rose (L.A. Ovation Award for Best Production of a Play), Gem of the Ocean starring Lillias White, A Delicate Balance starring Granville Van Dusen, Susan Clark, Robin Gammell, Bonnie Franklin and Amanda McBroom, The Diary of Anne Frank starring Lauren Patten, Bruce Weitz and Alison Brie (Independent Award), Jesus Christ Superstar starring Ted Neeley and Carl Anderson, Sylvia starring Kristie Lynes and Joe Spano, Love Letters starring Steve Allen and Jayne Meadows, My Fair Lady and Romeo and Juliet. Other directing credits include The Lion in Winter, The Petrified Forest, Inherit the Wind; and regional premieres of A Coupla White Chicks Sitting Around Talking and The Mystery of Edwin Drood starring Barry Dennen. Under Jim's leadership, Rubicon received a special award for "Sustained Excellence" from the L.A. Drama Critics' Circle and a special citation from the State of California for the company's education outreach programs. Jim is a graduate of California Institute of the Arts.
More Hot Stories For You