Acclaimed PlayPenn New Play Development Conference Announces 2018 Writers And Plays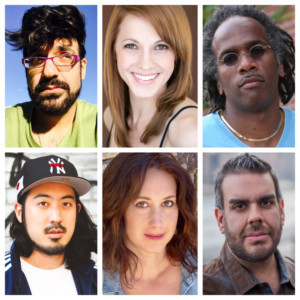 PlayPenn, the new play development organization which assisted in the development of the Tony Award-winning international hit OSLO by J.T. Rogers, has announced their 2018 New Play Development Conference plays and writers. The conference, which takes place July 10 through July 29, 2018 in Philadelphia, includes workshops and readings of six plays, at least two additional readings of works-in-progress, and forums for artists and theatre lovers.
The selection of this year's six Conference playwrights follows an exhaustive evaluation of over 800 applicants for spots in the 2018, 14th annual new play development Conference. Conference playwrights represent a range of cultural and career experience, which contributes to the creation of a dynamic and diverse community. The plays that will be developed at the Conference are likely to find production on stages across the country, as has been the case for 60% of PlayPenn's over 125 developed plays since 2005.
This year's conference playwrights are a celebrated collective of noteworthy theatre artists from the United States. The playwrights will develop their plays through in-depth workshops with directors, dramaturgs, and professional actors.. Ample rehearsal time is interspersed with significant amounts of time for writing and for meetings - both formal and informal - between the writers and their creative teams. Each of the six plays is given two free public readings at Philadelphia's Drake Theatre, one at the conference midpoint and the other at the end of the development period.
The 2018 Conference plays are:
BRUISE & THORN by J. Julian Christopher: Bruise and Thorn work at a busted-up old laundromat in Jamaica, Queens. Bruise dreams of becoming a chef. Thorn dreams of changing the face of Hip Hop with his unabashed Queerness. When finances become strained, they get caught up in an illegal cockfighting ring led by their boss, Mrs. Gallo, sending them on a magical ride to make their dreams come true and get the hell out of Jamaica. Bruise & Thorn is an authentic look at a Nuyorican street family, not through bloodline, but rather the social and economic indicators that naturally selects them to one another.
J. Julian Christopher: Acting MFA (The Actors Studio Drama School at the New School). Awards: The 2009 Public Theater Emerging Writers Group Fellowship, 2015 Queens Arts Council Grant, and The 2014 Best New Work Motif Award. Plays include Locusts Have No King (INTAR), Animals Commit Suicide (First Floor Theater), Nico was a Fashion Model (LAByrinth) and Man Boobs (The Public Theater). Julian received honors for Best Devised Work & Best Direction at The 49th Kennedy Center American College Theatre Festival in 2017 for his production of anOTHER. He is an Executive Producer and Writer of the hit web series Bulk- The Series.
THA CHINK-MART by Ray Yamanouchi: In a small, suburban town in Long Island, New York, five Asian American teenage friends battle through high school-where they're marked as Asians-and their ethnic home fronts-where they're too American. Finding solace only among each other, they attempt to define for themselves what it means to be an Asian in America... for better or for worse.
Ray Yamanouchi: Ray Yamanouchi was born in Queens, raised on Long Island, and received a BA in film and theatre from Hunter College in Manhattan. His plays include It's Our Kitchen (Semi-finalist, Iati Theater Cimientos 2017), Tha Chink-Mart (Semi-finalist, Princess Grace Award 2016), Impact (Semi-finalist, National Playwrights Conference 2017), and The American Tradition (Finalist, New Light New Voices Award 2017). He has developed work with WT Theatre, Mission to (dit)Mars, The Blank Theatre, Rising Circle Theater Collective, and Ars Nova. You can find him online @NotoriousYAMs and as the host of RE:, a talk show about theatre in NYC .
DIMENTICAR by Mattie J. Hawkinson: A loving father of three daughters has gone missing on his way to work. His car is found at the bottom of the river and the circumstances of his death don't add up. The local police think he ran away, but nobody knows why. People crack under pressure all the time, but sometimes they do it in the most remarkable ways. This play asks, "Why would you ever leave your family? And if you did dare to leave home, what would bring you back again?"
Mattie J. Hawkinson: Writing credits include TYA productions in New York and Chicago and a co-adaptation of The Three Musketeers in Philadelphia at Quintessence. As an actor, Mattie has participated in new play development at the National Playwrights Conference five times. She's also worked on new plays at Victory Gardens, Chicago Shakespeare, Cleveland Playhouse, Lookingglass, and the Ensemble Theatre of New York. Some other acting credits include Pennsylvania Shakespeare Festival, the Goodman, Steppenwolf, Manhattan Theatre Club, Milwaukee Rep, Denver Center, Centerstage, Cincinnati Playhouse, Northlight, and Indiana Repertory. Assistant directing credits at the Irish Repertory, the Arden, and Philadelphia Theatre Company.
KIDS DROP (OFF) by Dominic Taylor: A group of parents have a collective "staycation" while their first graders are on a field trip. They get together because all parents need a moment of tension release. This day of relief is broken when Ado, the mother of a child that died a month ago, arrives. This play asks; how we can take care of ourselves and each other at the same time?
Dominic Taylor: Dominic Taylor is presently commissioned by Ensemble Studio Theatre and the Sloan Foundation to work on a play about Ernest Everett Just. His play Hyper Hero is recently published by Playscripts.com. It will join Personal History and Wedding Dance on this imprint. His play Upcity Service(s) is published by Broadway Play Publishing. He is the former Associate Artistic Director of Penumbra Theatre. He is an alum of New Dramatists and a Usual Suspect with New York Theatre Workshop. He holds a Bachelors' and a M.F.A. from Brown University. He is a Professor at UCLA School of Theater, Film and Television.
THE GARBOLOGISTS by Lindsay Joelle: Danny's a white, conservative, proud union member of the DSNY. Marlowe's the Black, liberal, ivy-educated newbie who just joined his sanitation route. When they find something on the curb too valuable to throw away, they'll be forced to reevaluate in each other what they mistook for trash.
Lindsay Joelle: Lindsay Joelle is a playwright, lyricist, and librettist. Plays include Trayf (Theater J-NEA grant, Penguin Rep), The Garbologists, and A Small History of Amal, Age 7. She is the 2018 NNPN writer-in-residence with Curious Theatre and received an EST/Sloan Commission, Rita Goldberg Award, Irving Zarkower Award, Anne Freedman Grant, and Kilroys List Honorable Mention. Her plays have been finalists for the Eugene O'Neill NPC, Bay Area Playwrights Festival, Leah Ryan's FEWW, JAW Festival, JPP, Blue Ink Award, Ingram Lab, UMass Lab, and Soho Rep Lab. New Georges and Lark-affiliated artist, alumna of the BMI Workshop, Columbia University (BA), Hunter (MFA).
YOU, THE FIRE, AND ME by Sevan K. Greene: Tommy, Jules, and Omer are tired of their worlds, their countries, their governments, and their families. They're tired of being invisible. They're tired of being disenfranchised. They're tired of being no one. They've found a supportive family with one another and found the solution to their problems: Joining a terrorist organization. A coming-of-age story for a new generation, You, the Fire, and Me asks how far you would go to have your voice heard and to finally be seen as someone rather than just anyone.
Sevan K. Greene: Sevan K. Greene is an award-winning NYC and London-based actor-playwright. His NY work includes The Public Theater, The New York Theatre Workshop, The New Group, The Culture Project, New York Stage and Film, New York Musical Theatre Festival. London: The Bush Theatre, Arcola Theatre, Theatre503, Tamasha, Rich Mix, The Shubbak Festival. He is an alumni of The Public Theater's Emerging Writing Group, Rising Circle's inaugural INKTank Lab, The Bush Theater's Inaugural Emerging Writers Group. He has been shortlisted and a finalist for the Princess Grace Award, Papatango Playwriting Prize, Sundance Theatre Lab, O'Neill Festival. www.sevangreene.com.
An additional offering this year includes a reading of Down in the Holler by The Foundry playwright Val Dunn. The Foundry is PlayPenn's professional development and membership program for emerging Philadelphia-area playwrights. Also, Joan, a work-in-progress by Stephen Belber, will receive a reading.
A detailed schedule of conference events will be available in May. All readings are open to the public, free of charge
Registration for attendance at the 2018 PlayPenn Conference will begin on July 2 by visiting playpenn.org. Priority reservations, beginning two weeks earlier, are afforded to Priority Access Donors making annual gifts to PlayPenn of $200 or more.
ABOUT PLAYPENN: PlayPenn, in its 14th year, is an artist-driven organization dedicated to the development of new plays and playwrights. PlayPenn fully supports the needs of the writer and the demands of the play in an ever-evolving process within which playwrights can engage in risk taking, boundary-pushing work. The organization's flagship annual new play development conference and year-round development workshops in cooperation with producing theatres result in staged readings of at least 10 new plays each year for over 1,800 artists, producers, and theatergoers. Additionally, PlayPenn's rapidly expanding educational programs-which include 17-20 in-person and online classes annually with notable instructors, application assistance, personalized dramaturgy services, plus The Foundry, a three-year membership group for emerging playwrights resident in Philadelphia-serve another 230+ playwrights from the region and across the nation. PlayPenn supports artists at all career stages across a broad spectrum of cultural, economic, ethnic, and gender experience. Since 2005, PlayPenn has helped to develop over 125 new plays from infancy to a state closer to production-readiness. Nearly 60% of these plays have gone on to more than 330 professional productions at esteemed institutions in the United States, Great Britain, and elsewhere around the world, including the London's National Theatre, National Theatre of Israel, English Theatre Berlin, Roundabout Theatre, Lincoln Center Theatre, Atlantic Theatre, Second Stage, Actors Theatre of Louisville, LaJolla Playhouse, Denver Center Theatre, South Coast Repertory, and a host of theatres in the Philadelphia region, in cities across the country and around the world. In 2017, PlayPenn celebrated the first of its developed plays to hit a Broadway stage, and win a Tony Award-JT Rogers' Oslo at the Vivian Beaumont Theater. Find out more at playpenn.org.
---
Join Team BroadwayWorld
Are you an avid theatergoer in Philadelphia? We're looking for people like you to share your thoughts and insights with our readers. Team BroadwayWorld members get access to shows to review, conduct interviews with artists, and the opportunity to meet and network with fellow theatre lovers and arts workers.
Interested? Learn more here.
---