Latest News on Julie Galorenzo
Latest News on Julie Galorenzo
Julie Galorenzo Biography
See website for updates





Julie Galorenzo News
BWW Interview Gina Sarno in MATILDA THE MUSICAL in Nutley 12/16 to 12/19
by Marina Kennedy - Dec 13, 2021
Broadwayworld had the pleasure of interviewing Gina Sarno about her career and the role she plays as Miss Honey in 'Matilda The Musical' for Nutley Parks and Recereation Drama Program.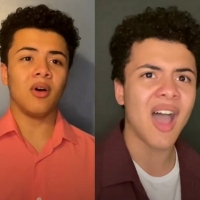 Meet the Students of Next on Stage: Kenny Lee Was Moved by the Revival of ONCE ON THIS ISLAND
by Taylor Brethauer-Hamling - May 25, 2021
Contestant Kenny Lee shares more about his charity, a theatre educator that's had an impact on him, and how the revival of Once on This Island inspires him to this day.
THE MOST INCREDIBLE THING to be Presented by Pleasant Valley Productions & the Mac-Haydn Theatre
by Chloe Rabinowitz - May 10, 2021
Pleasant Valley Productions in collaboration with the Mac-Haydn Theatre will present a developmental production of David Maglione's newest musical work, The Most Incredible Thing. This project is a commissioned piece for the Children's Theater season at the Mac-Haydn Theatre, located in Chatham, New York.
For Sarah Lepre, Musical Theatre Means Invincibility and Empathy - Next on Stage
by Taylor Brethauer-Hamling - Nov 5, 2020
Contestant Sarah Lepre shares more about her charity, why she entered into the competition, and a true 'the show must go on' moment from an Into the Woods production!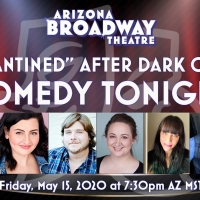 ABT Goes For The Funny Bone With 'Comedy Tonight!' Episode of AFTER DARK CABARET
by A.A. Cristi - May 14, 2020
Arizona Broadway Theatre (ABT) announces Episode 8: COMEDY TONIGHT! of weekly 'Quarantined' AFTER DARK CABARET LIVE on the theatre's Facebook page (@ArizonaBroadway)* Friday, May 15, 2020 at 7:30pm MST.
SONGS FOR A NEW WORLD Will Come to Life on the Union County Performing Arts Center's Hamilton Stage
by Chloe Rabinowitz - Feb 6, 2020
Jason Robert Brown's beautiful song cycle Songs for a New World comes to life fully staged at Union County Performing Arts Center's Hamilton Stage for four performances only from February 20-23! This production is directed by Brian Remo and musically directed by Bruce De La Cruz.
Centenary Stage Company Announces Casting For BEAUTY AND THE BEAST
by A.A. Cristi - Nov 21, 2019
Centenary Stage Company's 2019/2020 professional theatre series continues with its Annual Family Holiday Spectacular, Disney's Beauty and the Beast. The production runs from November 29 to December 15 in the Sitnik Theatre of the Lackland Performing Arts Center on the campus of Centenary University at 715 Grand Avenue in Hackettstown, NJ. Ticket prices range from $29.50 - $35.00 for adults with discounts available for seniors, students and children under 12. Tickets are available online at centenarystageco.org or by calling the box office at (908) 979 a?" 0900.
BWW College Guide - Everything You Need to Know About Marymount Manhattan College in 2019/2020
by Linnae Medeiros - Oct 17, 2019
To help get students ready for college theatre program auditions, we're taking a closer look at some of the country's most prestigious theatre programs! We're chatting with faculty members from each school to get a better understanding of everything from audition advice to real world experience and more. Today, we're highlighting the Department of Theatre Arts at Marymount Manhattan College. Find out more about the school and see their answers about their program!
BWW Review: Arizona Broadway Theatre Goes To Camp-y With XANADU ~ A-musing!
by Herbert Paine - Sep 8, 2019
Arizona Broadway THeatre's production of XANADU, directed and choreographed by Courtney Laine Self, is a friendly and joyful reminder that the human experience is rendered comprehensible through art. Otherwise, a campy show with flashes of fine performances. Runs through September 29th.
XANADU Arrives At Arizona Broadway Theatre
by A.A. Cristi - Sep 6, 2019
Arizona Broadway Theatre (ABT), Arizona's Leader in Musical Theatre, finishes the fourteenth season with the hilarious roller-skating, finger-tapping Xanadu.
Julie Galorenzo Videos
VIDEO: Axelrod's RAGTIME Opens Tomorrow
by Stage Tube - Mar 2, 2018
"At the turn of the century, worlds will collide in America!" The Axelrod Performing Arts Center begins its inaugural season as a professional theater with Luis Salgado's beautiful new staging of Ragtime the Musical. See the video of the Axelrod company in final rehearsals below!