Latest News on Angela LaGreca
Angela LaGreca News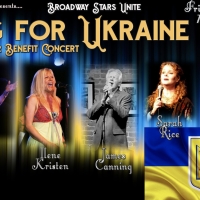 Skylight Run Productions to Host Benefit Concert for Ukraine
by Marissa Tomeo - Mar 26, 2022
SING FOR UKRAINE, a benefit concert, takes place live From Skylight Run on Friday, April 29th, 7:30 PM ED. In dark times we come together. Ukraine needs our help. We want to do our part. All of us at Skylight Run Productions offer our heartfelt music to shift your mood and lift your spirits. Let this group of original Broadway Stars alter your state of mind and help Ukraine at the same time. All profits will be donated to International Rescue Committee, a trusted, effective organization with infrastructure in place providing shelter, first aid and protective kits, food, medicine, and other aid to Ukrainians. The first $1,000 of ticket sales before April 30, will be matched with an equal contribution.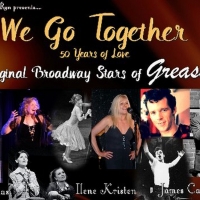 Original Stars of GREASE on Broadway to Join WE GO TOGETHER
by Chloe Rabinowitz - Feb 14, 2022
THIS YEAR to commemorate the 50th Anniversary of the show's Broadway Opening, and their friendship, JAMES CANNING joins Ilene and Carole for a fun get-together, bringing music of the season plus stories, laughs and songs saluting the iconic GREASE they originated.  Music Direction by Ian Herman. Engineered by Stuart Allyn.
Eric Michael Gillett & Carole Demas to Present JOYFUL SPIRITS This December
by Gigi Gervais - Dec 12, 2021
Legendary Broadway/TV star Carole Demas and fellow Broadway and TV star Eric Michael Gillett are together at last, performing a variety of their favorite songs, lifting your holiday heart with their festive cabaret/concert, Joyful Spirits, Live and On Demand.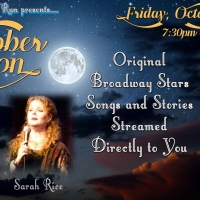 LIVE FROM SKYLIGHT RUN Begins Second Season with Carole Demas & Sarah Rice Show October 22
by Stephen Mosher - Oct 20, 2021
After a successful year providing streaming shows for lucky fans worldwide, LIVE FROM SKYLIGHT RUN returns for year two.
LIVE FROM SKYLIGHT RUN Celebrates One-Year Anniversary With Carole Demas And Friends
by Stephen Mosher - Sep 2, 2021
It's time to celebrate, as LIVE FROM SKYLIGHT RUN turns one-year-old with a special concert by founder Carole Demas.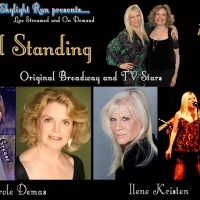 Carole Demas & Ilene Kristen Live Stream STILL STANDING! on Live From Skylight Run
by Stephen Mosher - Jul 2, 2021
Lifelong pals, Misses Demas and Kristen are together again and making music on the LIVE FROM SKYLIGHT RUN online concert series.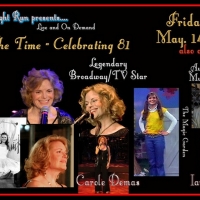 Carole Demas to Celebrate 81st Birthday With THIS IS THE TIME
by Chloe Rabinowitz - May 10, 2021
Thursday, May 6, 2021- Carole Demas is turning 81 years young on May 26, 2021, and will be singing her gratitude, celebrating this milestone virtually, with friends, family, and fans, in her upcoming Live From Skylight Run performance, THIS IS THE TIME, live-streaming at 7:30 EDT, May 14th, and on-demand.
BWW Previews: Live From Skylight Run Reunites Broadway's Carole Demas and Sarah Rice in March 5th Online Concert
by Stephen Mosher - Feb 24, 2021
The online concert series LIVE FROM SKYLIGHT RUN continues to bring quality entertainment to at-home viewers.
News: LIVE FROM SKYLIGHT RUN Presents Carole Demas and Ian Herman in SONGS FROM THE HEART
by Stephen Mosher - Jan 19, 2021
Carole Demas welcomes renowned musical director Ian Herman to her monthly series.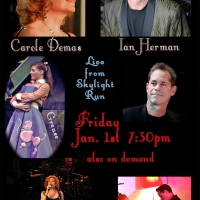 BWW Previews: Carole Demas and Ian Herman Present New Year's Day Concert LIVE FROM SKYLIGHT RUN
by Stephen Mosher - Dec 15, 2020
Live From Skylight Run has had a series of successful concert in 2020 and will continue to in the new year, beginning New Year's Day.