Photos: First Look at Roy Alan, Jan Leigh Herndon and More in The Winter Park Playhouse's DAMES AT SEA
The Winter Park Playhouse sets sail with the well-loved tap dancing musical comedy Dames At Sea July 24 - August 22, 2015. This is the first production in a series of six professional musicals the Playhouse is offering through June 2016. Performances are Friday and Saturday evenings at 7:30p.m., Thursday and Saturday matinees at 2p.m. and select Wednesday, Friday and Sunday matinees at 2p.m. Check out a first look below!
Set in New York City, this quintessential American musical features the hottest tap dancing this side of 42nd Street! The story of a small town U.S.A. girl that comes to the big city to make it on Broadway. This musical comedy showcases the role that helped launch the career of Tony Award - winner Bernadette Peters. With book and lyrics by George Haimsohn and Robin Miller and music by Jim Wise, this cleverly written show leaves audiences delighted with scores of tap dancing, memorable songs, and boatloads of laughs.
This Playhouse production will feature three veteran Broadway Equity actors Roy Alan (Playhouse Artistic Director),Jan Leigh Herndon (new to The Playhouse from the New York stage) and David Thome (New York professional and last seen in The Playhouse's Putting It Together). Additionally, the cast features returning Playhouse professionals Heather Alexander and Brian Wettstein. Molly Jackson will make her Winter Park Playhouse debut in the leading role of Ruby.
Veteran actor/director Michael Edwards returns to The Playhouse to direct, Roy Alan will choreograph, and Christopher Leavy will music direct this stellar production. The Playhouse trio will accompany -- Mr. Leavy on piano, Ned Wilkinson on keyboard and Sam Forrest on percussion.
Ticket prices are $40 evenings, $36 Senior evenings, $30 matinees, $15 student and industry professionals. Student rush "$10@10" offers $10 tickets (for students 25 years and younger) 10 minutes prior to a performance when seats are available. Preview performance is $20.
The Winter Park Playhouse has teamed up with local restaurant Carmel Kitchen in Winter Park as their restaurant partner of choice for Dames At Sea. Present your Dames At Sea theatre ticket to receive 20% the bill (food only) for the run of the show! www.Carmel-Kitchen.com
For tickets and more information call The Playhouse box office 407-645-0145 or visit www.winterparkplayhouse.org.
Photo Credit: Vincent Gerace

David Thome, Jan Leigh Herndon, Brian Wettstein, Molly Jackson, Roy Alan, Heather Alexander

David Thome, Jan Leigh Herndon

Molly Jackson , Heather Alexander, David Thome, Roy Alan, Brian Wettstein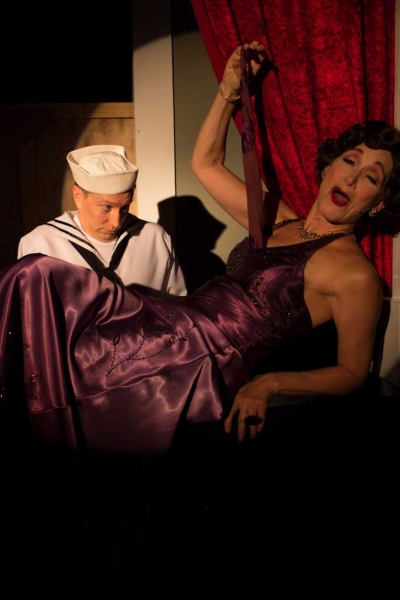 Brian Wettstein, Jan Leigh Herndon

Molly Jackson, Brian Wettstein