Click Here for More Articles on WAITRESS
BWW Review: WAITRESS Serves Up A Delightful Opening Night in Orlando
The current touring production of "Waitress" is a musical best served to a full house and welcoming audience prepared to ride one rollercoaster of a show-exactly as it was Tuesday night at the Dr. Phillips Center for Performing Arts in downtown Orlando. The show itself dished out some serious laughs on its opening night, but also managed to bring in heavier undertones and themes masked by the upbeat musical numbers created by pop star Sara Bareilles.
The premise of the story, adapted from the silver screen to the stage just three years ago, focuses on a handful of big time struggles in a small southern town. Our powerful leading lady is found in Desi Oakley who plays Jenna, a Waitress and pie aficionado at a local pie diner, who carefully treads through an abusive marriage until she discovers an unlucky twist in her life-an unwanted pregnancy.
Oakley leads an incredibly strong cast, each of whom carries their weight in the show. With each number the performers maintain the careful balancing act of touching on topics such as abusive relationships, an unwanted pregnancy and spontaneous affairs, while holding onto the humor of life's trial and error continuum surrounding their lovable and flawed characters. Although the plot line consists of a combination of character tropes that are far less unique than the ingredients Jenna uses for her artful pie creations, the characters make you fall in love with them all the same.
A few of the loveable characters we see include a quirky tax auditor (portrayed wholeheartedly by Jeremy Morse) who spends his free time dabbling in magic tricks, improvising poorly strung together poetry and Revolutionary War reenactments, to a quick-witted co-worker of Jenna's who holds the crown as the queen of one-liners portrayed by Charity Angel Dawson. However, there manages to be a balance to the show that is unexpected for such dramatic shifts from serious to foolhardy, and you find yourself rooting for nearly every character in the show (with the exception of Earl, portrayed by Nick Bailey, who does such an excellent job of being an abusive antagonist that he nearly gets boos from the audience at final bow).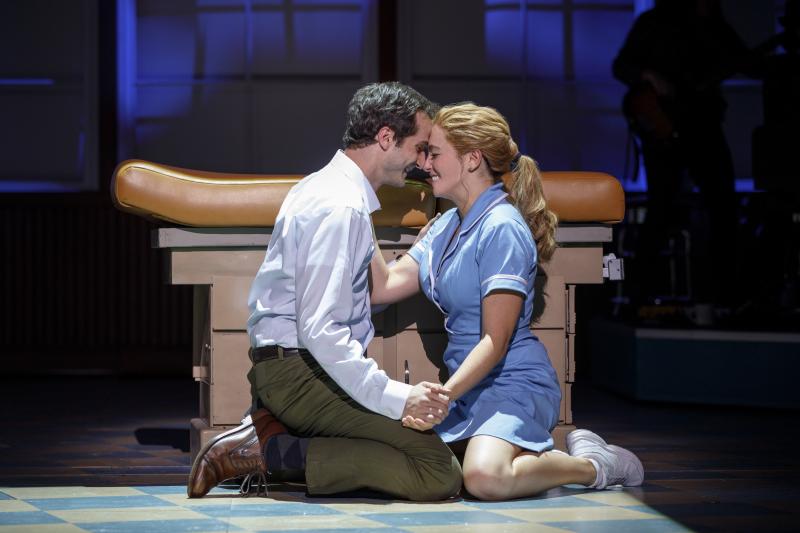 Center stage Oakley shines in every number she takes part in, and her chemistry with co-star and on-stage love interest Bryan Fenkart (in the role of the quirky Dr. Pomatter) is palpable. Their scenes on-stage together don't disappoint as they range from humorous to intimate and poignant. Oakley's depiction of Jenna's personal struggle with her situation is highlighted well through dramatic comparisons to Jenna's childhood and her mother's own experiences. These recollections help the audience understand the deeply intimate connection they shared through baking-all leading up to Oakley's soaring ballad of "She Used To Be Mine."
The set design is equally as stunning as the cast who lives within it, transitioning almost unnoticeably with graceful cohesion scene after scene. A special nod should be given to the band whose seamless inclusion on stage at various points throughout the show was also incredibly well done. (Keep an eye out for minor costume changes in the band as well since they maintain their own form of continuity throughout scenes.)
All in all this cast of "Waitress" does a superb job of taking this storyline filled with familiar characters and infusing their own touch of personality and prowess that brings this sleepy town to life. In a city that's fairly generous with its standing ovations, "Waitress" was the first show of 2018 at the Dr. Phillips Center for the Performing Arts in which I believe every individual on that stage truly earned the cheers given to them.
Order up!
'Waitress'
What: U.S. National Tour of Broadway musical

Length: 2:45, including intermission

Where: Dr. Phillips Center for the Performing Arts

When: 8 p.m. Tuesday-Friday, March 23; 2 and 8 p.m. Saturday, March 24; 1 and 6:30 p.m. Sunday, March 25

Cost: $34.25 and up

Online: Drphillipscenter.org
Related Articles
McKenzie is a communications and editorial professional originally from the Pacific Northwest before she transplanted to Orlando, FL. She received her Bachelor's Degree in Digital (read more...)