BWW Review: A FUNNY THING HAPPENED ON THE WAY TO THE FORUM is a Funny Thing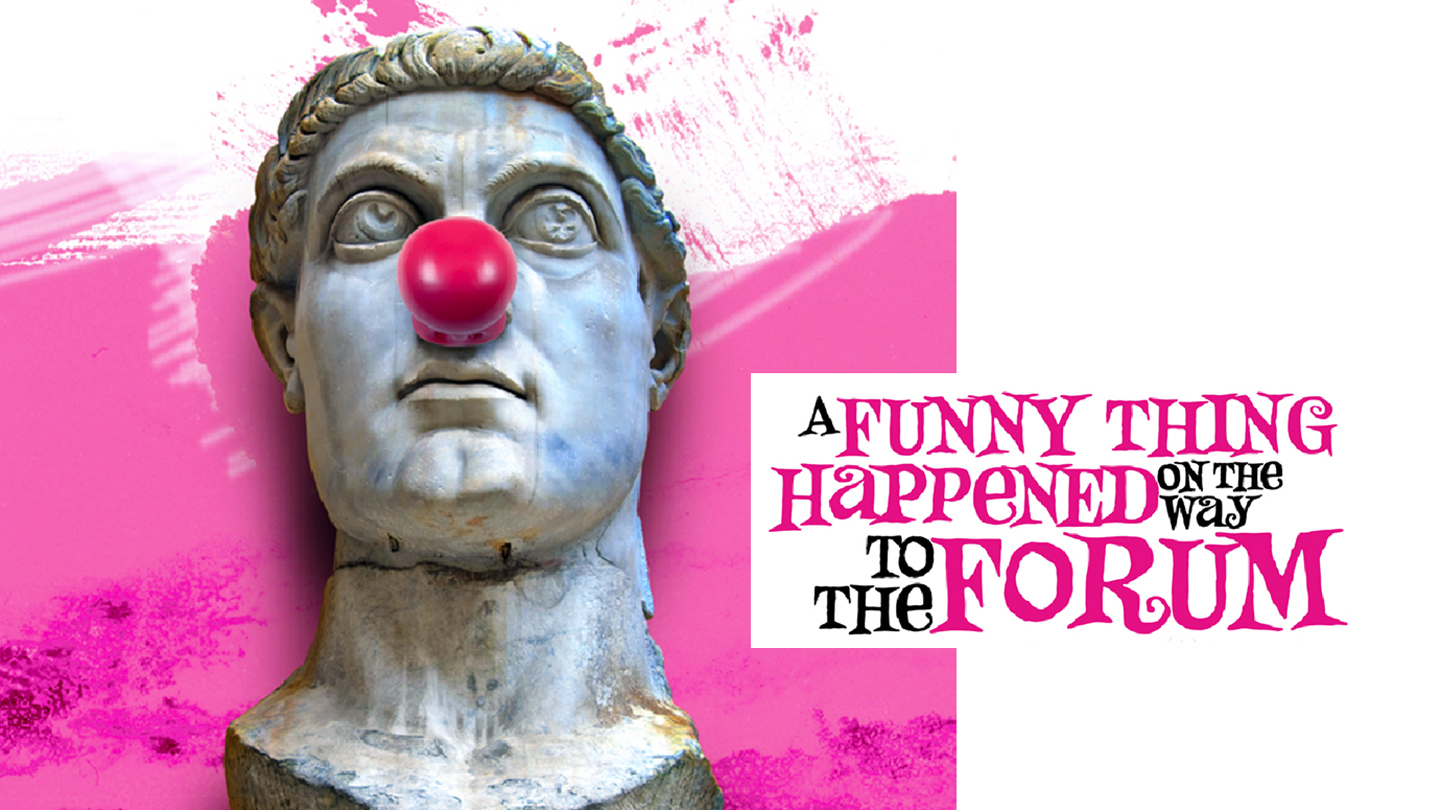 Farce is not my thing. I suppose I enjoy humor that is more subtle or cerebral rather than blatant silliness and nonsense. Yet A FUNNY THING HAPPENED ON THE WAY TO THE FORUM directed by Todd Uhrmacher at the Ralston Community Theatre did amuse me with its sheer absurdity.
What I found intriguing about this 1962 Stephen Sondheim musical is the cleverness of the language, both in lyrics and in character names. Pseudolus (David Ebke), a quick on his feet slave, is determined to gain his freedom by any means possible. He devises a plot to pair up his masters' son, Hero (Michael O'Brien), with Philia (Kassie Kraemer), a neighbor's courtesan who happens to be a virgin. "Pseudo" meaning sham, phony, or deceptive is a perfect moniker for this schemer. Domina (Sarah Ebke), is Hero's domineering mother and wife to Senex (Gene Hinkle), which is a Latin term for "old man." Senex is 50 and claims to be at least a decade younger, but when he has an opportunity for a tryst, he finds he needs a potion. The slave Hysterium (Mike Palmreuter) is in an almost continual state of hysteria. Erronius (Steve Ebke), the nearsighted neighbor who lost his children to pirates and continues to search for them, makes one error after another-- that man is a woman, that chicken is a child. Courtesan Tintinabula (Emma Budzinski) makes continuous noise with her zills. "Tintinabulation" is a Latin word for making a sound like a ringing bell. And so on and so on. Sondheim did some research when he wrote this show!
The story line is a mixed bag of innuendo, comedy of errors, and buffoonery. There are mistaken identities and plans gone awry. A silly thing like having Erronius walk around the seven hills of Rome seven times becomes one of the biggest jokes and one that people long remember from the show. Off the wall comments like, "Stand aside! I take large steps!" or "More bad news. I hope it's good" are so ridiculous that they are funny.
There are random thought-provoking ideas that pop up amidst the humor: Is a slave free if he no longer receives free room and board? Pseudolus hates being a slave and states, "If I were free, nothing would be free." Hero is a slave to love. Senex is essentially a slave to marriage to a domineering wife.
There are many bright spots in this production. David Ebke is an impressive leading man. His vocals are so good with spot on timing and delivery. His sister in law, Sarah Ebke, has the best enunciation I've ever heard...if you missed a single word she said, that was entirely on you. His father, Steve Ebke, is adorable fun as he trudges across the stage wearing thick goggles, but seeing nothing on his journey. His brother, Chris Ebke, directs the music including a good orchestra with a fine clarinetist who trilled out an impressive string of runs. His mother, Debi, rounds out the Ebke family cast as one of the Proteans.
Miles Gloriosus (think BEAUTY AND THE BEAST's Gaston) played by Jesse Black is big as life. He is burly with a strong voice. He with his little band of soldiers provides much of the comic relief as they try to get their hands on the virgin, Philia. The problem is, they can't seem to outwit Pseudolus as he works overtime to save her for Hero.
The set, designed by Joey Lorincz with scenic art by Trish Place, is really cool. The three houses crafted in an asymmetric, almost Tim Burton style, are pleasing to the eye and provoking to the mind. They represent their inhabitants well. I especially liked the yellow house with the gaggle of geese across the top.
Costumes by Leah Skorupa-Mezger and Todd Uhrmacher provide a nice contrast between sequins and velvet and animal prints. There's a nod to the stereotypical pimp with an ostentatious neck chain and bling. The soldiers' and courtesans' costumes are especially well detailed and the footwear is a nice finishing touch.
With so much theater happening in Omaha, it's difficult to garner a sold out crowd on a weekend night. But for those who want a mindless jaunt to the Roman Forum, this is your trip. It's quaint. It's charming. (It's filled with Ebkes.) And it's a funny thing.