Women In The Arts & Media Coalition Announces 2019 Collaboration Awards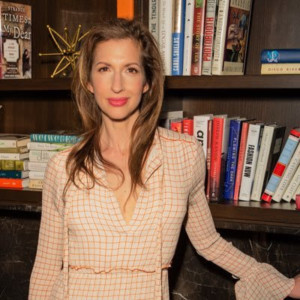 The Women in the Arts & Media Coalition will present the 2019 Collaboration Awards. which recognize women who successfully collaborate to create new and influential work, at the SVA Theater (333 West 23rd St, New York, NY 10011) on Saturday, March 30 at 6:30pm. The 2019 Collaboration Awards Gala will be held on International SWAN Day (Support Women Artists Now), along with numerous celebrations around the world supporting women artists.
At the gala, SAG and OBIE Award-winning actor and producer Alysia Reiner (Fig on Orange is the New Black on Netflix) and her collaborative team on the film Egg--director Marianna Palka, screenwriter Risa Mickenberg, and co-producers Michele Ganeless and David Alan Basche (as the one Honorable MEN-tion)--will be awarded the first Acclaimed Collaboration Award for a project with greater renown and visibility.
The 6th Biennial Collaboration Award winners are playwright Deborah Yarchun and director Jess Chayes for their play Preservation. Yarchun is a member of the Dramatists Guild, and Chayes a member of both Stage Directors and Choreographers Society and the League of Professional Theatre Women.
The Coalition will also be awarding the first ever Student Collaboration Award to the documentary Bread Machine, by Shelby Hougui and Julia De Santis, two students from SVA's Film and Animation Department, the first Academic Affiliate of the Women in the Arts & Media Coalition.
A limited number of tickets to the Awards Gala are available to the public. Ticket prices are: $15 for members of any of the Coalition's member organizations / $20 for non-members (early bird rate) / $25 after March 15 and at the door. There will also be a very limited number of Premium Seats (which includes reserved seating and a champagne toast with the honorees) for $100 each. Tickets can be purchased online at www.womenartsmediacoalition.org
The complete list of honorees is:
Acclaimed Collaboration Award
EGG (directed by Marianna Palka, written by Risa Mickenberg, produced by Alysia Reiner, David Alan Basche, and Michele Ganeless, starring Alysia Reiner, Christina Hendricks, Anna Camp, David Alan Basche, and Gbenge Akkinagbe)
Collaboration Award Winner
Preservation Deborah Yarchun (Dramatists Guild) and Jess Chayes (Stage Directors and Choreographers Society, League of Professional Theatre Women)
Honored Finalists
Courage Melissa Bell (DG) and Tannis Kowalchuk (TRU)
Click Katherine Carter SDC (LPTW) and Jacqueline Goldfinger (DG)
United Flight 232 Vanessa Stalling (SDC) and Brenda Barrie (AEA)
Special Mentions
Scars Ophira Eisenberg (SAG-AFTRA) and Maggie Cino (DG)
The Uncivil Ones Charissa Bertels (AEA SAG-AFTRA) and Ayumi Okada (AFM 802- Associated Musicians of Greater NY - Local 802 AFM/ DG - Dramatists Guild)
Student Film Winners
Bread Machine - Shelby Hougui & Julia De Santis (SVA Film and Animation), co-founders of JuJu Films
Awarded every third year, the Collaboration Awards encourage professional women in the arts and media from different specializations to work collaboratively on the creation of new work. The award recognizes the best of these collaborations and goes to a winning project and its two creators. 2019 marks the sixth time the Collaboration Awards have been presented. Past winners are: playwright T.D. Mitchell and director Sheryl Kaller for the play Queens for a Year (2015), Jane Edith Wilson and Grace Lee for their mockumentary, Janeane from Des Moines (2013), playwright Stefanie Zadravec and director Daniella Topol for their collaboration on the play The Electric Baby (2011); writer Jennifer Gibbs and director Kristin Marting for the play The Stranger (2008), and playwright Jennifer Maisel and director Wendy McClellan for the play Birds (2006).
Women in the Arts & Media Coalition (Yvonne Curry and Avis Boone, Co-Presidents) is a non-profit organization, which represents more than 200,000 women in the performing arts and media through its member organizations and affiliates. The Coalition focuses the power of its member organizations and their memberships together and uses the combined strength to address issues of concern through advocacy, networking and educational events. Member organizations are: Actors' Equity Association, Associated Musicians of New York Local 802 AFM, Dramatists Guild, League of Professional Theatre Women, New York Women in Communications, New York Women in Film & Television, SAG-AFTRA New York Local, Stage Directors and Choreographers Society, and the Writers Guild of America, East. Affiliates are: BOLD, Drama Desk, International Center for Women Playwrights, The Lambs, Los Angeles Female Playwrights Initiative, National Theatre Conference, Professional Women Singers Association, 365 Women a Year: A Playwriting Project, Theater Resources Unlimited, Women in Music, The Women's Media Center, Women Make Movies, and WomenArts. For more information on Women in the Arts & Media Coalition, visit www.womenartsmediacoalition.org.