Theater for the New City Presents CYBERBABIES: A MUSICAL DOT.COMEDY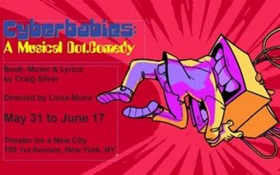 Theater for the New City, Crystal Field, Executive Director, presents Cyberbabies: A Musical Dot.Comedy, a world premiere musical with book, music and lyrics by Craig Silver. Lissa Moira directs a cast of 14, including William Broderick, Jef Canter, Selear Duke, Katie Fann, Becca Gottlieb, Jordan Griffey, Zander Kirby, David "Zen" Mansley, Michael Maricondi, Olivia Medley, James Parks, Johnathan Fox Powers, Dani Westhead, and Amanda Yachechak. Performances will be staged at the Community Space at Theater for the New City, 155 First Avenue (bet. 9th and 10th Streets), New York, NY 10003 from May 31-June 17, 2018.
Manhattan at the turn of the Millennium-it's the red-hot center of the exploding new phenomenon of the Internet. Brash young Web pioneers vie to stake their claim. With the sudden new wealth and lavish launch parties, it's the Great Gatsby on steroids. You might think of it as a La La Land for New York. It's got great characters, vivacious original songs and blazing choreography. Most of the cast is made up of, appropriately, Millennials, so the whole project has a youthful, Spring Awakening zing. Its highly hummable numbers include "Manhattanite In The Manhattan Night," "Virtual Virgins" and "Eaten By the Internet."
Cyberbabies is presented by Theater for the New City. Musical Director/Pianist: Nevada Lozano; Choreographer: J. Alan Hanna; Set Designer: Mark Marcante; Co-Set Designer, Props & Costume Coordinator: Lytza Colon; Lighting Designer: Alex Bartenieff;Stage Manager:Selear Duke; Marketing: Joan Pelzer; Publicity: Paul Siebold/Off Off PR.
Tickets are $18, $15 for students and seniors. They can be purchased by visiting SmartTix.com. For more information, visit: TheaterForTheNewCity.net
Twelve performances will be staged from May 31-June 17 on the following schedule: Thursday-Saturday at 8pm & Sunday at 3pm.
Runtime is two hours with one 10-minute intermission.
Craig Silver (book, music & lyrics) - Theater credits include his play The Oven, presented at the 13th Street Repertory, and his one-man show, God In A Box, at NYC's Dream Up Festival. A singer-songwriter besides playright, Silver's topical songs have appeared on NPR, CNN, WBAI, WFUV and other stations across the country. Billboard magazine said Silver performs "in the best Phil Ochs tradition." Other playwriting credits include Harmony of the Sticks at the Fusion Arts Festival, Babyman--a radio drama for Collaborative Projects--and a teledrama, Motion Sickness. His one-act play, The Oven, was presented at the 13th Street Repertory Theater. He performed his monologue-with-music, God In A Box, at the PAN Festival in Paris and at the Theater For The New City's Dream Up Festival.
Lissa Moira (director) AEA, SAG, AFTRA is also a playwright, screenwriter, lyricist, poet and artist. She more recently directed Grand Theft Musical by Robert Sickinger & Lissa Moira and Mira Spektor's Lady of the Castle and Seymour's Barab's From Oy to Vey and In Questionable Taste. Other recent directing credits include The Elephant Pen, Speakeasy: John and Jane's Adventures in the Wonderland, Danny and the Deep Blue Sea,and a 35-person cast in Nicholas Nickleby: A New Musical at Theatre for the New City, another adaptation by the late Robert Sickinger. Out of 5,000 world-wide submissions, Ms. Moira's play TIME IT IS was chosen as a top ten finalist in the prestigious Chesterfield/Paramount screenwriting competition. Ms. Moira's 2007 play Before God Was Invented was an American nominee for the Susan Brownell-Smith International Playwrights Award. Ms. Moira co-wrote "Dead Canaries," a feature film starring Charles Durning, Dan Lauria, Dee Wallace Stone and Joel Higgins. With co-writer Richard West, Lissa's well known for Sexual Psychobabble and The Best S*x of the XX Century Sale. Both ran over a year and each enjoyed critical and popular success. The Moira/West team's DaDa noir musical, Who Murdered Love? featured Broadway's Luba Mason and Tracy McDowell as well as William Broderick. It originated at Theater for the New City and ran at The Players Theatre as part of the 2012 FringeNYC (Ms. Moira directed as well). Other directing/co-writing credits include Sirens Heart: Norma Jeane and Marilyn in Purgatory (which enjoyed a 14-month Off-Broadway run at The Actor's Temple), and Tom Jones a new musical (Bloomberg Radio declared the directing "beautiful, fine and fresh"). Of her directing work on Cocaine Dreams, a play about Freud at The Kraine Theatre, the New York Post raved "inspired."
Theater for the New City is a Pulitzer Prize winning cultural center that is known for its high artistic standards and widespread community service. One of New York's most prolific theatrical organizations, TNC produces 30-40 premieres of new American plays per year, at least 10 of which are by emerging and young playwrights. Many influential theater artists of the last quarter century have found TNC's Resident Theater Program instrumental to their careers, among them Sam Shepard, Moises Kaufman, Richard Foreman, Charles Busch, Maria Irene Fornes, Miguel Piñero, Jean-Claude van Itallie, Vin Diesel, Oscar Nuñez, Laurence Holder, Romulus Linney and Academy Award Winners Tim Robbins and Adrien Brody. TNC also presents plays by multi-ethnic/multi-disciplinary theater companies who have no permanent home. Among the well-known companies that have been presented by TNC are Mabou Mines, The Living Theater, Bread and Puppet Theater, the San Francisco Mime Troupe and COBU, the Japanese women's drumming and dance group. TNC also produced the Yangtze Repertory Company's 1997 production of BETWEEN LIFE AND DEATH, which was the only play ever produced in America by Gao Xingjian before he won the 2000 Nobel Prize for Literature. TNC seeks to develop theater audiences and inspire future theater artists from the often-overlooked low-income minority communities of New York City by producing minority writers from around the world and by bringing the community into theater and theater into the community through its many free Festivals. TNC productions have won the Pulitzer Prize for Drama and over 42 OBIE Awards for excellence in every theatrical discipline. TNC is also the only Theatrical Organization to have won the Mayor's Stop The Violence award.
Related Articles View More Off-Off-Broadway

Stories

Shows
More Hot Stories For You