The Tank Presents IN THE PENAL COLONY By Miranda Haymon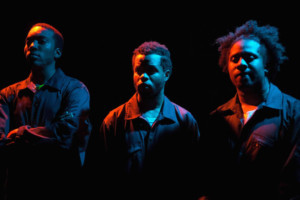 The Tank will present the premiere of Miranda Haymon's IN THE PENAL COLONY September 4-16th, 2018 at THE TANK 312 West 36th Street (between 8th and 9th Avenues). Show times include Sept 5 at 7pm, Sept 6 at 7pm, Sept 8 at 9:30pm, Sept 9 at 7pm, Sept at 11at 7pm, Sept 12 at 7pm, Sept 13 at 7pm, Sept 15 at 9:30pm, Sept 16 at 7pm, and Sept 17 at 8pm. Tickets ($15 - 20) are available for advance purchase at www.thetanknyc.org.
Adapted from Franz Kafka's short story of the same name, IN THE PENAL COLONY is created and directed by Princess Grace Award/Honoraria-winning theater artist Miranda Haymon (Roundabout Theatre Company Directing Fellow) investigates the performance of power, patriarchy, and punishment. Three black men convene on an unnamed penal colony and challenge the presumptions of the worth of a human body, asking what does it mean for black male bodies to exist: in the media, when observed, when consumed, when punished.
Miranda Haymon (Director/Writer/Producer) is a director and curator of performance originally from Boston. She is an artist in residence at Roundabout Theatre Company; previously as the 2017/18 Directing Fellow, currently the Artistic Development Associate. She was an Allen Lee Hughes Directing Fellow at Arena Stage, a member of the Lincoln Center Director's Lab, and received a 2018 Princess Grace Award/Honoraria in Theater. Miranda is a graduate of Wesleyan University where she double majored in German Studies and Theater and was awarded the Rachel Henderson Theater Prize in Directing. www.mirandahaymon.com
Rose Beth Johnson-Brown (Associate Producer) is a director, producer, and journalist of theater and performance based in New York and Los Angeles. She has worked at The Under the Radar Festival at The Public, The Cherry Lane, Ground Floor at Berkeley Repertory Theater and will be starting at Showtime this Fall. Recent graduate of Wesleyan University.
Jamar Brathwaite (Performer) Credits: The Three Musketeers (C.T.H's four-time Audelco Award-winning Production), Field Awakening (Signature Theater), Machinal (Columbia Stages), Ain't Never Been Easy (Castillo), Manar (L.P.A.C). (Film): Man of Faith, No Compromise. Jamar is a proud graduate of A.M.D.A.
David Glover (Performer) is a poet, actor and director from Philadelphia. He is passionate about material that challenges biases, confronts power structures and asks big questions. His training spans many fields from serving in The U.S. Army to a BA in Theater from Temple University. NY credits: Julius Caesar (Gallery Players), Ruined (Heights Players), Machinal (Columbia U), The Escape; or a leap for freedom (Columbia U), Vandals (The How), The Body Sung Electric (The How), The Roach (The How). Film: Print Shop. Next up: Vandals (The Tank).
Dhari Noel (Performer) is an actor and educator born and raised in Harlem. Recent productions include: The Essential Ella Maythorne (Dixon Hall), Telegraph Bois (Ars Nova), UnAmerican Activities (ECFS). He is also a regular participant of the annual Cherry Picking Festival as an actor, writer, and on the production team. After graduating in 2015 from Columbia University, Dhari became an Ethics and Performing Arts educator for middle school and high school age students. As a teacher, Dhari has worked on numerous productions serving as director (The Wiz) or co-director (The Wolves, Rhinoceros, UnAmerican Activities). He is passionate about telling stories that matter and creating experiences that are transformative.
Tekla Monson (Set Designer) is a designer for performance specializing in sets, props and costumes. Tekla was born and raised in Fairbanks, Alaska where she is the founding director of the Makers Lab @ TBK and has designed for Fairbanks Shakespeare Theater. Tekla graduated from Wesleyan University (CT). Recently she designed Reflux at Broadway Bound Theater Festival and Something for the Fish at Center for Performance Research.
Zack Lobel (Lighting Designer) is a video and lighting designer currently studying Film and Performance Design at Wesleyan University. He was most recently seen at the New Ohio Theater this summer as part of their new work festival.
The Tank is a nonprofit arts presenter serving emerging artists engaged in the pursuit of new ideas and forms of expression. We serve over 2,000 artists every year in over 800 performances from our home on 36th Street, and work across all disciplines, including theater, comedy, dance, film, music, public affairs, and storytelling. Our goal is to foster an environment of inclusiveness and remove the burden of cost from the creation of new work for artists launching their careers and experimenting within their art form. The heart of our services is providing free performance space in our 98 seat proscenium and 56-seat black box that we operate in Manhattan, and we also offer a suite of other services such as free rehearsal space, promotional support, artist fees, and much more. We keep ticket prices affordable and view our work as democratic, opening up both the creation and attendance of the arts to all. Since its founding in 2003, artists who have come through The Tank include Alex Timbers, Amy Herzog, Lucy Alibar, Mike Daisey, Reggie Watts, Kyle Abraham, Andrew Bujalski, We Are Scientists, and tens of thousands of others. www.thetanknyc.org
PHOTO: Lex Spirtes. (L to R) Jamar Brathwaite, David Glover and Dhari Noel.
Related Articles View More Off-Off-Broadway

Stories

Shows
More Hot Stories For You