The Lewis And Clark Musical Returns For 8 Performances In NYC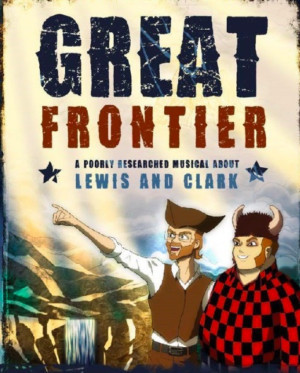 After an extended run at the 2017 New York Theatre Festival's Summerfest, Great Frontier: A Poorly Researched Musical About Lewis And Clark is returning to the stage this October for 8 performances at The PIT Loft. The show was co-written by comedians, Kevin Froleiks and Patrick J. Reilly, and features 18 original songs with zero historical accuracy.
Great Frontier is a comedy musical that retells the Lewis and Clark expedition as a coming of age journey of two friends trying to make something of their lives by becoming explorers. The show features many of the most famous characters of the early 1800's, including Thomas Jefferson, Aaron Burr, and Sacagawea. Despite taking place over 200 years ago, the show manages to touch on many modern issues like gentrification, toxic masculinity, and political corruption.
The show began the way most over ambitious ideas begin: over beers at a bar on Bleecker Street. "I remember sitting in the back of the bar and jokingly suggesting that we write a musical," recalls co-writer and composer, Kevin Froleiks. "We started brainstorming ideas and I think the original joke we had was to do a Hamilton thing without doing any of the research that Lin Manuel did."
"We wanted to pick a historical duo so that Kevin and I could play it like a two-man comedy act," says co-writer, Patrick J. Reilly. "We actually used to run a comedy duo show in Brooklyn because we loved that style of comedy so much."
Froleiks and Reilly are both self described "comedy nerds" who grew up with an appreciation of Bob Hope, The Smothers Brothers, The Marx Brothers, and Mel Brooks, a hero of many in the show's cast.
"A lot of my inspiration came from Mel Brooks," says Tchaikovsky Vladimir Santos, who plays Sacagawea's father in the show. "Every Mel Brooks character is pretty much what I'm trying to do."
Above all else, Great Frontier is a comedy. As director, Joseph Harris, explains, "This show is going to be so much fun with these actors because they are amazingly hilarious human beings." When they first performed a reading of the show in 2016, the entire cast was comprised of stand up comedians, including Maurice Licorish, a Brooklyn comedian who has been playing James Madison in the show since the beginning.
It's been over 2 years since that first performance and Great Frontier has only gotten bigger and better since. The writers are almost shocked that they've gotten this far with it.
"I remember we finished the first draft of the script when I realized a musical needs music," Reilly remembers, "I was like, oh shoot, Kevin can you write music?" Between his high school music theory classes and Google, Froleiks was able to write Great Frontier's piano and vocal score. Like the rest of the show, the score has evolved over the last couple of years. Some songs have been removed and new songs have been added. Today the show sports 18 original songs that not only touch on classic musical theatre tropes, but also doo-wop, folk, hip-hop, and calypso. Everyone agrees that the hero of the show is pianist, Chie Monoe, who acts as Great Frontier's one woman orchestra.
"The show started out as a simple one act script that we could just do with our other comedian friends," Kevin Froleiks explains. "Now it's like a full thing, like a real show with serious talent involved." He's not wrong. The 8 person cast now includes Yanece Cotto, Mario C. Brown, and Roberto A. Guzman, Jr. from the Harlem Repertory Theatre's resident acting company. All three are currently starring in the theatre's production of In The Heights.
Whether you're a fan of comedy, history, or musical theatre, Great Frontier is a must see. There will be a total of 8 performances, Wednesday through Saturday at 8pm, between October 24th and November 3rd. All performances will be at The PIT Loft, located at 154 W 29th St, New York, NY 10001.
Tickets for Great Frontier: A Poorly Researched Musical About Lewis And Clark can be purchased here: thepit-nyc.com/events/great-frontier-a-poorly-researched-musical-about-lewis-and-clark/
Related Articles View More Off-Off-Broadway

Stories

Shows
More Hot Stories For You