The Intercept Releases EVENING AT THE TALK HOUSE A Three-part Audio Play By Wallace Shawn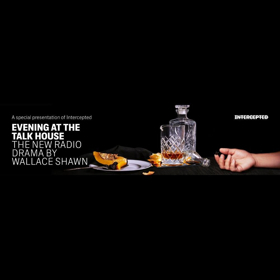 The Intercept, in collaboration with Topic Studios, is proud to present "Evening at the Talk House," a darkly comic audio play by award-winning actor and playwright Wallace Shawn (The Princess Bride, My Dinner with Andre) about the insidious dangers of an authoritarian society.
Following its limited off-Broadway run as a live theater piece directed by
Scott Elliott
, this audio drama is now available in three 30-minute acts, starting today, via a partnership with the podcast Intercepted with Jeremy Scahill. To listen to "Evening at the Talk House," visit the following link:
www.theintercept.com/talkhouse/
This audio dramatization of "Evening at the Talk House" brings back the award-winning cast featured in the off-Broadway play, which premiered in 2017 under the direction of
Scott Elliott
, for
The
New Group
: actors
Matthew Broderick
(The Producers),
Wallace Shawn
,
Larry Pine
(The Royal Tenenbaums),
Jill Eikenberry
(Young Adult),
Michael Tucker
(L.A. Law),
Claudia Shear
(Blown Sideways Through Life),
John Epperson
(Lypsinka), and
Annapurna Sriram
(Billions). The audio drama was produced and directed by Pejk Malinovski, with Jeremy Scahill and Leital Molad serving as Executive Producers. Returning to an exploration of authoritarian societies, a recurring theme in his work,
Wallace Shawn
tells the story of an intimate group of writers and performers who reunite to celebrate a beloved, failed collaboration from their past. But the world is now very different, and more quietly dangerous - and so are they. As drinks and hors d'oeuvres are consumed, small talk evolves into more sinister topics - and it's slowly revealed that some of these friendly acquaintances have committed morally questionable acts. "I think of myself as a pretty innocent person," said
Wallace Shawn
in a recent interview with Jeremy Scahill. "I act in rather innocent TV shows, but, you know, when I pay my taxes those dollars go directly to the Saudis who are committing massacres in Yemen. I'm paying for it."
Shawn continues: "The play reflects this reality that we Americans don't see violence, and we don't even see the ugly side of ourselves. We just sort of pay for it."
Wallace Shawn
is an American playwright and actor whose first plays, "Our Late Night" (winner of an Obie Award), and "A Thought in Three Parts," were widely discussed and celebrated. He went on to co-star, as well as co-write,
Louis Malle
's celebrated film My Dinner with Andre (1981) with André Gregory. His other live action roles include The Princess Bride (1987), Vanya on 42nd Street (1994), and Clueless (1995). Shawn's 1985 play "Aunt Dan and Lemon" won him a second Obie, and "The Fever," which opened in 1991, gave him a third. Other recent plays include "The Designated Mourner" and "Grasses of a Thousand Colors." His recently released book "Night Thoughts" was referred to as "a compelling diagnosis of the world's injustice" by the San Francisco Chronicle. About The Intercept:
The Intercept, a publication of First Look Media, was launched in 2014 to provide an outlet for fearless, adversarial journalism. Our reporters have the editorial freedom to hold powerful institutions accountable, digging beneath official narratives to reveal the hidden truth. The Intercept's award-winning coverage focuses on national security, politics, civil liberties, the environment, technology, criminal justice, media, and more. Regular contributors include co-founding editors Glenn Greenwald and Jeremy Scahill.
Featured BroadwayWorld Events
Check out these concerts...

More Hot Stories For You