Sprout Works Presents THE GROVE Hosted By Isaac Cole Powell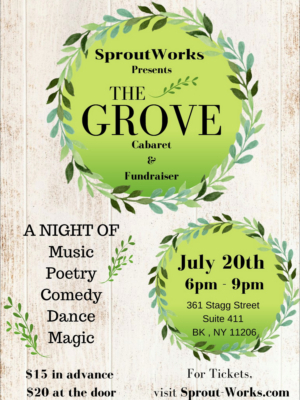 An exciting evening of music, stand up comedy, spoken word, dance, and magic as they raise funds for the upcoming season -- Hosted by Broadway's Isaac Cole Powell and featuring performances by Latinx Dance Company: Rumbamena, Illusions & Magic Associate on Harry Potter B'way & Artistic Director at Nightdrive: Skylar Fox, Broadway's Courtnee Carter, Featured Stand Up Comic for Comedy Central's "Up Next Showcase" at Clusterfest: Julia Shiplett, Brooklyn's own Reserved for Rhondee, Musician & Composer of "Kill the Whale": Daniel Emond, DJ JHN SWN of West Division, Award Winning Poet Tony Jenkins, and Many More!
Sprout Works is a theatrical production company focused on developing new work, community growth, and providing professional opportunities to early career artists in New York City.
The upcoming season includes a Fall mainstage production, the second annual Planter's Reading Series, a Spring one-act, and the Lavender Festival: a night of LGBTQIA+ works by queer creative teams.
To jump start this year of new works, the goal is to raise $5,000.
*Sprout Works is a non-profit and all donations are tax deductable*
There will be specialty cocktails, beer & wine, dancing, and good eats.
Come to the Sprout Soirée and enjoy performances you won't soon forget!
Tickets: Sprout-Works.com