Samuel French to Publish Six Winning Titles from 2017 OOB Festival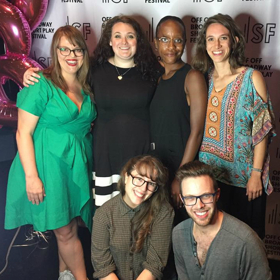 Samuel French has announced the winners of the 2017 Samuel French Off Off Broadway Short Play Festival, the nation's premier short play competition.
The six winning titles were selected and announced at the conclusion of the week-long festival at the East 13th Street Theater (Classic Stage Company) on Saturday, August 12.
The five plays and one musical will be published and available for licensing by Samuel French in the 42nd edition of its Off Off Broadway collection:
Breakfast Scene by Eric Marlin
Jack + Jill by Sarah K. Hammond and Emily Goldman
SIR. by Jahna Ferron-Smith
Square Footage by Jessica Moss
this movie by Amanda Keating
What Happened at the Dolphin Show by Miranda Rose Hall
"We're so excited to be publishing such a varied collection, from a ten-minute musical about the perils of growing up to a drama about navigating interracial relationships." says Abbie Van Nostrand, Director of Corporate Communications at Samuel French. "Lovers of short plays and musicals need look no further than the 42nd edition from this year's OOB Festival."
The Final 30 Playwrights competed for the six prize spots chosen from over 1,000 submissions worldwide. Samuel French assembled a judging panel representing playwrights, artistic directors and other theatre industry professionals who selected the finalists: playwrights Jiehae Park, James Hindman, Lauren Yee andRachel Bonds; Artistic Directors Andrew Leynse (Primary Stages), Jonathan Silverstein (Keen Company), Susan Westfall (City Theatre, Miami), Emily Morse(New Dramatists) and Ciera Iveson (National Alliance for Musical Theatres); and industry professionals John Clinton Eisner (The Lark), Michael Walkup (Page 73), Abigail Katz (Atlantic Theater Company). From the pool of finalists, the Samuel French staff selected the winners.
Artistic Director of New Dramatists and returning Festival judge Emily Morse commented, "All the plays in my evening offered substance and merit and succeeded in making our decision very difficult. I look forward to hearing more from these writers. Congratulations to everybody on jobs well done! "
Originating in 1975, the OOB Festival is one of Samuel French's primary initiatives to work with the next wave of emerging playwrights. The Festival has served as a doorway to future success for many aspiring dramatists and has helped launch the work of such notable past participants as Theresa Rebeck, Shirley Lauro, Sheila Callaghan, Bekah Brunstetter, Steve Yockey, Saviana Stanescu, Kelly Younger, Gloria Calderon Kellett and Martyna Majok. For more information, visit oobfestival.com.
Samuel French is the world's leading publisher and licensor of plays and musicals. The company's catalog features some of the most acclaimed work ever written for the stage and titles by writers at the forefront of contemporary drama. Samuel French is proud to have served as a leader in theatrical publishing and licensing for over 180 years and is committed to the future by championing for playwrights, innovating the industry, and celebrating all those who make theatre around the world.
ABOUT THE 2017 WINNING PLAYWRIGHTS (in alphabetical order):
Jahna Ferron-Smith (SIR.) is a graduate of Boston University College of Fine Arts. She is a part of the Obie-winning playwriting collective, Youngblood, and her plays have been performed at Ensemble Studio Theatre, The Flea and UglyRhino Presents: TinyRhino. They include, Hello, My Name Is; Tuesday; and Salt: A Rom Com.
Emily Goldman (JACK + JILL) is a New York-based pianist, composer, and writer. She holds an MFA from NYU's Graduate Musical Theatre Writing Program, and in 2015 she was a MacDowell Fellow in Literature and a Johnny Mercer Songwriting Fellow. Her music has been heard at the Aspen Festival, Barrington Stage, 54 Below, Joe's Pub, and many other venues. Her stories and poems can be found in december magazine and the Bridport Anthology. She is currently working on a series of books for young readers.
Miranda Rose Hall (WHAT HAPPENED AT THE DOLPHIN SHOW) is a playwright from Baltimore, MD. Her plays have been produced at Yale School of Drama, Yale Cabaret, Yale Summer Cabaret, DC Fringe Festival and Longacre Lea for the DC Women's Voices Theater Festival. Miranda was the 2013-2014 Hot Desk Playwright in Residence at Baltimore's Center Stage, where she developed several new plays and helped launch the program Wright Right Now. She is currently Resident Playwright and ensemble member with LUBDUB. Theatre Company, a New York-based physical theater company. She graduated from Georgetown University and is an MFA candidate at the Yale School of Drama.
Sarah Hammond (JACK + JILL) is a playwright and musical theatre writer originally from South Carolina, now based in Brooklyn. Her plays include Green Girl (SPF '08 at The Public); House on Stilts (South Coast Rep Commission); Kudzu (Trustus); and others. Sarah's musicals are String (Rodgers Award, Village Theatre World-Premiere in March 2018),Barefoot Persephone, and Pete the Cat (Theatreworks USA). She has been honored to receive a seven-year New Dramatists residency, the Lippmann Family "New Frontier" Award, Actors Theatre of Louisville's Heideman Award, commissions from Broadway Across America and EST Sloan, and a residency at The Royal National Theatre in London. M.F.A.s: U. Iowa Playwriting and NYU Musical Theatre Writing.
Amanda Keating (this movie) lives in Brooklyn and is a playwright. Her plays include Retreat (Ensemble Studio Theatre and Two Headed Rep), Tartuffe (Two Headed Rep), Go That Way(Williams College Summer Theatre Lab), Roast (The Plowmen), of solitude, and The Cleanup Crew. She is a member of EST/Youngblood and the Literary Manager of Two Headed Rep. Her short plays have been produced by EST, Serials @The Flea, Tiny Rhino, and Rule of 7x7. An alumna of The MacDuffie School, Williams College, and the National Theater Institute, Amanda grew up in Western Massachusetts and her best friend is a cat named Wilbur.
Eric Marlin (BREAKFAST SCENE) is a NYC-based playwright. His work has been presented by Exquisite Corpse Company, Dixon Place, Play Date at Pete's, Wildclaw Theatre, Manhattan Repertory Theatre, Metro Arts Initiative, PTP/NYC, The Public Theatre (Bennington College Alumni 24 Hr. Plays), Rhapsody Collective, Buffalo United Artists, Between Us Productions and Left Coast Theatre. His play Bad Things Happen Here was a finalist for the 2017 O'Neill National Playwrights Conference. He is a co-founder of the Healthy Oyster Collective, and wrote their debut production, If The Saints Arrive In Germany. His piece Pastoral Play is currently in development with the Healthy Oysters. He was an inaugural member of the Exquisite Corpse Company's Writer Lab and a 2013-2014 Core Member of Rhapsody Collective. He currently is pursuing an MFA at the Iowa Playwrights Workshop. BA: Bennington College.
Jessica Moss (SQUARE FOOTAGE) is an actor, playwright, and producer from Toronto. She is the creator/performer of solo shows Modern Love (Next Stage Festival, Toronto), and Polly Polly(Toronto/Edmonton Fringe; Patron's Pick, Best of Fringe, Ed Mirvish Award for Entrepreneurship). Her full-length plays include Next to Him (RBC Tarragon Emerging Playwrights Contest Shortlist, Second Prize in Herman Voaden National Playwriting Competition, finalist for Tangent Theatre Tivoli's NEWvember), I Will Miss You When You're Gone, Cam Baby (Toronto Fringe New Play Contest Winner, 2016, Weissberger finalist, Leah Ryans FEWW finalist, Premiere stages finalist, O'Neill semi-finalist, 2017), Stand Up, We'll Make it Together, Escape Room, and Anna Starring Anna. As an actor, Jessica has appeared with the National Arts Centre, Tarragon Theatre, Necessary Angel/LuminaTO Festival, SummerWorks, Sudbury Theatre Centre, Young People's Theatre, and many times at the Toronto Fringe. Jessica currently lives in New York, and is a Lila Acheson Wallace Playwriting fellow at Juilliard and a lyricist in the BMI Lehman Engel Musical Theatre Workshop.