Red Bull Theater Presents the New York Premiere of David Ives's THE METROMANIACS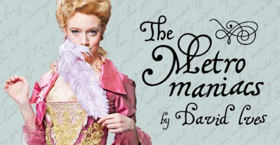 Red Bull Theater (Jesse Berger, Founder and Artistic Director) Jim Bredeson, Managing Director) today announced the cast for their next mainstage production, the New York premiere of David Ives's The Metromaniacs, directed by Michael Kahn:Noah Averbach-Katz (The Bachelors - Williamstown Theater Festival, Othello =Dir. Pam MacKinnon); Christian Conn (RBT: The School for Scandal, Desire Under the Elms -Broadway, The Liar -CSC); Adam Green (RBT: The Witch of Edmonton, two Helen Hayes nominations for Midsummer Night's Dream and the world premiere of The Liar - Shakespeare Theatre of DC); Peter Kybart (Broadway: Awake and Sing, The Diary of Anne Frank, Judgment at Nuremberg; Off-Broadway: Beckett-Albee, Andorra, Cymbeline); Adam LeFevre (Bway: Devil's Disciple; Our Country's Good; Summer & Smoke; Footloose; Mamma Mia; Guys and Dolls; Priscilla Queen of the Desert; The Liar - CSC, Marriage of Bette and Boo - Roundabout); Amelia Pedlow(RBT: 'Tis Pity She's a Whore; Pride and Prejudice - Primary Stages; The Liar, The Heir Apparent - CSC); and Dina Thomas (Tribes, Clever Little Lies - Off-Broadway).
The Metromaniacs, which will open at The Duke on 42nd Street (229 West 42nd Street, between 7th and 8th Avenues), will begin performances April 10th with Opening Night set for April 22nd. This limited Off-Broadway engagement will run through May 26th only. Running time will be one hour and forty-five minutes, including one intermission.
The Metromaniacs will have set design by James Noone, costume design by Murell Horton, lighting design by Betsy Adams, sound design by Matt Stine and original music composed by Adam Wernick.
To purchase tickets, visit Dukeon42.org or call 646/223-3010. In person, regular box office hours at The Duke on 42nd Street are: Tuesday through Friday, 4pm-7pm; Saturday 12pm-6pm.
It's springtime in Paris, 1738. Metromania, the poetry craze, is all the rage. Damis, a young, would-be poet with a serious case of verse-mania falls for a mysterious poetess from Breton, Meriadec de Peaudoncqville (say it). She turns out to be none other than a wealthy gentleman (yes, that's right) with a touch of the mania himself-looking to unload his sexy but dimwitted daughter-who also just happens to be cuckoo for couplets. Soon scheming servants, verbal acrobatics, and mistaken identities launch a breathless series of twists and turns in this breezy "transladaptation" of a rediscovered French farce by comedic master David Ives (The Liar, Venus in Fur, All in the Timing).
"I couldn't be more excited to have David Ives's latest and most delightful comedy at Red Bull this season under Michael Kahn's brilliant direction," said Artistic Director Jesse Berger. "Frolicsome and funny, it is a hilarious and heartwarming love song to the theater, language, wit - and to love itself. What could be better for springtime in New York?"
Asked why this French farce, David Ives said "Frankly, I fell in love with the title. Having enjoyed myself enormously adapting some French comedies of the 17th and 18th centuries, I was casting around for another. In the course of reading about that period, I stumbled again and again upon mention of an obscure play from 1738 with a superb title: La Métromanie. It means, more or less, The Poetry Craze. ("Metro" from "metrum," Latin for poetic verse, and "mania" from... Oh, never mind.) When my friends ask me what it's about, I always say The Metromaniacs is a comedy with five plots, none of them important. But that's part of its beauty. We go to certain plays to inhabit a world elsewhere, and La Métromanie is that kind of play. Piron doesn't want plot. He wants gossamer and gorgeousness, rarified air and helpless high-comic passion. A purer world. Characters drunk on language, fools in love with love. In other words, the way the world was meant to be. Given what's in our newspapers, a few yards of gossamer may be just what the doctor ordered. So gossam on, mes amis, gossam on...."
There are few playwrights who love language as much as
David Ives
. "I think everything should be in verse," Ives has said. "The New York Times and cookbooks should be in verse. Verse raises the level." Born in Chicago in 1950, Ives entered Yale School of Drama in 1981, where he began bending the world to his inimitable rhythms.
New York Magazine
once named him one of the 100 smartest New Yorkers, a distinction he has called the greatest tragedy of his life. All in the Timing (1993), a breakneck evening of witty dialogue, ran for over 600 performances off-Broadway. In 1995-1996, it was the most-performed play in the country. In 2013-2014, Ives repeated this coup with Venus in Fur, his Tony Award-nominated play, which
Roman Polanski
turned into a film. He is currently collaborating with
Stephen Sondheim
on a much-anticipated musical based on two films of Luis Buñuel. All of which makes his comfort in the classical theatre-and his facility with verse-even more impressive. The Liar and The Heir Apparent, Ives's rhymed-verse translations of French comedy commissioned by the
Shakespeare Theatre Company
, have quickly become industry standards, and he credits working in this form with transforming his experience of reality. "Once I started working in verse," Ives says, "I would walk down the streets and translate bus ads into verse, just to see how they'd sound. Know what? Bus ads are always better in iambic pentameter."
Alexis Piron (1689-1773), one of the most widely produced comic writers of the 18th century, lived a life dogged by controversy. He had an uncanny ability to make powerful enemies and as a result, he is all but forgotten today. Born in Burgundy in 1689, Piron moved to Paris in the early 1720s, eager to be a poet. But instead of garnering glory at the Comédie Française - the theatre of King Louis XV - Piron worked at Paris' unofficial fairground theatres. At these théâtres de la foire, Parisians came to have a naughty good time, classical decorum be damned. Arlequin Deucalion (1722), an ingenious dramatic monologue sprinkled with satirical jabs at contemporary authors and actors, established Piron as an anarchic, dangerous wit. In 1738, Piron produced his masterpiece, at, of all places, the Comédie Française. Inspired by a real-life literary scandal involving Voltaire, La Métromanie brings the literary pretensions of the ruling classes down to the parterre of public opinion. The play was a popular success and one that Voltaire would not forget. Piron was nominated to the Académie Française (of which Voltaire was a member) in 1753. Citing his artistic improprieties, Louis XV vetoed him. Though he lived a long life of material comfort, Piron never again wrote for the Comédie Française. For his epitaph in 1776, Piron wrote his final, and most famous, couplet: Ci-gît Piron, qui ne fut rien. Pas même académicien. As David Ives translates it: "Here lies Piron, a nothing, an anatomy. He couldn't even make the French Academy."
The Metromaniacs is the third play from the successful partnership between director Michael Kahn and David Ives, this is the third play in Ives's series of rediscovered French comedy masterpieces, following The Heir Apparent (2011) and The Liar (2010).
Michael Kahn has been the Artistic Director of The Shakespeare Theatre Company for the nearly 30 years. During this time he has directed award-winning classical theatre productions, instituted free Shakespeare performances, and led the theatre to receive the 2012 Tony Award for Outstanding Regional Theatre. Kahn has received seven Helen Hayes Awards for Outstanding Director. Kahn's work in theatre and opera has been seen on Broadway, Off Broadway, in American regional theaters, and at international venues. Prior to joining STC, Kahn was the Richard Rodgers Director of the Drama Division at The Juilliard School, where he has taught since its founding in 1968. He served as the Artistic Director of The Acting Company, McCarter Theatre Center, and American Shakespeare Theatre. He also earned a Tony Award nomination for his direction of Showboat. In January 2013, Mr. Kahn was inducted into the American Theater Hall of Fame. In April 2013, he was named an Honorary Commander of the Order of the British Empire (CBE) by Queen Elizabeth II. In 2016, he was awarded with Red Bull Theater's Matador Award for Extraordinary Achievement in Classical Theater.
Red Bull Theater, hailed as "the city's gutsiest classical theater" by Time Out New York,is the not-for-profit Off-Broadway theater dedicated to shining a light on the classics, bringing rarely seen plays to dynamic new life for contemporary audiences. With the Jacobean plays of Shakespeare and his contemporaries as our cornerstone, Red Bull Theater is New York City's home for dynamic performances of great plays that stand the test of time. The company also produces new works that are in conversation with the classics.
Acclaimed as "a dynamic producer of classic plays" by The New York Times, Red Bull Theater has previously staged productions of Pericles, The Revenger's Tragedy, Edward the Second, Women Beware Women, The Duchess of Malfi, The Witch of Edmonton, The Maids, The Dance of Death, Loot, The Mystery of Irma Vep, Volpone, 'Tis Pity She's A Whore, The Changeling, The School For Scandal, Coriolanus, and last season's runaway comedy hit, The Government Inspector for an extended run at the Duke on 42nd Street and New World Stages. The company's work has been hailed as "the most exciting classical theater in New York" (Time Out New York), "Dynamite!" (The New York Times), "Triumphant" (Associated Press), and "Proof that classical theater can still be surprising after hundreds of years" (Variety).
Red Bull Theater's work has been recognized with multiple Drama Desk, Drama League, Lucille Lortel, Callaway and OBIE Award nominations and awards, including the Off-Broadway Alliance Award for Best Revival in the 2015-'16 season (School for Scandal). The company has staged over 150 Revelation Readings, named by the Village Voice "Best Play Reading Series," also developing new plays of heightened language and classical adaptations through workshops and offering educational programs for students of all ages, including Shakespeare In School residencies. Post-play Bull Session discussions with scholars following select Sunday matinees and Readings are free and open to the public.
Founded in 1990, The New 42nd Street is an independent, nonprofit organization charged with long-term responsibility for seven historic theaters on 42nd Street between Seventh and Eighth Avenues. In addition to running The New Victory Theater, The New 42nd Street built and operates the NEW 42ND STREET® Studios - a ten-story building of rehearsal studios, offices and a 200-seat theater named The Duke on 42nd Street - for national and international performing arts companies. Since its opening on June 21, 2000, the NEW 42ND STREET Studios has been fully occupied by both nonprofit and commercial theater, dance and opera companies. With these institutions and the other properties under its guardianship, The New 42nd Street plays a pivotal role in fostering the continued revival of this famous street at the Crossroads of the World.
The Duke on 42nd Street is an intimate 200-seat black box theater built and operated by The New 42nd Street. Since opening in 2000, the theater has been available on a rental basis to international and domestic nonprofit organizations to present their work. Companies that have presented at The Duke on 42nd Street theater include: Theatre for a New Audience;
Playwrights Horizons
; Lincoln Center Great Performers;
Transport Group
Theatre Company; The NYC Tap Festival; and
92nd Street Y
's Harkness Dance Project. In October 2008,
Lincoln Center Theater
launched "LCT3" at The Duke on 42nd Street. In 2012, the American premiere of
The
Royal Court Theatre
's Olivier Award-winning play,Cock, was presented by
Stuart Thompson
,
Jean Doumanian
and
The
Royal Court Theatre
. NEW 42ND STREET presentations at The Duke on 42nd Street have included: Karole Amitage's Armitage Gone! Dance;
Chicago Shakespeare Theater
's Rose Rage;
Naked Angels
and
Dan Klores
's Armed and Naked in America; and Classical Theater of Harlem's production of
Langston Hughes
's Black Nativity. Notable NEW VICTORY® presentations at The Duke on 42nd Street include Joan McLeod's The Shape of a Girl, Steppenwolf Theater Company's The Bluest Eye and the smash hit, Once and For All We're Gonna Tell You Who We Are So Shut Up and Listen, presented by The New Victory Theater in cooperation with The Under the Radar Festival. Performances will be Tuesday & Wednesday evenings at 7:30, Thursday, Friday & Saturday evenings at 8pm, with matinees select Wednesdays at 2pm, Saturdays at 2pm and Sundays at 3pm. Tickets for The Metromaniacs, from $75, are available now. To purchase tickets, visit Dukeon42.org or call 646/223-3010. In person, regular box office hours at The Duke on 42nd Street are: Tuesday through Friday, 4pm-7pm; Saturday 12pm-6pm. On performance days the Box Office hours are extended.
The Duke on 42nd Street, a NEW 42ND STREET® project, is located at 229 West 42nd Street, between 7th & 8th Avenues.
For more information about The Metromaniacs and all of Red Bull's programs visit
redbulltheater.com
| | |
| --- | --- |
| Vote Now for the 2022 BroadwayWorld Off-Broadway Awards | |
| voting ends in | |