REVERIES: An Immersive Theatrical Experience to Play The Tank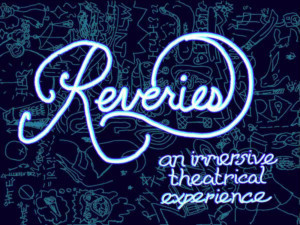 The Tank (Meghan Finn and Rosalind Grush, Artistic Directors) will present Reveries: An Immersive Theatrical Experience at The Tank (312 West 36th Street between 8th and 9th Avenues) on February 1st, 2018 with six performances through February 4th, 2018.
Reveries is a devised exploration of the phenomenon that is dreaming. A hybrid of installation art, movement, music, and theatre, Reveries presents a collaborative effort to stimulate its audience's imagination by immersing them in five pieces that reflect the complexity of our dreams and our various interpretations of them.
The production is directed by Ali Jamali, Calley Luman, Chris Goodrich, Elvin James Patrick, and Orlando Rodriguez with a cast featuring Abigail Milnor-Sweetser, Bailey Van Schepen, Caroline Burke, Dana Stern, Francesca Anderson, Lluvia Almanza, Jaspreet Saund, Marguerite Frarey, Marjay Smith, Peter Qin, Rodrikus Springfield, Sophia Gutchinov, and Stephen G. Tabor.
Tickets ($14 General Admission) are available for advance purchase at www.thetanknyc.org.
Ali Jamali (Director & Producer) is a New York-based artist with an interest in developing new works and devising immersive and site-specific pieces. In the past two years, Ali has worked on numerous productions with companies such as Second Stage Theatre and Manhattan Theatre Club. He is currently a producing resident at Musical Theatre Factory. alidirecting.com
Calley Luman (Director) is a BFA graduate of the University of Oklahoma. She recently had her first publication of a short fiction piece titled Invisibility in Centum Press's One Hundred Voices Anthology. Acting credits: Seven Stages Shakespeare, The Winter's Tale; Shakespeare Theatre Company DC, Romeo and Juliet. Upcoming: A Dream Play (Egg & Spoon Theatre Collective). calleyluman.com
Chris Goodrich (Director) is BFA graduate of the University of Miami and an actor/director currently living in Brooklyn, NY. Previous directing credits include: The Illusory Adventures of a Dreamer as part of the 2016 NY International Fringe Festival and Assistance by Leslye Headland at the University of Miami.
Elvin James Patrick (Director) is an actor-musician and former member of the Blue Man Group. He has studied acting at American Conservatory Theater, University of Evansville, Williamstown Theatre Festival and the Moscow Art Theater School. As a drummer, he has performed across the city at Highline Ballroom, The Bitter End, and DROM.
Orlando Rodriguez (Director) is a graduate of the University of Texas at El Paso with a BA in Theater Tech and Design. Writing: Dolores (2017). Directing: The Fall of Wallace Winter (2015), Johnny Tenorio (2009). Acting: Gretta in Bent (2017), Devlin in Ashes to Ashes (2013).
The Tank is a non-profit arts presenter serving emerging artists engaged in the pursuit of new ideas and forms of expression. We serve over 2,000 artists every year in over 800 performances in our new home on 36th Street, and work across all disciplines, including theater, comedy dance, film music, public affairs, and storytelling. Our goal is to foster an environment of inclusiveness and remove the burden of cost from the creation of new work for artists launching their careers and experimenting within their art form. We keep ticket prices affordable and view our work as democratic, opening up both the creation and attendance of the arts to all.
More Hot Stories For You