Playful Substance to Present TELL ME by Lauren Lindsey White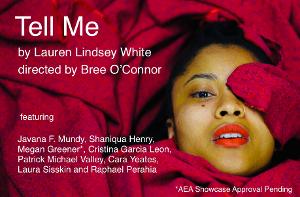 Playful Substance, presents another production from the company's Writer's Group.
"Tell Me" by Lauren Lindsey White; directed by Bree O'Connor with Marie Donna Davis and Dan Renkin as Movement and Fight Directors - respectively. Lighting design by Ariella Axelbank. The production features Javana F. Mundy, Shaniqua Henry, Megan Greener,* Cristina Garcia Leon, Patrick Michael Valley, Cara Yeates, Laura Sisskin, and Raphael Perahia. (*Ms. Greener appears courtesy of Actors Equity)
TELL ME tells the story of Elle.
As Elle deals with the trauma and aftermath of being raped, she begins to question everything about her life that has led to this moment. Past, present and future worlds collide, in this experimental memory play that explores identity, beauty and loss.
Playful Substance brings this sensitive piece to Access Gallery Space, 308 Broadway 4th Floor, for two weeks. March 19-22 and 26-29. All performances are 8:00 p.m. All seats: $25, available at https://www.artful.ly/store/events/19980
In the two years since PS Writers' Group began, six plays were staged/ produced with three more currently in workshop. Now there is a Director Development component being administered. http://www.playfulsubstance.com/.
Featured BroadwayWorld Events
Check out these concerts...

More Hot Stories For You