Click Here for More Articles on SHAKESPEARE SPOTLIGHT
Photo Flash: The Brewing Dept.'s HAMLETGHOSTS Heads to HERE Tonight
The Brewing Dept. presents HamletGhosts at New York City's HERE from tonight, August 3, through August 5 at 7pm, and at the 2015 First Niagara Rochester Fringe Festival on September 25th at 10:30pm and September 26th at 2pm and 9pm. Tickets for both runs are $15. Scroll down for a sneak peek at the cast in action!
In this new devised piece, the cast of HamletGhosts rips apart Hamlet and reconstructs it for a modern audience. Through a series of vignettes mixing Shakespeare with Lady Gaga, internet help sites, personal narratives, and more, the show invites audiences to witness the emotional guts of Hamlet without any of the messy plot. Experience Director Cody Holliday Haefner''s radical vision in a piece that forces the audience to question their own complicity in the acts of madness and violence played out in front of them.
The Brewing Dept. is a theater company devoted to incubating and developing theatrical productions by emerging artists over extended periods of time. HamletGhosts exemplifies this mission, having been in development for the past 18 months with two workshops leading up to this full production. The unusual opportunity for extended rehearsal work afforded by The Brewing Dept. has allowed the group to truly focus the piece. Haefner said, "With every month we''ve distilled the piece further away from the text but closer to the core themes of Hamlet."
HamletGhosts features Claudia Givings, Alex Hare, Julia Izumi, Emily Kaplan, Kaitlin Kaufman, Jake Lasser, Olivia Levine, Theo Maltz and Matthew McShane. Rebecca Clark assistant directs this production. Tech direction and sound by Jess Malcolm; costume design by Ilana Breitman. Graphic design by Jiin Choi.
HERE is located at 145 6th Avenue (Enter on Dominick, 1 Block South of Spring). For tickets and information, visit here.org or call 212-352-3101. TheatreROCS Stage at Xerox Auditorium is located at 287 E. Broad St. (Enter on E. Broad between Clinton and Chestnut). For more, go to thebrewingdept.org.

HAMLETGHOSTS logo, designed by Jiin Choi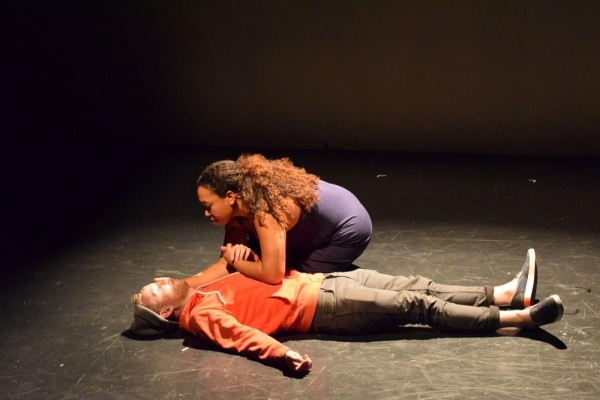 Matthew McShane and Claudia Givings at Dixon Place Workshop

Jake Lasser and Emily Kaplan at Dixon Place Workshop