Click Here for More Articles on SHAKESPEARE SPOTLIGHT
Photo Flash: Sneak Peek at What Dreams May Co & Queens Shakespeare's JULIUS CAESAR
What Dreams May Co. in partnership with Queens Shakespeare Inc. presents Julius Caesar by William Shakespeare, directed By Chris Rivera with stage manager Maks Kosomov. BroadwayWorld has a sneak peek at the cast below!
After receiving praise from audiences and critics alike for their smash hit productions of Much Ado about Nothing and Romeo & Juliet in 2014, What Dreams May Co in partnership with Queens Shakespeare Inc. sets 2015 ablaze with controversial, brutal, modern re-imaginings of two of the classical theatre's most horrifying yet soul searching works. Join us as we shine the looking glass on men worshiped as gods, vengeful gods walking amongst men, and the destructive might of men turned mob. First up...Julius Caesar.
Director Chris Rivera (Director of 2014's critically acclaimed Romeo & Juliet) brings audiences to an apocalyptic Rome. The last glimmer of civilization surrounded by a world in ruin. A city where citizens starve and senators serve as assassins. Where tyrants rule with an iron fist, and are repaid by the grace of a friendly knife. Watch as honorable men become the very thing they set out to stop, while a few carefully chosen words let slip the dogs of war.
Featuring: John Bateman, Francesca Calo, Erin Capistrano, V. Orion Delwaterman, Jonathan Emerson, Laura Hill, Dorbens Ricardo Lemma, Alexander Katz, Serena Miller, Joe Nowacki, Clinton Powell, Lizzie Roberts, Christina Sheehan, Joey Suarez, Maire Vigliotta, Maggie Zamora
Performances of Julius Caesar are July 17th - August 2nd @ 7PM (Fri and Sat at 7PM/Matinees Sat and Sun at 3PM) at the John DeSotelle Studio, 300 W 43rd St, New York, NY 10036. Tickets are $18. To purchase tickets, visit wdmccaesar.brownpapertickets.com or call 1-800-838-3006. For more information on the production, go to www.wdmcshakespeare.com.


Christina Sheehan (Cassius), V. Orion Delwaterman (Brutus)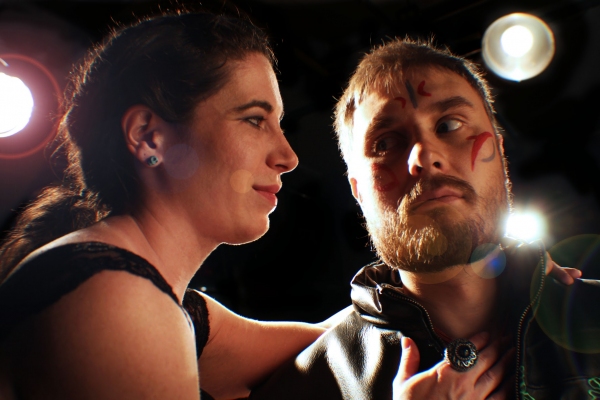 Christina Sheehan (Cassius), V. Orion Delwaterman (Brutus)

V. Orion Delwaterman (Brutus), Christina Sheehan (Cassius)

Elizabeth Roberts (Portia), V. Orion Delwaterman (Brutus)

SeRena Miller

Maggie Zamora

John Bateman (Calpurnius), SeRena Miller (Caesar)

Jonathan Emerson (Mark Antony), SeRena Miller (Caesar)

Dorbens Richardo Lemma (Trebonius), Erin Capistrano (Metellus Cimber) , SeRena Miller (Julius Caesar), Joe Nowacki (Cinna), Tsebiyah Misheal Derry (Caius Ligarius), Christina Sheehan (Cassius)
Related Articles
More Hot Stories For You