Photos: Sneak Peek at THE DEAD DREAM MACHINE at La Luz
In an abandoned theater on the outskirts of town, an experiment is being conducted-one which extracts dreams! This crazed horror anthology incorporates song, dance, puppetry, aerial, magic and more to create an out of body theatrical experience. THE DEAD DREAM MACHINE will play a limited engagement at La Luz (135 Thames Street, Brooklyn, NY). Scroll down for a sneak peek at the show!
RAGING SQUID INK and ERIC SCHMALENBERGER are thrilled to celebrate Friday the 13th by introducing the terrifyingly awesome celebrity guest artists performing the role of SHAMAN in Jake Thomas' horror experience THE
DEAD DREAM MACHINE, video art by Sean Gill and directed and choreographed by Around the World in 80 Days' Rachel Klein. In the final scene each night, the SHAMAN with sing a gothed out orchestral version of Nick Cave's "There is a Kingdom." Scroll down for a sneak peek at the show! The role of SHAMAN will be played by: - September 19th Ashley Kate Adams (Bdwy: La Cage Aux Folles)
- September 20th Rob Roth (Screen Test, Click And Drag, The Mystery of Claywoman)
- September 21st TBD VIP (...think YMCA...)
- September 26th Mx Justin VivIan Bond (TANGO: My Childhood, Backwards and in High Heels, Bdwy: Kiki and Herb Alive on Broadway, Tony nomination)
- September 27th Lady Rizo ("Cabaret Superstar" - New York Magazine, Grammy winner)
- September 28th Michael Musto (journalist and former columnist for The Village Voice)
...more TBD THE DEAD DREAM MACHINE stars various luminaries from the alternative stages of New York City, including Darlinda Just Darlinda, "Mastermind of Bizarre Extravaganza", as The Queen/The Domestic Goddess, Arden Leigh, author of the book The New Rules Of Attraction, as Woman/Audrey, Michael Cavadias, performance artist, as Marcus, Malia Scharf, director of the documentary "Kenny Scharf, More, Newer, Nower, Better, Funner", as O'Connor, Eric Schmalenberger from Blunderland and Banzi!!!, as the Impresario, the Great Dubini, a Ripley's Believe it or Not magician as O'Bannon/Man, and more all uniting to create the ultimate colorful and wicked theatrical horror experience, which through a rich narrative taps into different fears that resonate in all of us. The cast is rounded out by Aurora Black, ("The Prima Ballerina of Burlesque") as the Nightmare Dancer, Chris Cipriano as Drew/Peter/Nameless/the Vizier, Elena Delgado (actress, aerialist, House of Yes) as Angelica, Brian Ferree (aerialist) as Will/Ed/Humphrey, Jillaine Gill as Laura/the Dreamer, Nicki Miller as Jackson/Aerial Dancer, Robyn Nielsen as Cathleen/Dancer, Amanda Peck (Peoples Improv Theater) as Janet/Servant Girl, Michael Porsche (RKP
Ensemble) as The Master Story Teller/Demon Bartender, David F. Slone, Esq. (the Love Show) as EmCee/Bouncer and Charlie Wilson as Anthony/Lawrence. The production, produced by Eric Schmalenberger and Raging Squid Ink, features scenic design by Evan Collier with fabrication by Arch Production and Design, costume and puppet design by Elena Delgado and Juanita Cardenas, and lighting design by Ben Kato. Sean Gill is the video art director, the associate director and the sound designer and Marina Steinberg is the stage manager. Marketing and PR by Katie Rosin/Kampfire PR.THE DEAD DREAM MACHINE plays the following regular schedule through Sunday, October 13: Thursdays at 8 p.m.; Fridays at 8 p.m.; and Saturdays at 8 p.m. There are additional performances on Wednesday, September 18 and Sunday, October 13th at 8 p.m. Tickets are $20 and are now available online at www.deaddreammachine.eventbrite.com or by calling 1-800-350-8850. Tickets may also be purchased in-person at the theater ½ hour prior to performance. Running Time: 2 hrs. Website: www.DeadDreamMachine.com.
Photos © 2013 Michael Blase

Darlinda Just Darlinda as The Domestic Goddess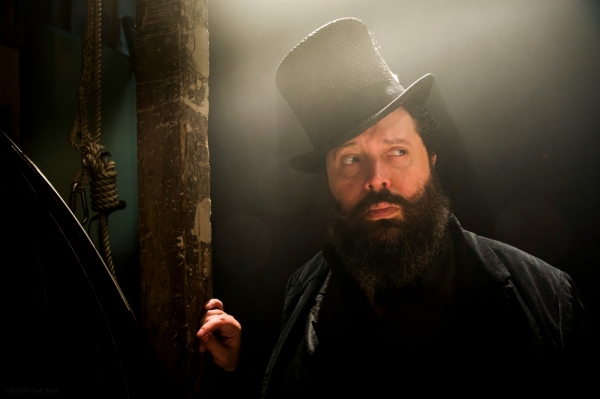 David F. Slone, Esq. as the EmCee

Arden Leigh as Audrey in Lovecraft in Brooklyn.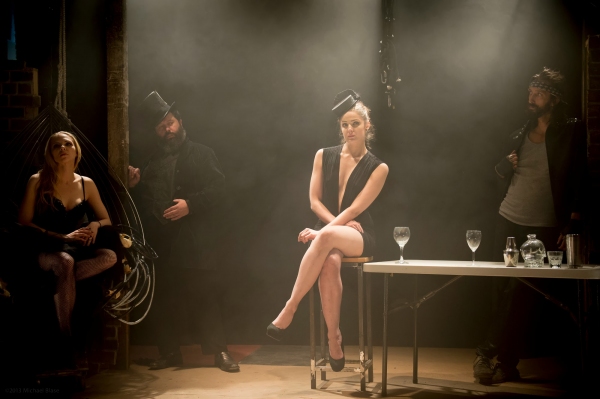 Aurora Black as the Nightmare Dancer, David F. Slone, Esq. as The EmCee, Arden Leigh as Audrey, Michael Porsche as The Demon Bartender in Lovecraft in Brooklyn.

Arden Leigh as Audrey and Charlie Wilson as Laurence in Lovecraft in Brooklyn.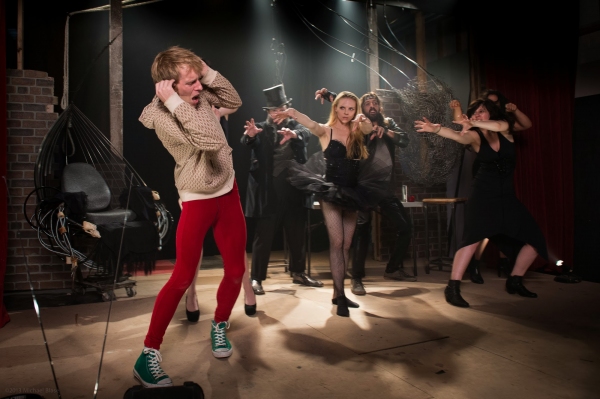 Brian Ferree as Humphrey, Arden Leigh as Audrey, David F. Slone, Esq. as The EmCee, Aurora Black as The Nightmare Dancer, Michael Porsche as The Demon Bartender and Robyn Nielson and Nicki Miller as the dancers in Lovecraft in Brooklyn.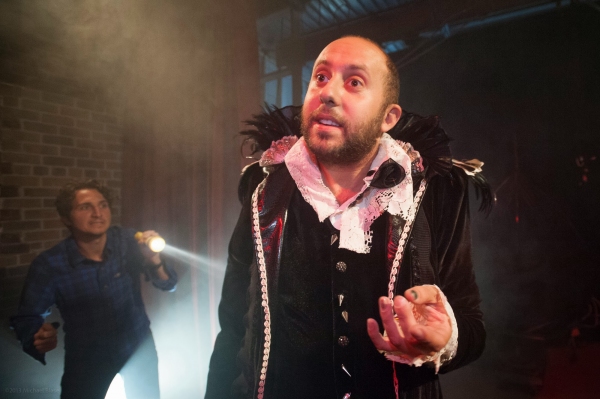 Chris Cipriano as Will and Eric Schmalenberger as The Impresario in The Opening.

Charlie Wilson as Anthony and Amanda Peck as Janet in Chemistry.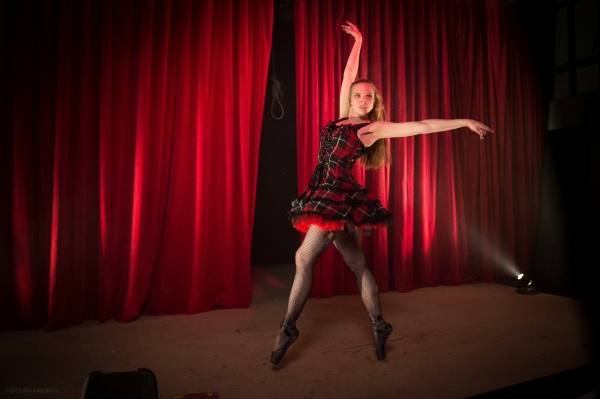 Aurora Black as The Nightmare Dancer.

Elena Delgado as Angelica, Greg Dubin as O'Bannon and Brian Ferree as Ed in The O'Bannon Clearing.

Darlinda Just Darlinda as The Queen, Amanda Peck as The Servant Girl and Michael Porsche as The Master Storyteller in The Gift.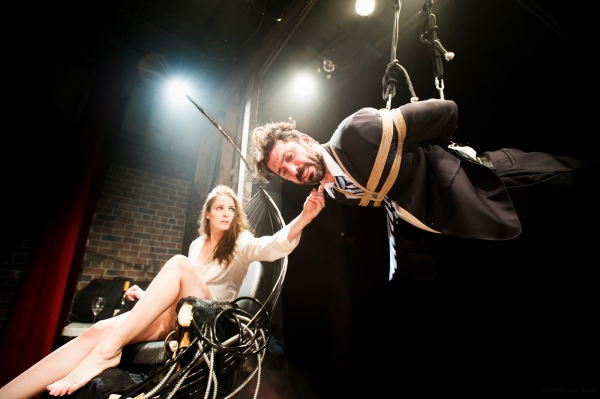 Arden Leigh as Woman and Greg Dubin as Man in Penance

David F. Slone, Esq. as The EmCee, Arden Leigh as Audrey and Malia Scharf as a dancer in Lovecraft in Brooklyn.