Photo Flash: Jonny Blitstein's SQUEALER at TNC
Theater for the New City (TNC) has announced that Squealer, a new play by Jonathan Blitstein and directed by Daniel Talbott, will open on Thursday May 5th at 8pm at Theater for the New City - 155 First Avenue, between 9th and 10th Streets. Squealer is the inaugural production from new company Lesser America (founded by Jonathan Blitstein, Daniel Abeles, Laura Ramadei, and Nate Miller).
Set in fictional Wauketawnee Lake, Illinois against the backdrop of recession in the heartland, Squealer follows an ambitious pork farmer who falls in love with the teenage daughter of his old high-school flame and believes she's his ticket out. When he can't get what he wants, things get bloody. A full-on taste of America's poverty-soaked obsession with consumerism and our unquenchable thirst for more, whether it's meat, or love, or both.
The production will feature Nick Lawson and Sarah Lemp (Adam Rapp's Hallway Trilogy, Amoralists' Pied Pipers of the Lower East Side), Laura Ramadei, Daniel Abeles, Nate Miller (Keep Your Baggage With You) and newcomer Jamie Law.
Performance dates: May 5th - 21st
Performance schedule: Thursdays - Saturdays at 8pm, Sundays at 3pm
Tickets on sale now at: www.theaterforthenewcity.net
Or in person at the box office at 155 First Avenue, between 9th and 10th Streets
For more information about Squealer and Lesser America, please visit www.theaterforthenewcity.net or www.lesseramerica.com
JONATHAN BLITSTEIN is an emerging playwright from Illinois, whose debut play Keep Your Baggage With You at Theater For the New City kicked off a collaboration with director Daniel Talbott in 2010, and helped spawn the fledgling company Lesser America. Jonathan's projects as an indie screenwriter and director have screened at international festivals, in theaters, and on television. He began his career as an actor, singer and dancer in Apple Tree Theater's youth program. A BFA graduate of the Tisch School of the Arts at NYU, his award-winning debut independent film Let Them Chirp Awhile (avail. on Netflix) was completed on a shoestring budget in 18 days, with the support of Kodak. The script was recently made available in the permanent collection of the Margaret Herrick Library at AMPAS. Jonathan studied acting and playwriting at NYU, The Second City, The Piven Theater, LAByrinth, and Primary Stages. He is a founding member of Lesser America, a member of Rising Phoenix Repertory (for which he will write a play for the CINO NIGHTS series in Spring 2012), and is an associate artist with the LoNyLa Project. Squealer is his second play produced in New York City.
DANIEL TALBOTT's most recent work as an actor includes the Theatre for One project in Times Square and around NYC, The Merry Wives of Windsor (Shakespeare Festival of St. Louis), Master Builder (Irish Rep), Rocket City (Alabama Shakespeare Festival), Tartuffe (McCarter Theatre/Yale Rep), Marat/Sade (Classical Theatre of Harlem) and the feature film Pretty Bird, Dreaming American and The Big C on Showtime. Recent directing work includes The Umbrella Plays (the teacup company at The Tank and FringeNYC - Overall Excellence Award: Outstanding Play), Keep Your Baggage With You (at all times) (Theater for the New City), Footprint by Mac Rogers (part of +30NYC for Red Fern Theatre), Afterclap by Daniel Reitz, Birthday and Nobody, both by Crystal Skillman (Rising Phoenix Rep at the Seventh Street Small Stage), and Fall Forward (Sitelines/River to River Festival produced by the Lower Manhattan Cultural Council). His play Slipping was produced at Rattlestick with Piece by Piece Productions (named one of the top ten plays of 2009 by The Advocate), premiered in Chicago at The Side Project, and was part of the International Dublin Gay Theatre Festival. It was published last year by Dramatists Play Service and is currently a finalist for the Lambda Literary Awards in Drama. His play What Happened When was produced at HERE Arts Center and The Side Project and was published as part of the Plays and Playwrights 2008 anthology. He received a 2007 New York Innovative Theatre Award for directing, a Drama-Logue Award, two Dean Goodman Choice Awards and a Judy Award for acting, and was also named one of the 15 People of the Year 2006 by nytheatre.com. He is a member of MCC Theater's Playwrights' Coalition, of last year's 24Seven Lab, and of TOSOS. He is a graduate of Juilliard and of Solano College Theatre's ATP, and teaches at the Primary Stages Einhorn School of Performing Arts (ESPA). He is one of the literary managers of Rattlestick Playwrights Theater and the artistic director of Rising Phoenix Rep (recipient of the 2007 NYIT Caffe Cino Fellowship Award).
About Theater For the New City:
THEATER FOR THE NEW CITY (TNC) is a Pulitzer Prize winning community cultural center that is known for both its quality artistic work and unique widespread community service. One of New York's most prolific theatrical organizations, TNC produces 30-40 premieres of new American plays per year, at least 10 of which are by emerging and young playwrights. Many influential theater artists of the last quarter century have found TNC's Resident Theater Program instrumental to their careers, among them Sam Shepard, Moises Kaufman, Richard Foreman, Charles Busch, Maria Irene Fornes, Miguel Piñero, Jean-Claude van Itallie, Vin Diesel, Oscar Nuñez, Laurence Holder, Romulus Linney and Academy Award Winners Tim Robbins and Adrien Brody. TNC also presents plays by multi-ethnic/multi-disciplinary theater companies who have no permanent home. Among the well-known companies that have been presented by TNC are Mabou Mines, the Living Theater, Bread and Puppet Theater, the San Francisco Mime Troupe and COBU, the Japanese women's drumming and dance group. TNC also produced the Yangtze Repertory Company's 1997 production of BETWEEN LIFE AND DEATH, which was the only play by Gao Xingjian ever produced in America before he won the Nobel Prize for Literature. TNC seeks to develop theater audiences and inspire future theater artists from the often-overlooked low-income minority communities of New York City by producing minority writers from around the world and by bringing the community into theater and theater into the community through its many free Festivals. TNC productions have won the Pulitzer Prize for Drama and over 42 OBIE Awards for excellence in every theatrical discipline. TNC is also the only Theatrical Organization to have won the Mayor's Stop The Violence award.
Facebook.com/theaterforthenewcity
Twitter.com/tncinnyc
About LESSER AMERICA:
Lesser America is pop theater. We are an ensemble of renegade artists dedicated to smart, quality entertainment that puts the audience first, fulfilling the promise of affordable, accessible theater for the 21st century.
Learn more at www.lesseramerica.com


Jonathan Blitstein

Daniel Abeles

Sarah Lemp and Laura Ramadei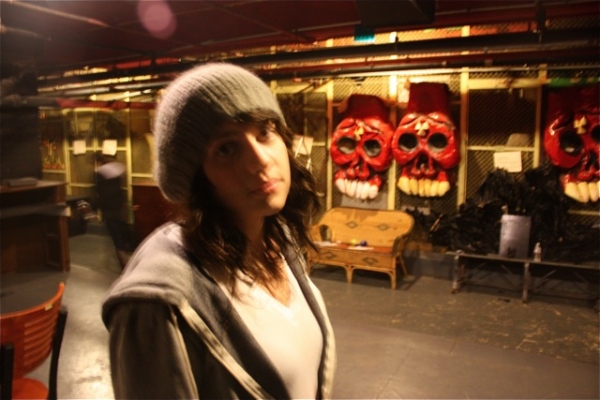 Set Designer Eugenia Furneaux-Arends

Jamie Law, Daniel Abeles. Sarah Lemp, Nick Lawson

Jamie Law, Jonathan Blitstein, and Laura Ramadei

Sarah Lemp

Nick Lawson and Jonathan Blitstein

Laura Ramadei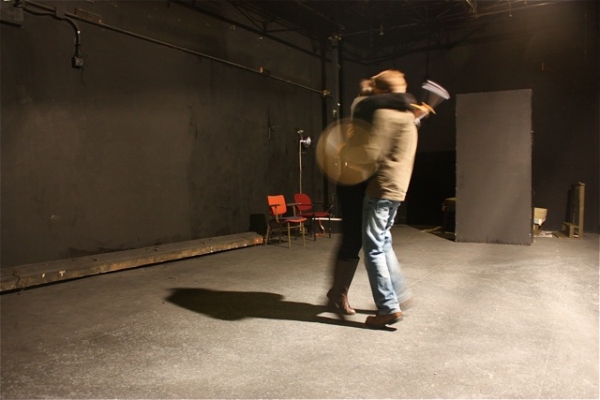 Jamie Law and Daniel Abeles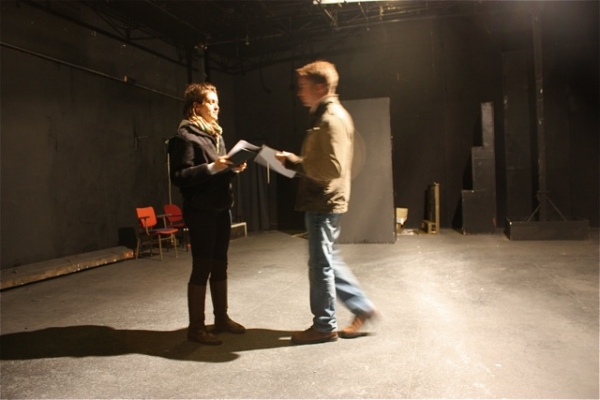 Jamie Law and Daniel Abeles

Jamie Law and Daniel Abeles

Daniel Abeles

Jonathan Blitstein, Laura Ramadei, and Nick Lawson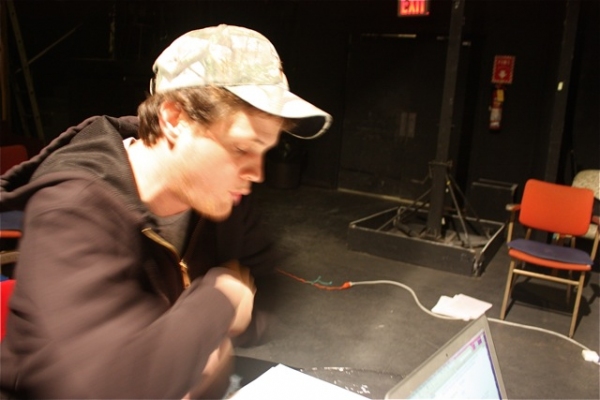 Nick Lawson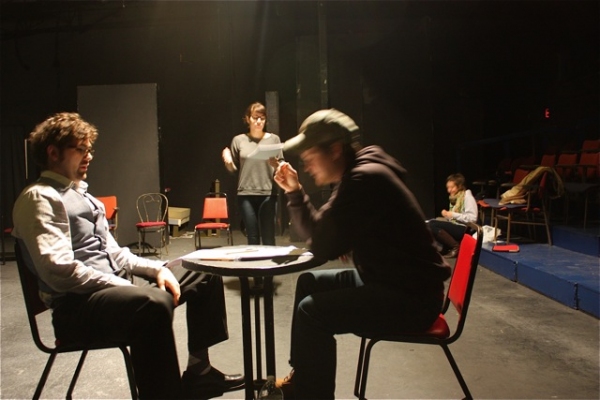 Cast of Squealer in rehearsal

Jamie Law and Nick Lawson

Related Articles View More Off-Off-Broadway

Stories

Shows
More Hot Stories For You