Click Here for More Articles on SHAKESPEARE SPOTLIGHT
Photo Flash: Inside Shrunken Shakespeare Company's KILL SHAKESPEARE
Shrunken Shakespeare Company and Pulp Variety Streamcast members starred in new authorized adaptation of IDW's Graphic Novel Kill Shakespeare on Sunday, May 11 at The Kraine Theater. Cast members included Yvonne Cone (Shakespeare & Co, SSC, TBG), Jennifer Martina (SSC, PVS), Sam Parrott (Shakespeare & Co, SSC), Michael Moreno (Shakespeare Forum: Merchant of Venice; Shakespeare & Co.: All's Well...), Sketkh Williams (PVS), Robert Davenport (SSC, UCB), Eric Chase (One Life to Live, SSC, PVS), Amanda Baumler (SSC, PVS), Matt Golden (PVS), Equiano Mosieri (Shakespeare & Co: Romeo and Juliet; Berkshire Theatre Fest), Richard Templeton (PVS), and Adam Luke (PVS). Scroll down for some photos from the event!
This new adaptation of Kill Shakespeare was based on the IDW comic book series created by Anthony Del Col and Conor McCreery. It was the first ever authorized adaption not written by Del Col and McCreery, bringing the comic to life as a live radio-theatre show and podcast.
Kill Shakespeare pits The Bard's greatest heroes: Hamlet, Juliet, Othello, and Falstaff, against his menacing villains: Richard III, Lady Macbeth, and Iago. In this hilarious and epic adventure, the characters go on the search to find the mysterious and reclusive wizard, William Shakespeare, who controls their destinies.
PVS teamed up with SSC's artistic team and company members for the Kill Shakespeare collaboration. The production team included SSC co-producing artistic directors Yvonne Cone and Jennifer Martina, PVS producer Sketkh Williams, SSC production manager Christian Lemay, and SSC company manager Amanda Baumler.
PVS is driven to create original off-kilter Radio Theater shows for modern audiences, taking inspiration from the pop culture of today and yesteryear to create a live variety show to thrill on stage then entertain all at home as a free and exciting Podcast. Mashing comedy into the genres of Sci-Fi, Horror and Superheroes, PVS carves a path of the absurd into the otherwise mundane entertainment space of podcasting. To learn more about PVS visit www.PulpVarietyStreamcast.com.
Though Shrunken Shakespeare Company is shrunken in both size and stature, they have big aspirations. Their mission is to take classical theatre pieces, primarily Shakespeare, and throw them in the air, scramble them up, shorten them and sometimes even devise around them. Once staged, you will see them in a way that you have never experienced before. They create ensemble- driven classical theatre that incorporates various types of performance, including but not limited to: dance, music, acrobatics, and clowning. Their goal is to stay true to the text, all while making it relatable to a younger, more modern audience. They tailor every play to fit the space in which it is performed. This means, each play chosen is condensed to uniquely fit each venue. Thus, the site becomes the set.
They aim to create a relationship between both the actor and the audience, resulting in both walking away with a profound understanding of each play and an exciting new perspective of what classical theatre means today. To learn more about SSC, visit www.shrunkenshakespeare.com.
Photo Credit: Matthew Dunivan


Sketkh Williams, Jennifer Martina, Yvonne Cone, and Amanda Baumler

Adam Luke and Robert Davenport

Sketkh Williams, Sam Parrott, and Michael Moreno

Amanda Baumler

Sam Parrott and Eric Chase

Robert Davenport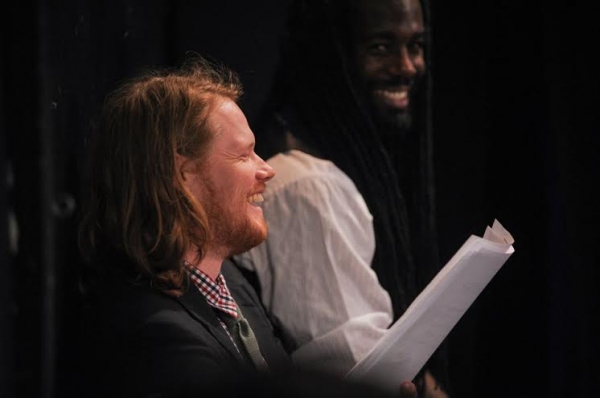 Richard Templeton and Equiano Mosieri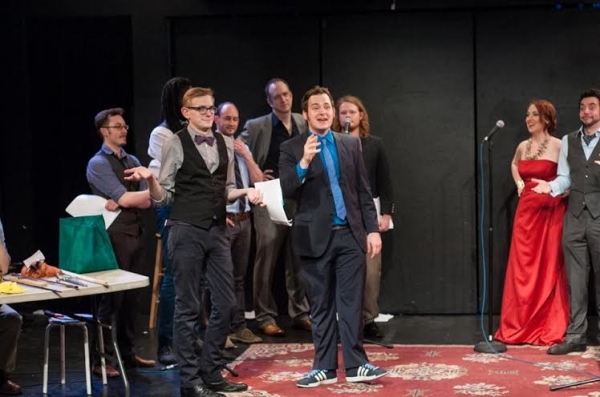 Sam Parrott, Equiano Mosieri, Adam Luke, Matt Golden, Robert Davenport, Sketkh Williams, Richard Templeton, Jennifer Martina, and Michael Moreno

Sam Parrott, Equiano Mosieri, Adam Luke, Matt Golden, Robert Davenport, Richard Templeton, Sketkh Williams, Jennifer Martina, Michael Moreno, Yvonne Cone, and Eric Chase

Related Articles
More Hot Stories For You