Photo Flash: First Look at the US Premiere of HOLY LAND at HERE
Holy Land will run thru May 10 at HERE (145 Avenue of the Americas) with performances Wed.-Sat. at 7pm. What if bombs & gunfire was the daily soundtrack to your life? Welcome, to Holy Land...a raw and evocative tale of two families in a war ravaged city, trying to find humor when all is lost. Scroll down for a first look at the cast in action!
Holy Land has been presented to critical acclaim in Paris, Vienna, Prague, London, Milan, Jerusalem, Rio de Janeiro, Stockholm and Hamburg. Can we find humor & poetry in extreme situations? Mohamed Kacimi''s compelling and entertaining Holy Land answers this question as five contemporary characters face the devastation of war. A city under siege...the landscape is dusty, devastated. Carmen has disappeared at a checkpoint; her daughter, Imen, must face a soldier''s house search alone. In the house next door, Alia, a midwife, prepares her coffee as if nothing else matters while Yad, her husband, gets away from it all by smoking and drinking. The only hope seems to reside in Jesus: the cat. This dark and humorous story follows 5 characters hanging on to the banality of day-to-day life, at times to the point of insanity, as a way to transcend the atrocities of war.
The U.S. premiere production is translated by award-winning NY-based playwright Chantal Bilodeau and will be presented by 3rd Kulture Kids, featuring direction by Tracy Cameron Francis who has directed and developed work with NYTW, Williamstown Theatre Festival, LaMama Umbria (Italy), NY Arab American Comedy Festival, NY International Fringe and Falaki Theatre (Egypt). Based in Paris, Mohamed Kacimi was born in Algeria in a family of theologians; a poet, playwright, novelist, translator, journalist, he is also the president of Écritures du Monde - an organization that puts together international writing residencies.
3rd Kulture Kids has assembled a multicultural team to work on this universal play and the cast will feature Obie Award-winner Jojo Gonzalez (White Collar, The Smurfs Movie, The Romance of Magno Rubio), Sean Carvajal, Ana Grosse, Gil Perez-Abraham and Pia Haddad. The creative team includes Charles Coes (Sound Designer), Lisa Renee Jordan (Costume Designer), Sheryl Liu (Set Designer), Miguel Valderrama (Lighting Designer) and Laura Perez (Stage Manager).
This production is an Equity Approved Showcase and is a part of SubletSeries@HERE, HERE''s curated rental program, which provides artists with subsidized space and equipment, as well as technical support. Tickets are $18 and can be purchased online at www.HERE.org.
Photo Credit: Michael Palma

Jojo Gonzalez and Pia Haddad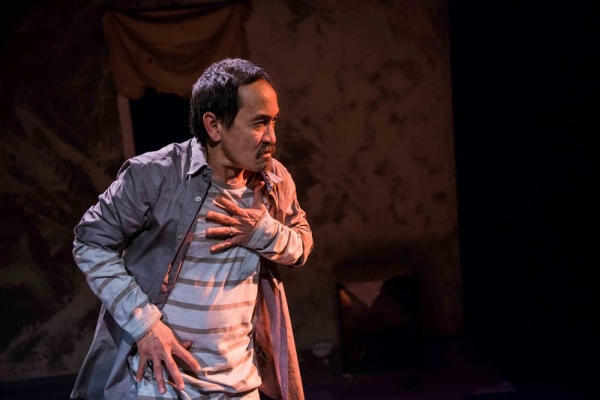 Jojo Gonzalez

Pia Haddad