Photos: First Look at TOO MANY LENAS 3: LET THEM EAT CAKE, Opening Tonight at 2014 Ice Factory Festival
Artistic Director Robert Lyons presents the 21st annual Obie Award-winning Ice Factory Festival. Ice Factory 2014 takes place at the New Ohio Theatre, located at 154 Christopher Street between Greenwich and Washington Streets in New York City. Ice Factory 2014 will present six new works over six weeks, running from June 25 - August 2, 2014. Running today, July 2 through the 5th is "Too Many Lenas 3: Let Them Eat Cake", presented by CARROLL SIMMONS, created and written by Carroll Simmons, and directed by David Bernstein. Scroll down for a first look at the cast in action!
A coven of
Lena Dunham
s share a name, a career, and a web of domestic rituals in a constant state of extreme self-dramatization. But when the strain of being "themselves" for a living takes its toll, they must redefine what it means to be successful before becoming the ultimate cliché. A fevered parody of a generation's obsession with "relatable" stories exploring the fundamentally human desires buried beneath the ironic artifice of contemporary web-series realism. CARROLL SIMMONS is a pop-up performance collective that deals in non-linear imaginative portraiture and deadpan shapes with a signature style of absurd and irreverent physical theater. Their work has been presented at the Public,
Ars Nova
, HERE, La MaMa, Irondale and the
Culture Project
.
Performances are Wednesdays - Saturdays at 7pm. Tickets are $18 and $15 for students and seniors, and can be purchased online at www.NewOhioTheatre.org or by calling the Vendini ticket line at 1-888-596-1027.
Photo Credit: Melinda Pinecone Tenenzapf from Ars Nova's ANT Fest 2014.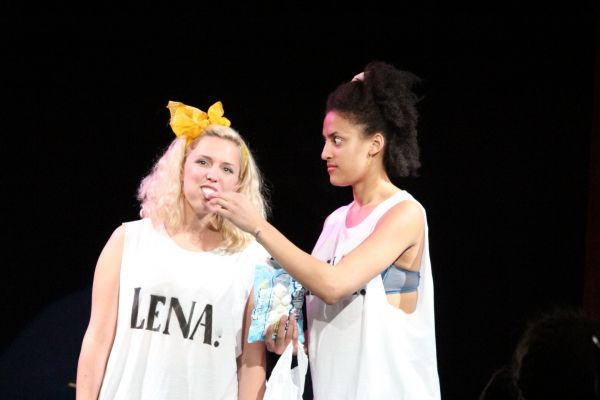 Tessa Skara and Brittany Allen in TOO MANY LENAS

Elizabeth Trieu, Tessa Skara and Sam Corbin in TOO MANY LENAS

Cast of TOO MANY LENAS 3: LET THEM EAT CAKE