Photo Flash: First Look at New York Gilbert & Sullivan Players' H.M.S. PINAFORE
The New York Gilbert & Sullivan Players (NYGASP), America's preeminent professional Gilbert & Sullivan repertory company, continues its 40th Anniversary Season with the perennial favorite H.M.S. Pinafore playing a limited run December 26-31st at NYU Skirball Center for the Performing Arts (566 LaGuardia Place). Scroll down for a first look at the production!
H.M.S. Pinafore will be staged & conducted by
Albert Berg
eret with choreographer & co-direction by
David Auxier
. The production will feature a set design by Albère, costume designs by Gail J. Wofford and a lighting design by Benjamin Weill. H.M.S. Pinafore, or The Lass That Loved a Sailor. All Aboard! And Absurd! This early satirical send-up helped Gilbert and Sullivan chart a new course for modern musical theatre. Lowly sailor Ralph Rackstraw has a problem. Or rather, two. He's fallen for the Captain's daughter, Josephine, and to make matters worse, she's been promised to the haughty Sir Joseph Porter. And although Josephine's heart beats only for Ralph, she agrees to be a dutiful daughter and accept her role as Sir Joseph's wife. Normally Sir Joseph would boast his appreciation of equality among men, but when Ralph and Josephine eventually try to elope, he flip flops his position. Speaking of flipping and flopping...Little Buttercup, the bumbling former "baby farmer" admits her mistake from many years before - that Ralph was really born to the Captain's parents, and vice versa. In the end, much rejoicing begins, as everyone finally finds true love. Even Little Buttercup! H.M.S. Pinafore sails into town with exuberant
David Auxier
at the helm as Captain Corcoran (and production dance captain), Kate Bass as his lovely daughter Josephine, comic
James Mills
as the ridiculous snob Sir Joseph Porter to whom she is engaged, dashing tenors
Cameron Smith
and
Daniel Greenwood
as her true love the lowly sailor Ralph Rackstraw,Angela
Christine Smith
as "plump and pleasing" peddler lady Little Buttercup, and Louis Dall'Ava as Dick Deadeye - the voice of the ugly truth. H.M.S. Pinafore, at NYU Skirball Center for the Performing Arts (566 LaGuardia Place), will play on December 26, 27 & 31st at 8PMwith matinees on December 27th at 2PM and December 28 & 30that 3PM. Tickets prices are $89, $79, $69 & $59 with 50% off for children 12 and under (accompanied by an adult) and 10% off for seniors 65 & older. Tickets may be purchased by calling NYU Skirball Center for the Performing Arts Box office at 212-998-4941 or by visiting
www.nygasp.org
.
Photo Credit: Noah Strone (unless otherwise specified)

Alan Hill and Angela Christine Smith with sailors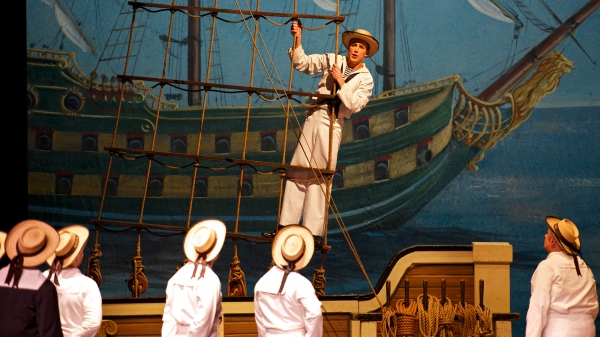 CameRon Smith (top) and sailors
(Photo by William Reynolds)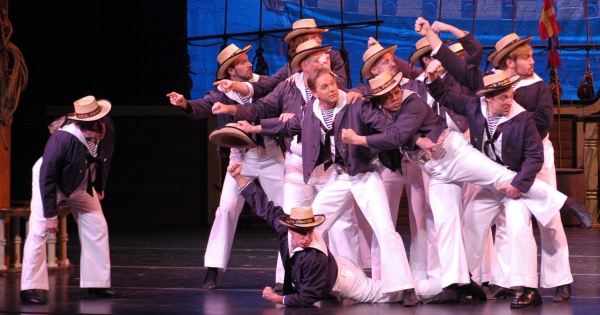 Louis Dall'Ava (far left) and William Whitefield (pulled by sailors)