Photo Flash: First Look at New Ohio Theatre's 2012 ICE FACTORY FESTIVAL
Artistic Director Robert Lyons presents the 19th annual Obie Award-winning Ice Factory Festival. Ice Factory 2012 begins the festival's next exciting era at its new West Village space, the New Ohio Theatre, located at 154 Christopher Street between Greenwich and Washington Streets. Ice Factory 2012 will feature two World Premieres, two New York Premieres and one Manhattan Premiere over six weeks, running from June 27 – August 4, 2012. Check out photos from the productions below!
Performances are Wednesdays - Saturdays at 7pm. Tickets are $18 for adults and $12 for students/seniors and can be purchased online here or by calling SmartTix at 212-868-4444. For more information on the festival visit www.NewOhioTheatre.org, and for up-to-the-minute festival updates, join the conversation on Twitter, at @IceFactoryFest. The space is accessible from the #1 train to Christopher Street or the A, B, C, D, E, F or M train to West 4th Street.
The New Ohio strengthens, nurtures and promotes a community of independent theatre artists and theatre companies by curating and presenting new work in New York City. With its Ice Factory summer festival the New Ohio offers emerging and established companies a prime forum in which to develop their work. Ice Factory prides itself on maintaining extraordinary aesthetic diversity along with an unequaled standard for intelligent, imaginative theater. Previous Ice Factory shows have gone on to Off-Broadway, the Joyce, P.S. 122, the Berkshire Theatre Festival, Edinburgh Fringe and the Walker Art Center, among others.
ICE FACTORY 2012 - 19TH ANNIVERSARY PERFORMANCE SCHEDULE
June 27 - 30
Good Year for Hunters – A World Premiere written and directed by Jess Barbagallo and Chris Giarmo, with sound design by Mike Cacciatore.
A mysteriously orphaned brother and sister fall in love with a closeted husband and wife. A darkly comedic landscape of fractured time, where yearning becomes nightmare. A world of secrets where memory relentlessly rewrites history and traumatic loss is endlessly looped. A queer horror story of deferred adulthood. Inspired by Tori Amos's seminal 1992 album "Little Earthquakes," the soundtrack of Chris and Jess' teenage years.
Jess Barbagallo is a multidisciplinary theatre artist and founding member of Half Straddle, who has performed with Big Dance Theater, Theatre of a Two-Headed Calf and The Builders Association. Chris Giarmo is the resident composer of Half Straddle, and performs with Big Dance Theater. Mike Cacciatore is a multi-instrumentalist artist and songwriter. In addition to designing sound for film and theater, he performs with the bands "Griffin and the True Believers" and "Boys Don't Fight."
July 4 - 7
Flying Snakes In 3D – A Manhattan Premiere produced by Everywhere Theatre Group, written and directed by Leah Nanako Winkler and Teddy Nicholas, with video and sound design by Chase Voorhees.
Mutant killer snakes are accidentally released by the CIA. An unfunded young theatre company attempts to make art in the face of overwhelming financial, technical and emotional obstacles. Violent, bloody chaos ensues. An epic fusion of sci-fi parody, avant-garde theatrics and brutally honest autobiography. Packed with dance, cheap special effects and stunning video design. Dares to ask: If theater is a dying art, what are we doing here?
Everywhere Theatre Group is dedicated to producing collaboratively created new work. They were a 2009-2010 Resident Artist at Incubator Arts Project's inaugural season and performed in Ice Factory 2011's Ice Cubes series.
July 11 - 14
The Pilo Family Circus – Produced by the Drama Desk Award-winning Godlight Theatre Company, adapted by Matt Pelfrey, directed by Joe Tantalo, based on the novel of the same name.
Jamie never dreamed of running away to join the circus, but you just don't say no to a headhunting troupe of exuberantly sadistic clowns. But in a centuries-old carnival and a nightmare world of acrobats, clowns, dwarves, freaks and fortunetellers, he may lose more than just his way. When the whiteface goes on, Jamie becomes JJ – the most vicious clown of all. And JJ wants Jamie dead. A darkly funny, gleefully macabre nightmare.
Godlight Theatre Company adapts novels from the 20th and 21st centuries, and produces world premieres in new, unexpected ways. Winners of a Special Drama Desk Award for Consistent Originality and Excellence for their innovative and vibrantly theatrical productions. The Pilo Family Circus received funding and developmental support from the 2012 Drama League's Directors Project New Directors/New Works Program.
July 18 - 21
Miss Lilly Gets Boned - A NY Premiere produced by Studio 42, written by Bekah Brunstetter and directed by David F. Chapman.
Miss Lilly, a Sunday school teacher, has been waiting patiently for God to drop a man in her lap. When a new student – a young South African boy whose mother was killed by an elephant – disturbs the harmony of her classroom and his father disturbs the harmony of her heart, Miss Lilly is forced to re-examine her own sense of faith and self. A story of classroom hymns, the rumble of raging elephants and answered prayers.
Studio 42 produces "unproducible" plays. David F. Chapman is a director, writer, solo performer and teaching artist whose work has been seen in New York, Chicago, London and Vietnam. Bekah Brunstetter's plays have been seen at Naked Angels, Ars Nova, Steppenwolf, Williamstown, the Atlantic Theater and Finborough Theater.
July 25 - 28
The Apocalyptic Road Show With Your Hosts Gdjet And Lulu - A NY Premiere produced by Clancy Productions and The Occasional Cabaret, written by Obie Award winner John Clancy and directed by Peter Clerke.
Join your hosts Gdjet and Lulu (and their mysterious musical companion) as they guide you through the coming apocalypse and bid a fond farewell to the late, great, damned and doomed human race. A fierce and ragged, comic and profane cabaret that slices down to the hidden reality of the way we live now. A little shot of courage in the face of a terrible truth.
A transatlantic collaboration between Clancy Productions (New York) and The Occasional Cabaret (Edinburgh). Originally funded by Creative Scotland. Clancy Productions specializes in bare-bones, intellectually engaging new American theater.
August 1 - 4
The Girl Of The Golden West – A World Premiere produced by Rady&Bloom, adapted and directed by Jeremy Bloom, created by Jeremy Bloom and Brian Rady.
Exploding onto the frontiers of uninhabited California, the only female in the entire Gold Rush town of Cloudy Mountain sets up her saloon. Mythologized in David Belasco's grandiose 1911 novel and canonized as one of the great spaghetti westerns, a play-turned-novel-turned-Puccini-extravaganza is now a soulful new musical ode to the unexplored expanse of our nation's forgotten periphery and the baffling potential of what might have been.
Rady&Bloom create work collaboratively. Past work has been presented at The Flea and 45 Bleecker.


Cast members of Everywhere Theatre Group's Manhattan Premiere of Flying Snakes In 3D. Photographer: Chase Voorhees.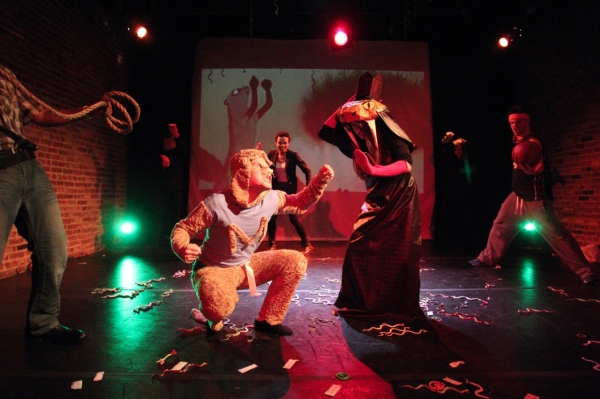 Cast members of Flying Snakes In 3D. Photographer: Chase Voorhees.

Catherine Gillard as Gdjet and Nancy Walsh as Lulu in the New York Premiere of The Apocalyptic Road Show With Your Hosts Gdjet And Lulu. Photographer: Marc Marnie.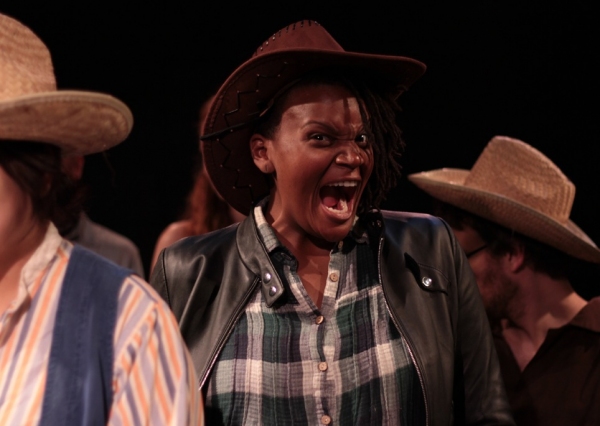 Starr Busby as Sheriff Jack Rance in the World Premiere of Rady&Bloom's The Girl Of The Golden West. Photographer: Robert Gadol Lavenstein.

Tom Hennes as Ramerrez in The Girl Of The Golden West. Photographer: Robert Gadol Lavenstein.

Related Articles View More Off-Off-Broadway

Stories

Shows
More Hot Stories For You