Photo Flash: CollaborationTown Presents RIDDLE OF THE TRILOBITES
CollaborationTown is proud to present the New York premiere of Riddle of the Trilobites, a new musical with book and lyrics by Geo Decas O'Donnell and Jordan Seavey; music and lyrics by Nicholas Williams; and puppetry design by Amanda Villalobos. Directed by Obie Award winner Lee Sunday Evans (In the Green, Dance Nation), Riddle of the Trilobites began performances at the New Victory Theater (209 West 42nd Street) on February 7, 2020 and will run through February 23, 2020.
When young Aphra discovers an ancient prophecy, "The trilobites cannot live, but will not die," she and her arthropod pals set off on an underwater adventure to solve the riddle before a sea change of epic proportions destroys their home. Will they save the trilobite kingdom?
Set 500 million years ago, ​Riddle of the Trilobites​ brings prehistoric sea creatures to life with humor, heart and eye-popping puppetry designed by ​Amanda Villalobos​ (I​n the Green, Amelie​, Cute Activist​). An allegory about climate change, this all-ages musical tackles a difficult subject--the state of our planet--with a creative team whose credits include Homos, or Everyone in America (Labyrinth Theater Company), ​Family Play (1979 to Present),​named one of ​The Advocate's​ 10 Best LGBT Plays of 2014; ​The Deepest Play Ever: The Catharsis of Pathos​(The New Ohio Theater); T​he Play About My Dad​ (59E59 Theaters); The Momentum​ (2012 GLAAD Media Award nomination​); ​Children at Play​ (The Living Theater); and ​6969​ (59E59 Theaters; winner of three NYIT Awards).
The cast of Riddle of the Trilobites includes Tiffany Iris* (When We Went Electronic, Locked Up), Sifiso Mabena* (Red Hills, The Art of Luv Part 6), Joel Oramas* (Pegao), Julia Sirna-Frest* (Lunch Bunch, [Porto]), Richard Saudek* (Beep Boop), and Phillip Taratula* (An Evening with Pam Goldberg, Empire Travel Agency, The Lily's Revenge), with Flea Theater company member Sophia Aranda* as Understudy.
*Member, Actors' Equity Association.
Riddle of the Trilobites features set design & Elder Robe design by Deb O, costume design by Katherine Nelson, lighting design by Eric Southern, sound design by Emma Wilk, and puppet fabrication by Amanda Villalobos with additional puppet fabrication by Puppet Kitchen. Puppet direction is by Pam Arciero. Rachel Kaufman serves as production stage manager.
Riddle of the Trilobites is line produced by Ilana Becker; associate produced by Michael Todd Cohen, Adrian Frandle & TJ Witham; and produced by Lee Sunday Evans, Geo Decas O'Donnell, Jordan Seavey & Nicholas Williams.
Developed over a two-year residency with New Victory LabWorks, the theater's new works program, ​Riddle of the Trilobites​ premiered at Flint Repertory Theatre in March of 2019.
Riddle of the Trilobites​ h​as a running time of 80 minutes with no intermission and is recommended for ages 6 and up.
Full-price tickets for ​Riddle of the Trilobites​ ​start at $17. Tickets are available online at NewVictory.org and by phone at 646.223.3010. To purchase tickets in person, the New Victory box office is located at 209 West 42nd Street (between 7th / 8th Avenues). Box office hours are Sunday & Monday from 11am-5pm and Tuesday through Saturday from 12pm-7pm.
Photo Credit: Cameron Blaylock

Sifiso Mabena, Tiffany Iris, and Richard Saudek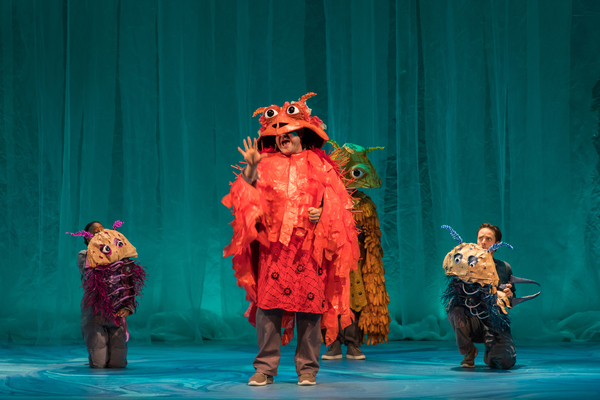 Sifiso Mabena, Phillip Taratula, Julia Sirna-Frest, and Richard Saudek

Sifiso Mabena

Sifiso Mabena and Tiffany Iris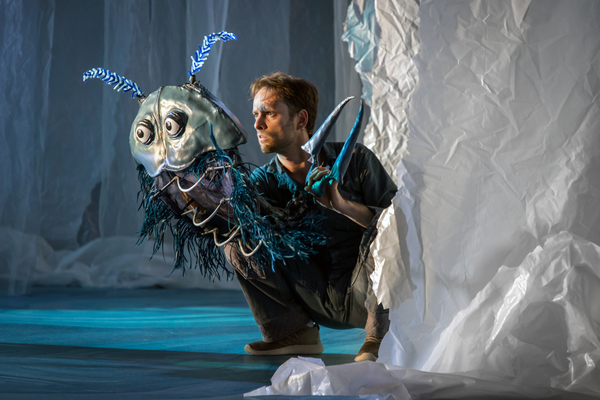 Richard Saudek

Richard Saudek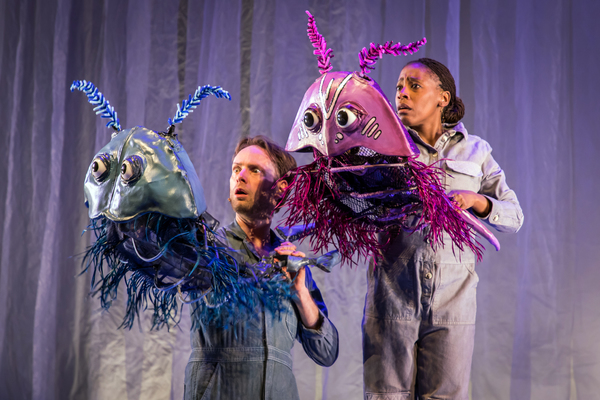 Richard Saudek and Sifiso Mabena

Julia Sirna-Frest and Sifiso Mabena

Joel Oramas and Sifiso Mabena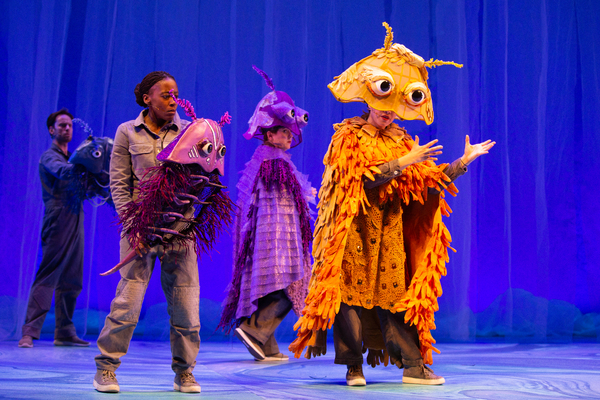 Richard Saudek, Sifiso Mabena, Julia Sirna-Frest and Tiffany Iris