Photos: Clubbed Thumb's CIVILIZATION
Clubbed Thumb, the Obie Award-winning New York Theatre Company that commissions, develops and produces funny, strange, and provocative news plays, concludes SUMMERWORKS 2011 with Jason Grote's CIVILIZATION (ALL YOU CAN EAT), with performances through June 25 at HERE Arts Center (145 6th Avenue) in Manhattan, it has been announced by Maria Striar, Clubbed Thumb's Producing Artistic Director.
CIVILIZATION (ALL YOU CAN EAT) (June 19, 20, 21, 23, 24 & 25)
Written by Jason Grote, directed by Seth Bockley.
In CIVILIZATION (ALL YOU CAN EAT) ambitious gurus, entertainers, wage slaves and a giant pig let their appetites get the better of them.
The cast includes Jeff Biehl, Reyna de Courcy, Melissa Miller, Andres Munar, Melle Powers, Elizabeth Rich, and Tony Torn.
Playwright Jason Grote's plays include 1001, MARIA/STUART, HAMILTON TOWNSHIP and BOX AMERICANA. His work has been produced, developed or commissioned by MOMA, The O'Neill, Sundance, Playwrights' Horizons, NYTW, The Atlantic, Soho Rep, P73 and elsewhere. He is published in "The Backstage Book of New American Short Plays 2005," edited by Craig Lucas. Honors include The Denver Post's Ovation Award, "Best of Fringe" from The Seattle Times and critics top ten lists in The Huffington Post, Time Out New York, Boulder Daily Camera, and Rocky Mountain News.
CIVILIZATION (ALL YOU CAN EAT) was commissioned and developed by Clubbed Thumb with funds from NYSCA.
Seth Bockley is a director, playwright and performer. Chicago directing credits include 1001 by Jason Grote, JON, winner of the 2008 Jeff Citation for Best New Adaptation (Collaboraction); THE TWINS WOULD LIKE TO SAY (Dog & Pony); and LAIKA'S COFFIN and WINTER PAGEANT 2010 for Redmoon Theater, where he spent two years as a Directing Apprentice through TCG's New Generations program. Upcoming work includes writing the book for FEBRUARY HOUSE for The Public Theater and a workshop of COMMCOMM for P73. He is a member of the Goodman Theater's Playwrights' Unit and a recipient of the Goodman's Ofner Prize.
SUMMERWORKS 2011 runs June 5-25 at HERE Arts Center (145 6th Avenue, enter at Dominick Street, one block south of Spring Street): Sundays-Saturdays (no shows Wednesday) at 8:30pm Admission is $18 for adults and $15 for students. For tickets, call 212-352-3101 or visit at www.here.org. Tickets also available at the HERE Arts Center box office.
Photo Credit: Carl Skutsch


Tony Torn (Big Hog)

Andres Munar (David) and Melissa Miller (Karen)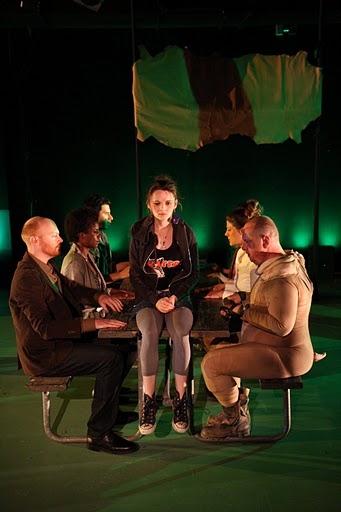 Cast of CIVILIZATION

Elizabeth Rich (Carol) and Reyna de Courcy (Jade)

Jeff Biehl (Mike), Melle Powers (Zoe), and Elizabeth Rich (Carol)

Melle Powers (Zoe) and Elizabeth Rich (Carol)

Tony Torn (Big Hog) and Reyna de Courcy (Jade)

Melissa Miller (Karen), Andres Munar (David), Melle Powers (Zoe), and Jeff Biehl (Mike)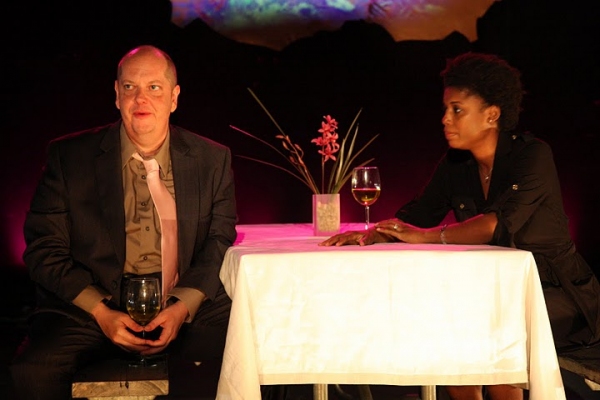 Tony Torn (Big Hog) and Melle Powers (Zoe)