PEDRO PAN Soars at New York Musical Festival Starting July 10th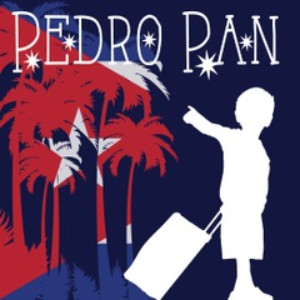 Pedro Pan, winner of the 2017 NYMF Developmental Reading Series Award with book by Rebecca Aparicio and music and lyrics by Stephen Elkins, will be presented as an official selection of the 2018 New York Musical Festival's Next Link Project beginning July 10th at the Acorn Theatre on Theatre Row.
Melissa Crespo directs a cast featuring Wilson Jermaine Heredia (Tony Award Winner RENT), Genny Lis Padilla (On Your Feet!), Natalie Toro (Les Misérables), Gregory Diaz IV (Matilda on Broadway), Taylor Caldwell (School of Rock), Julian Silva (The Lion King), Cherry Torres (In The Heights at John W. Engeman Theater), Diego Lucano (School of Rock) Rodrigo Ignacio Cruz (Cats National Tour) and Sisley Carretas (The Little Mermaid).The casting director is Jason Styres (Broadway's A Gentleman's Guide to Love and Murder). Beatrice Capote (Choreographer).
Pedro Pan harkens back to post revolutionary Cuba when harsh policies under Fidel Castro's Communist regime motivated families to send their children to the United States through a mission known as Operación Pedro Pan. The story begins at the start of October 1962 when Pedro, a young boy who loves the vibrant life he has growing up in Havana, suddenly sees the people he cares for being persecuted for the smallest infraction by Castro's revolutionaries.
Terrified for the safety of their son, Pedro's parents send him to live with his aunt in New York where he must learn a new language and culture while hoping someday they will all be reunited. Although his adjustment is more than challenging Pedro soon meets two friends; Roger, a Mexican classmate who helps him with language and assimilation, and Wendy, a new student from the segregationist South who shows him the importance of self pride. With an exciting score combining the percussive rhythms of Havana and 60's soul, Pedro Pan examines what it means to be a displaced immigrant in America.
Librettist Rebecca Aparicio is a Cuban-American writer, director, producer and performer. In addition to writing the book for Pedro Pan her other musicals include Legacy (Prospect Theater Co. Lab 2018), Sweet Tea and Jesus (Best Musical SASF 2010) and Acceptance (EAT's Illuminating Artist Series 2010/SASF 2009). Her collaboration with playwright Nelson Diaz-Marcano on Radical received a 2016 Best Play Award from the Downtown Urban Arts Festival. She is a member of the Stage Directors and Choreographer's Foundation observership Class 2017/18 .
Composer and lyricist Stephen Anthony Elkins has collaborated with Rebecca Aparicio on Pedro Pan (winner of the 2017 NYMF Developmental Reading Series Award, also recently selected for development by Musical Theatre Factory's Writing Group 2017-18 and the 2018 Rhinebeck Writer's Retreat), Sweet Tea and Jesus and Acceptance. Other musicals include A Princess Complex and Capital Steps Caper. His choral piece "May We All Find Home" initially presented by Oregon All State Choir in 2015 has subsequently been performed by choirs all over the US.
Melissa Crespo's directorial credits include Brother Toad (Kansas City Repertory Theatre), The Review (WP Theatre) and ¡Figaro! (90210) (LA Opera, The Duke on 42nd Street). She will soon direct Native Gardens for Syracuse Stage, GEVA and Portland Stage. The creative team also includes Rachel Dozier-Ezell (Costume Design). Ben Bauer (Lighting Design), Guillermo LaPorta Castillo (Set Design/Projections) and Katie Kennedy (Stage Manager) .
Pedro Pan begins at the Acorn Theatre (410 West 42nd Street between 9th and 10th Aves.) on Tuesday July 10th at 8PM. The performance schedule is as follows: Tuesday July 10 at 8PM, Thursday July 12 at 1PM, Friday July 13 at 9PM, Saturday July 14 at 1PM and Saturday July 14 at 5PM. For Tickets go to: http://www.nymf.org/festival/2018-events/pedro-pan18/.
The New York Musical Festival nurtures the creation, production, and public presentation of stylistically, thematically, and culturally diverse new musicals to ensure the future vitality of musical theater.
Related Articles View More Off-Off-Broadway

Stories

Shows
More Hot Stories For You