Harlem School Of The Arts Presents FABULATION, OR THE RE-EDUCATION OF UNDINE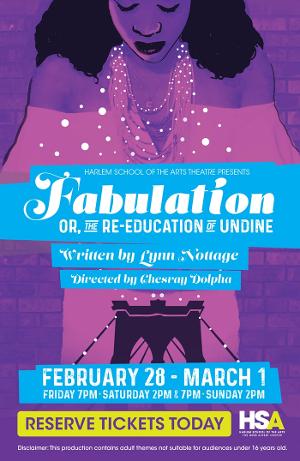 The Harlem School of the Arts' (HSA) Spring mainstage production presents, two-time Pulitzer Prize-winner Lynn Nottage's - Fabulation, or The Re-Education of Undine, under the direction of Chesray Dolpha, head of the organization's theatre department. Performances are scheduled on February 28 - March 1st at the HSA Theater located at 645 St. Nicholas Avenue, New York 10030. (The show is recommended for ages 16 and up due to mature content.)
Fabulation, or The Re-Education of Undine, follows the unraveling of a successful African American publicist, Undine Barnes Calles, who has spent a great deal of her professional life erasing her past, as she makes her way up the social ladder. But as would have it, life steps in and blindsides her. When her husband takes off with the small fortune she has worked so hard to build, sending her tumbling down the social ladder, Undine must return broke and pregnant, to the family she had not merely shunned - but expunged from her life.
South African born Chesray Dolpha brings a visceral perspective to her position as head of HSA's Theater Department. One of the founding members of Brown Paper Drama Studio and former Program Director of the International Theatre Project, she believes theater programs should teach students to use their body, voice and breath while boldly and unapologetically telling their stories and their truth.
Ms. Dolpha chose this particularly hard-hitting piece of theater as the opener to the HSA Theater Spring season because of the powerful message it delivers. Wrapped as a comic, social satire, Fabulation...is a piece of masterful storytelling -a cautionary tale about giving up your true self to build an identity based on shame alone, which isboth hyper-realistic and relatable.
"This production shows the power and pain behind assimilation. Through the comedy, we see the complexity of how and why successful black women feel compelled to adhere to a social etiquette when occupying professional spaces," she said. "It's not enough to just fit in - we also have to play on the duality of getting out -getting out of poverty and often dysfunctional and broken families, while trying to build safe places for ourselves to thrive. Through this play, we see that even the safe spaces we build can quickly slip through our fingers. The process of Fabulationis to hold on to what makes you, you, despite what the world thinks or expects."
For this limited run production, Ms. Dolpha will direct a cast that includes Harlem School of the Arts alumni, current students and faculty in key roles, both on stage and behind the scenes. Student members of the organization's theater department will provide lighting and sound design, and will take on other major production assignments. A core part of the HSA theater department curriculum is to provide students with a full 360 experience that demonstrates how theater productions come together, by highlighting the importance of each role in the collective ensemble (from cast to production crew), and how each is meaningful to the success of the end product.
Tickets are now available for performances on February 28 @7:00pm; February 29 @2:00pm and 7:00pm; March 1 @2:00pm. General admission, $25; advance ticket sales, $20; student (16+), seniors (with I.D.), and groups of 10 or more, $15. Purchase tickets at Brown Paper Tickets.