Glorious Ghosts Unite In Barbara Kahn's New Show At Theater For The New City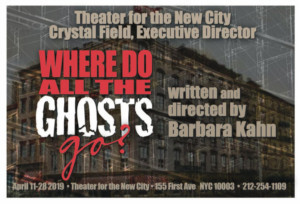 A glorious group of ghosts are converging on Theater for the New City - and it has nothing to do with the theater's annual Halloween ball slated for later in the year.
"Where Do All the Ghosts Go?," a dark comedy by Barbara Kahn about how the demolition of a historic New York City building disturbs the famous ghosts who live there, is slated to run April 11 to 28 at Theater for the New City. Tickets are available by clicking the Tix link.
Kahn, who wrote and directed the play, often focuses on history, telling stories that mix past and present and fact and fantasy, rescuing famous and historic figures and putting them on stage.
In her latest work, a beautifully crafted mix of fact and fantasy, we meet Sarah Bernhardt, Elizabeth Keckly (a friend of Mary Todd Lincoln), Buffalo Bill, Marcel Duchamp and Alice Lansen, accused of being a thief.
Chloe Simone Crawford, David Leeper, Christopher Lowe, Sarah Teed, Steph Van Vlack, Ashley Versher and Fleur Voorn star in this show that combines historic and contemporary figures. Set and Lights are by Mark Marcante with prop design by Lytza Colon, costumes by Everett Clark, sound by Joy Linsheid.
"'Where Do All The Ghosts Go?' brings together five ghosts who faced adversity in life," Kahn says.
She was inspired to write "Where Do all the Ghosts Go?" after hearing about plans to demolish a historic New York City building.
Rather than simply watching the building go before the wrecking ball, Kahn wrote a play about a world of wonderful ghosts who might live there.
Plans to tear down the St. Denis, a 165-year-old building at the corner of East 11th St. and Broadway, south of Union Square, made her think about ways to salvage the building's stories and past - and tell a new story as well involving contemporary and historic figures.
The structure was designed by James Renwich Jr., who also built Grace Church. "The beautiful St. Denis, built in 1853 in Manhattan, is a recent victim of the gentrification that erases our historic legacy," Kahn says. "I felt angry and helpless at the impending demolition, but decided to rescue some of the history by writing a play about it."
We watch ghosts of famous figures wrestle with time, change and each other, as they face the imminent destruction of their historic home.
"The ghosts of five of the significant people who spent time in the St. Denis live together in eternity, but not always in harmony," Kahn says of these sometimes bickering spirits. "Two characters who existed only in my imagination help the ghosts find alternate places to haunt."
The ghosts must convince a young lesbian couple that they really exist, in order to get their help in this modern ghost story. Kahn says that Sarah Bernhardt, who was baptized as a Catholic, faced anti-Semitism in the 19th century for publicly acknowledging her Jewish heritage.
Elizabeth Keckley, a companion of Mary Todd Lincoln, encountered racism and segregation during her travels with the widow. And Buffalo Bill, who employed American Indians in his wild west shows, mourned the death of his friend Chief Sitting Bull.
Marcel Duchamp created a controversial genre of visual art using found objects; while Alice Lansen, an accused thief, also was a self-proclaimed baroness.
The building itself is honeycombed with history, going even beyond the characters in the play. Abraham Lincoln reportedly slept there. After he was assassinated, his casket was transported past the hotel. His widow, Mary Todd Lincoln stayed in the hotel.
Alexander Graham Bell demonstrated the "speaking telephone" in room 209. Sarah Bernhardt wrote letters there and Ulysses S. Grant wrote his memoirs there. Mark Twain, Buffalo Bill Cody and P.T. Barnum all stayed in the building.
The St. Denis closed in 1917 and was sold in 1920 only to be converted to and reopen as an office building. Lee Harvey Oswald was a member of the Fair Play for Cuba Committee, which was based in Room 329.
Marcel Duchamp would spend time here. Facebook moved into 770 Broadway, near the building. And many tech companies honeycombed 51 Astor Place.
Normandy Real Estate Partners in 2016 bought the St. Denis for $101 million, setting the stage for the demolition and this show.
Kahn's work includes Verzet Amsterdam, The Three Mile Limit, Ghost Light Now & Then, Women of the Wind, Island Girls, Crossing Paths in Washington Square, Unreachable Eden, Bird on Fire and many more.
She has won numerous awards, including the Torch of Hope, also awarded to Terrence McNally, John Guare and August Wilson; the Robert Chesley Playwriting Award/Wurlitzer Foundation Residency; and the 2017 Acker Award for her work in downtown theater.
"Where do All The Ghosts Go", Theater for the New City, 155 First Ave. (9th and 10th St.). April 11-28 2019. Thus-Sat at 8pm, Sun at 3pm. Res/Info. 212-254-1109.
THEATER FOR THE NEW CITY, co- founded in 1970 by Crystal Field, is a unique cultural institution that has earned a nationwide reputation for its dedication to nurturing established and emerging playwrights who experiment with new forms and presenting other experimental and developmental theater with a very active program of community art services and festivals that continue to expand access to theater..
Related Articles View More Off-Off-Broadway

Stories

Shows
More Hot Stories For You