Ghostlight Players Presents George Bernard Shaw's SAINT JOAN
Saint Joan will be presented two weekends February 2-11 at Hemsley Hall.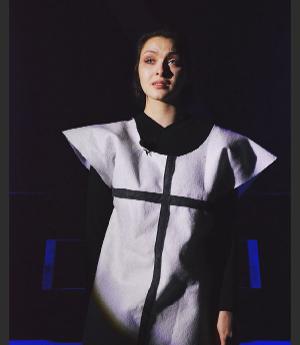 Ghostlight Players presents George Bernard Shaw's Saint Joan. Directed by Mitch Maglio, Saint Joan will be presented two weekends February 2-11 at Hemsley Hall (4 Arthur Kill Road) the Parish House for the Church of St. Andrew.
Shaw's play fictionalized the historical life of Joan of Arc who became a military leader and changed the history of her nation. Young, French farm girl Joan (Abby McNulty) hears saintly voices telling her to raise an army to fight the English. The failing English, threatened by her popularity and influence, convinces the Church to have Joan tried for heresy and she is found guilty. When this force of nature refuses life in prison, she is tragically burned at the stake, becoming a symbol of faith, feminism, and individualism.
Published not long after the canonization of Joan of Arc by the Roman Catholic Church, the play dramatizes what is known of her life based on the substantial records of her trial. Shaw studied the transcripts and decided that the concerned people acted in good faith according to their beliefs. Shaw wrote: "There are no villains in the piece. Crime, like disease, is not interesting: it is something to be done away with by general consent, and that is all [there is] about it. It is what men do at their best, with good intentions, and what normal men and women find that they must and will do in spite of their intentions, that really concern us."
Ghostlight's cast features Gary Bradley (Scribe/Guard), Connor Burke (Chaplain de Stogumber), Anthony Casiano (The Dauphin), John Cayton (Peter Cauchon, Bishop of Beauvais), Jack Dabdoub (D'Estivet), Joseph DeSena (Gilles de Rais (Bluebeard)/Brother Martin Ladvenu), Alexandra Gullo (Steward/Gentleperson), Lloyd Lerner (La Trémouille, Constable of France), Ritty Mahoney (Captain La Hire/The Inquisitor), Abby McNulty (Joan), Christopher Neske (Scribe/Guard), Tony Sallemi (Robert de Baudricourt/Executioner), Tom Shcherbenko (Bertrand de Poulengy), Charles Sullivan (Archbishop of Reims), Ken Tirado (Richard de Beauchamp, Earl of Warwick), Frank West (Dunois, Bastard of Orleans), Anne Young (Courtier).
Saint Joan celebrates its 100th Anniversary of its Broadway premiere in 1923 at the Garrick Theatre.
Saint Joan is designed by Mitch Maglio and Ed Brown (set), Anne Young (costumes) and Nick Diaz (lighting/sound). Victoria Gullo is assistant director. Ed Brown and Zachary Gerardi (set construction). Katie Scibelli is production stage manager.
Performance times Thursday through Saturday at 8:00pm. There is one Sunday matinee, February 5 at 3:00pm. Tickets are $25 and $20 (seniors and students). Limited seating available. Tickets available at Ghostlight Players, Inc. Presents: Saint Joan (onthestage.tickets)