Daniel Fish's WHITE NOISE Among NYU Skirball's Season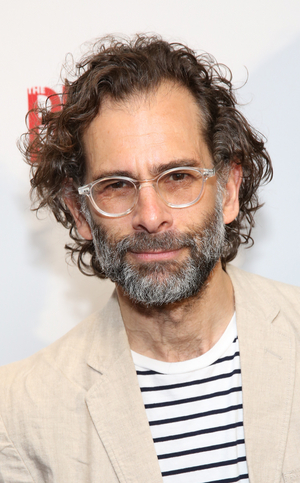 NYU Skirball's season opens on September 6, 2019 with the N.Y. premiere of JoAnne Akalaitis's BAD NEWS! i was there..., a site-specific processional work performed throughout NYU Skirball's lobbies and backstage, the U.S. premiere of Philippe Quesne's Moleland features giant punk-rock playing creatures in a mysterious, underground world, U.S. premiere of Tony Award-nominee Daniel Fish's White Noise, freely adapted from Don DeLillo's award-winning novel, world premiere of John Kelly's Underneath the Skin, an NYU Skirball Commission, meditates on the life of poet, novelist, tattoo artist and author of erotic fiction, Samuel Steward, elements of Oz combines augmented reality with live performance to celebrate and deconstruct the iconic film, The Wizard of Oz, from the New York-based performance company, The Builders Association - just in time for the 80th anniversary celebration of the beloved film classic.
---
The Season
---
JoAnne Akalaitis: BAD NEWS! i was there... N.Y. Premiere THEATER
Friday, September 6 - Sunday, September 8
Audiences will be led on a unique a journey through NYU Skirball's lobby, hallways, and out-of-the-way spaces where messengers from classical drama share shocking events from the great stories of the ancient world: madness, murder, infanticide, suicide and gruesome warfare, sparing no details. Taken from the works of Aeschylus, Euripides, Sophocles, Racine, and Brecht, these monologues are spoken and sung in a harmonious chorus of English, interwoven with Greek, Latin, German and French. All paths lead to the empty stage where the company will recite the story of the battle of Salamis from The Persians by Aeschylus, the oldest surviving play in Western Literature.
Created in the spirit of the Greek polis - where audiences came together to witness performances which called into question the rationality of mortals and the justice of the gods - Akalaitis draws a parallel between this ancient theatrical device and contemporary media coverage of horrifying events, where eyewitnesses often repeat a heartbreaking refrain of "I was there."
The performance is followed by a gathering in the lobby, where the audience is invited to share their own Bad News by leaving anonymous notes in drop boxes provided along the paths through NYU Skirball.
Bad News! i was there.... has an original score by Bruce Odland, visual design by Julie Archer and lighting by Jennifer Tipton. It is presented in cooperation with the Guthrie Theater. Note: audience members travel to locations throughout all areas of NYU Skirball. BAD NEWS! i was there... is presented in cooperation with the Guthrie Theater. There will be areas to sit, if needed, in all locations.
JoAnne Akalaitis is an award-winning director and writer who has staged works by Euripides, Shakespeare, Strindberg, Beckett, Pinter, Tennessee Williams and Jean Genet at theaters all over America and in Europe. She has taught at institutions such as the Juilliard School , Bard College, Fordham and Yale Universities.
Schedule: BAD NEWS! I was there.... will play Friday, September 6 at 7:30 pm; Saturday, September 7 at 3 pm and 7:30 pm; and Sunday, September 7 at 3 pm and 7 pm.
---
PHILIPPE QUESNE: MOLELAND U.S. Premiere THEATER/MUSIC/EVENT
Thursday, September 12 - Saturday, September 14
French theater director and visual artist Philippe Quesne has created a mysterious world inhabited by giant punk-rock playing creatures who live deep underground in a parallel world, free of words and of humans. New Yorkers of different ages will have the chance to meet the Moles in three distinct events:
Parade of the Moles: Thursday, September 12 at 2 pm
The Moles will venture forth from NYU Skirball to explore the great outdoors and Greenwich Village landmarks. The public is invited to join in this free, informal parade as the creatures explore the NYU neighborhood.
Night of the Moles: Friday, September 13 & Saturday, September 14 at 7:30 pm
A burrow. Seven giant moles emerge from cardboard tunnels. They dig, cook, draw, copulate and even form a punk-rock band. A disconcerting microcosm that could only have come from Philippe Quesne's imagination. Wordless theater of the ecological and philosophical underground, this is an improbable journey to the center of the earth.
Afternoon of the Moles: Saturday, September 14 at 3 pm
In this family-friendly performance, the Moles form a punk band that rocks their underground world. There will be a pre-show activity for children and their families.
Philippe Quesne studied fine arts, visual design, and stage design in Paris. In 2003, he founded Vivarium Studio. His many works, which have been presented to great acclaim internationally, combine scenography with visual art and performance. Since 2014, he has been artistic director of France's Nanterre-Amandiers theatre. In his work, Quesne creates spaces that function like ecosystems, where the performers explore the dynamics within a community. In addition to his work for the theater, he creates performances and interventions in public spaces or natural sites and displays his installations in the context of exhibitions. In 2019, he was named artistic director for the Prague Quadriennal. nanterre-amandiers.com
Moleland is presented in cooperation with France's Thétre Nanterre-Amandiers.
Schedule: Parade of the Moles is a free event for all ages, on Thursday, September 12 at 2:00 pm. Afternoon of the Moles is appropriate for children ages 5 and up and will play Saturday, September 14 at 3 pm. Night of the Moles, appropriate for adults, will play Friday, September 13 and Saturday, September 14 at 7:30 pm.
---
Daniel Fish: WHITE NOISE U.S. Premiere THEATER
Friday, September 20 - Sunday, September 22
Daniel Fish, Tony Award nominated director for his revival of Oklahoma! on Broadway, brings a new work freely inspired by Don DeLillo's novel, White Noise, to NYU Skirball. The 70-minute performance extracts its text entirely from the novel's teeming lists, creating an obsessive reduction of its prescient themes: rampant consumerism, environmental disaster, guns, media saturation, underground conspiracy, fear of death and the disintegration of the nuclear family.
White Noise is performed by actor Bruce Mackenzie, with live accompaniment by composer/drummer Bobby Previte, and has video design by Jim Findlay, set design by Andrew Leiberman, costume design by Doey Lüthi and lighting design by Stacey Derosier.
Daniel Fish is a New York-based director who makes work across the boundaries of theater, film, and opera. He draws on a broad range of forms and subject matter including plays, film scripts, contemporary fiction, essays and found audio. Recent work includes the Tony Award-winning Oklahoma!, Michael Gordon's opera Acquanetta and Don't Look Back. His work has been seen at theaters and festivals throughout the U.S. and Europe, and his residencies and commissions include The MacDowell Colony, Baryshnikov Arts Center and Mass MOCA. He is the recipient of the 2017 Herb Alpert Award in the Arts for the Theater. danielfish.net
Schedule: White Noise will play Friday, September 20 and Saturday, September 21 at 7:30 pm; and Sunday, September 22 at 3:00 pm.
---
John Kelly: UNDERNEATH THE SKIN NYU Skirball Commission THEATER/DANCE
Friday, October 11 & Saturday, October 12
Underneath the Skin, commissioned by NYU Skirball, is a dance theater work based on the fantastical life of Samuel Steward (1909-1993), a gay novelist, tattoo artist, author of erotic fiction, and unabashed sexual adventurer, who lived a bold life pursuing his physical and erotic desires through his art.
Underneath The Skin is a work that aims to introduce its audiences to the brave life of a creative spirit, and reaffirm the persistence and mettle of social outsiders. Evidence of the lives of most gay men from the pre-Stonewall generations have not come down to us, and the lives of gay, lesbian, and trans people were largely undocumented, been erased, or forgotten, and are therefore missing from our histories. Samuel Steward struggled during The Great Depression, World War 2, the McCarthy era Lavender Scare, took part in the strides that resulted from the Stonewall uprising, and witnessed the sexual revolution and the AIDS epidemic. What makes him unique is that during his long life (he died in 1993 at the age of 84) he was an obsessive documenter, and his papers, personal and ephemera survive, providing a unique window into a gay man who lived his life authentically.
John Kelly says: "With the constant danger of cultural amnesia (amplified by the losses from the AIDS pandemic), it is crucial that these forgotten lives and stories be remembered, and that inter-generational dialogues continue. The extent of Steward's tangible legacy proves that gay men devised strategies of living fully through decades of unfathomable repression. As a gay and queer man born in the 1950's I've have some experience of pre-Stonewall repression. My aim is to utilize my experience as a way to evoke - through the 'character' of Samuel Steward - the details of a life that was driven, dark, sexy and cerebral, but also virtuosic, courageous, celebratory - and in its own way - a liberated manifestation of human expression."
Underneath the Skin includes a script comprised entirely of Steward's actual words (culled from his essays and unpublished memoir), theatrical movement and choreography, extensive video projections, and digital animations of his tattoo designs and erotic illustrations.
John Kelly is a performance and visual artist, vocalist and dancer. His performance works are autobiographical or character-driven, and often focus on the struggles encountered by artists and social outsiders, and the nature of creative genius. A recent solo exhibition Sideways into the Shadows included over 50 hand-drawn portraits of friends and lovers lost to the AIDS epidemic, and he recently completed his first graphic novel, A Friend Gave Me A Book. He has received two Obie Awards, two NEA American Masterpieces Awards. johnkellyperformance.org
Samuel Steward (1909 -1993) was a poet, novelist, and university professor who left the world of academia to reinvent himself as an author of erotic fiction (as Phil Andros), and one of the 20th century's most accomplished and influential tattoo artists (as Philip Sparrow).
Schedule: Underneath the Skin will play Friday, October 11 and Saturday, October 12 at 7:30 pm.
---
THE BUILDERS ASSOCIATION: ELEMENTS OF OZ PERFORMANCE/AUGMENTED REALITY
Saturday, December 7 & Sunday, December 8
NYU Skirball will present Elements of Oz, a live performance/augmented reality mash-up of theater, technology and pop culture that celebrates and deconstructs The Wizard of Oz, from the New York-based performance company, The Builders Association.T he MGM film is celebrating its 80th Anniversary as one of America's most beloved films (it opened on August 25, 1939).
A narrator recounts juicy background details about the making of the film as three powerful performers recreate famous moments live on stage. Interspersed with excerpts of the original novel, YouTube tributes, fan theories and critical interpretations from the likes of Salman Rushdie, Elements of Oz revels in the ways tens of thousands of people around the globe have made Oz their own.
In much the same way the classic MGM movie transported us from the stark black and white of Kansas to a vibrant Technicolor Oz,Elements of Oz uses AR (Augmented Reality) to enliven and deepen the viewers experience. Audience cell phones remain on and the stage action interacts with personal smart phones through a unique app that delivers the Technicolor Land of Oz of our imaginations.
The Elements of Oz cast features Moe Angelos, Sean Donovan and Hannah Heller. It is directed by Marianne Weems, and written by James Gibbs, with costumes by Andreea Mincic, lighting design by Jennifer Tipton, scenic design by Neal Wilkinson and video design by Austin Switser.
The production closes out NYU's year-long Stonewall 50 celebration with this tribute to Oz and all the many friends of Dorothy.
The Builders Association, founded in 1994 by artistic director Marianne Weems, is a New York City-based, OBIE-winning performance and media company that uses the richness of new and old tools to extend the boundaries of theater. The company's pioneering and innovative process creates original, impactful stories about the human experience in the 21st century. Its productions provide a cultural context in which to explore what it means to live with contemporary technologies and have addressed such issues as outsourcing and corporate colonialism in Alladeen (2003), dataveillance in Super Vision (2005), and the global financial crisis inHouse/Divided (2010). The company's work has appeared at over 80 venues across the globe including the Barbican Theater in London, Melbourne Festival, Seoul International Theater Festival, RomaEuropa, and Festival Iberoamericano de Bogotá, to name a few. In New York City, it has been presented at Lincoln Center, St. Ann's Warehouse, The Kitchen, New York Theater Workshop, the Whitney Museum, the Guggenheim Museum, 3LD Art & Technology Center, and BAM (its last five productions).buildersassociation.org
Schedule: Elements of Oz will play Saturday, December 7 and Sunday, December 8, 2019 at 7:30 pm.
---
Tickets can be purchased online at www.nyuskirball.org, by phone at 212.998.4941, or in person at the Box Office, 566 LaGuardia Place at Washington Square: Tuesday-Saturday, 12:00-6:00 P.M. (holiday and summer hours may vary). NYU Skirball is located at 566 LaGuardia Place at Washington Square, New York, New York 10012. www.nyuskirball.org
Photo Credit: Walter McBride / WM Photos