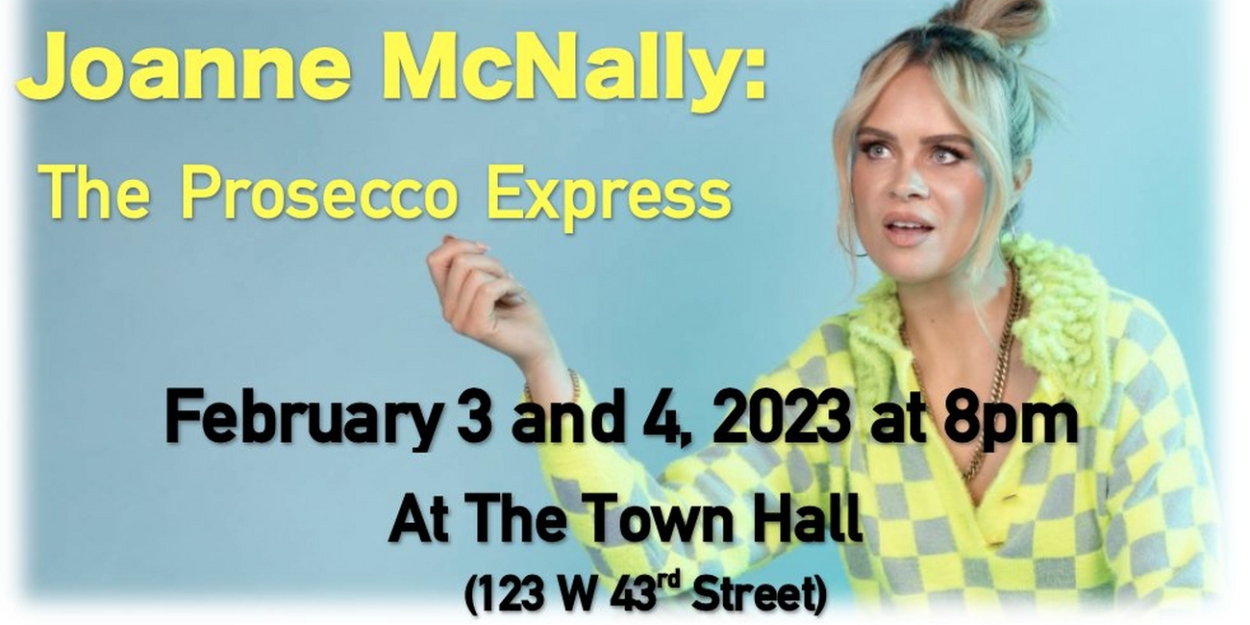 Comedian Joanne McNally to Present THE PROSECCO EXPRESS at The Town Hall in February
Joanne has been taking Ireland and the UK's comedy scene by storm, enjoying sell-out Edinburgh runs with her stand-up shows Wine Tamer and The Prosecco Express.
The Town Hall will present two special evenings of comedy with comedian Joanne McNally in The Prosecco Express on February 3 and 4 at 8pm.
The evenings are part of The Town Hall's Crossing The Pond Comedy Festival.
Join Joanne as she revisits her irreverent and critically acclaimed show The Prosecco Express.
Due to a relentless aging process, Joanne is suddenly in her late thirties with no husband, no kids, no pension and no plan. She is full of questions: if she doesn't birth anything, who will be obligated to watch her die so she doesn't have to do it alone? Can she start a GoFundMe page to get a golden tomb built for single people to get buried in together, or do we all just get thrown into a mass grave and covered in cat hair? When a man on a dating app identifies as 'spiritual', is it safe to assume he has the personality of a spoon? If you do all your drinking in the bath, can you write it off as self-care? Joanne is on a mission to solve absolutely nothing.
"We are very excited to present Joanne McNally at The Town Hall," said Artistic Director Melay Araya. "Her brand of unfiltered observational comedy is able to sum up our innermost thoughts and feelings with lightning wit and an invariably hilarious turn of phrase. She is the perfect comedian to be a part of our Crossing the Pond Comedy Festival."
Alan Carr continues at The Town Hall's Crossing The Pond Comedy Festival on June 2. Carr's appearance is in celebration of Pride month.
Tickets prices for Joanne McNally are $42-$57 and are available at www.TheTownHall.org.


Joanne McNally
Joanne has been taking Ireland and the UK's comedy scene by storm, enjoying sell-out Edinburgh runs with her stand-up shows Wine Tamer and The Prosecco Express. Both shows have toured in Ireland, and she has sold out over 50 nights at Vicar Street in Dublin, four nights at the London Palladium, and three nights at London's Eventim Apollo. She is the cohost of the hugely popular podcast My Therapist Ghosted Me, alongside her best friend Vogue Williams, which has over a million downloads a week. Joanne created, wrote and presented the funny and insightful documentary "Baby Hater" which was broadcast in Ireland for TV3. Her first one woman show, Bite Me, a show about eating disorders, was nominated for multiple awards at the Dublin Fringe in 2016. She went on to perform Bite Me at the Vault Festival in 2019 where Lyn Gardner described her as 'hilarious and brutal'. Joanne's numerous TV credits include ITV's "The Jonathan Ross Show" and Jonathan Ross' "Comedy Club," Comedy Central's "Guessable" and "Comedians Solve World Problems," BBC's Michael McIntyre's "The Wheel," Richard Osman's "House of Games," Channel 4's "The Big Fat Quiz of Everything," and Joe Lycett's "Got Your Back." She has been a guest on various radio shows including BBC Radio 4's "A Good Read," Radio 5 Live's "Sarah Brett Show," and also hit podcast "Evil Genius". In Ireland, she's co-hosted RTÉ 2's flagship comedy show "Republic of Telly", and appeared on "The Blame Game" (BBC Northern Ireland), "Women on The Verge" (UKTV), "The Late Late Show" (RTÉ One), "The Tommy Tiernan Chat Show" (RTÉ One), and "Clear History"(RTE).


The Town Hall
has played an integral part in the electrifying cultural fabric of New York City for more than 100 years. A group of Suffragists' fight for the 19th Amendment led them to build a meeting space to educate people on the important issues of the day. During its construction, the 19th Amendment was passed, and on January 12, 1921 The Town Hall opened its doors and took on a double meaning: as a symbol of the victory sought by its founders, and as a spark for a new, more optimistic climate. In 1921, German composer Richard Strauss performed a series of concerts that cemented the Hall's reputation as an ideal venue for musical performances. Since, Town Hall has been home to countless musical milestones: The US debuts of Strauss, and Isaac Stern; Marian Anderson's first New York recital; in 1945, Dizzy Gillespie and Charlie Parker introduced bebop to the world; Bob Dylan's first major concert in '63; and much, much more.