Brecht's THE LIFE OF GALILEO, NYPD Partnership and More Set for Irondale's 35th Season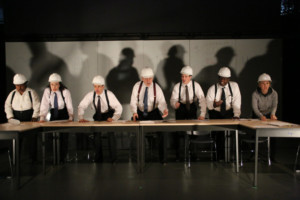 Irondale, one of the country's longest-standing theater ensembles, is celebrating their 35th birthday this 2017-2018 season.
In preparing for a theatrical trilogy, Brecht in Exile, to be performed in fall of 2019, the season will kick off with the first work in the series, The Life of Galileo. This, later followed by Mother Courage, thought to be the greatest anti-war play of all time, and The Good Person of Szechuan, to be premiered over the next eighteen months, will be performed back to back in one evening of theater, much like Irondale's critically acclaimed 2016 marathon work, 1599.
The season will also include a rich schedule of bi-monthly and thematic Art Buffets, a curated interdisciplinary variety show with young artists.
Additionally, Irondale will co-produce Vicki Tanner's solo performance piece Running into Me and Sea of Common Catastrophe with New Orleans' based ArtSpot.
The fourth and fifth iteration's of To Protect, Serve, and Understand, in partnership with NYPD, will take place in February and June of 2018, working to create social change through conversation.
Prior to moving into Irondale's Fort Greene home at 85 Oxford St. in 2008, founders Barbara Mackenzie-Wood, Jim Niesen and Terry Greiss found audiences in public schools, prisons, shelters and other unconventional spaces. The trio offered thousands of workshops, from Staten Island to Cape Town, and presented works to venues spanning from Manhattan's Lower East Side to the former Soviet Union.
Now, 35 years later, the organization celebrates its legacy and mission rooted in the epic theater of Bertolt Brecht, in education, engagement and outreach-actualizing their commitment through support to emerging and underserved artists, as well as dynamic youth programs in schools, STEM programs, and a teen ensemble mentored by Irondale professional ensemble artists. They continue to develop and produce self-conceived and directed works, now having over 60 productions in their repertoire.
Irondale's 35th Celebration will feature two Bertolt Brecht works-The Life of Galileo, under the direction of Artistic Director Jim Niesen, running for 19 performances, March 15- April 14, 2018 and Mother Courage and Her Children, written in 1939 in resistance to the rise of Fascism and Nazism, to be presented in July 2018. In the fall of 2018 the third part of Brecht in Exile, The Good Person of Szechuan will premiere, presenting the final work in Irondale's conceptual trilogy. In the following months of fall 2019, audiences will have the opportunity to experience all three works in the same bill for an unprecedented opportunity to experience the depth and perspective of Brecht and his influential body of work in one mega evening of theater. Irondale first presented The Good Person of Szechuan and Galileo in the late 1980's.
Following a ten-week workshop period (November 21-Janurary 30), To Protect, Serve and Understand, will return for a fourth cycle culminating on February 9 and 10. The community outreach program brings seven officers and seven community participants together to tell their stories and delve into controversial social topics to create and perpetuate social change. Cycle 5 (April 3-May 29) will culminate with public performances June 8 and 9. The first cycle will explore topics of immigration and the second, the criminal justice system.
With a focus on increasingly diverse programming for their 35th Season, Irondale will launch and produce Vicki Tanner in Running into Me, a solo performance based on Ms. Tanner's own compelling journey from a misguided upbringing in Compton to New York City. A vivid portrayal of her own odyssey, the work is a rollercoaster ride inside the minds of young people.
Also in January, Irondale will present Alyson Cornyn's moving documentary Incorrigibles, a film and community conversation. A look into the complexities of juvenile justice and child services for teenage girls over time, women who were formely incarcerated at the New York State Training School for Girls from 1904-1974 will lead the dialogue following the films presentation.
Additionally, ARTBuffet: A Curated Variety Show, a bi-monthly thematic performance series showcasing mostly Brooklyn artists, will be announced throughout the season.
Lastly, Irondale will welcome New Orleans' theater company ArtSpot for a co-presentation of their original work, Sea of Common Catastrophe, based on a passage written by author Gabriel García Márquez. Conceived, directed and designed by Jeff Becker, the play reveals the profound transformations that have swept through New Orleans in the decade since Hurricane Katrina, in particular the roles and responsibilities of artists in the realities of gentrification and displacement.
---
Irondale 35th Season Calendar Highlights:
January 18-20 and 25- 27 - Running Into Me
January 24- Alyson Cornyn's Incorrigibles
February 9-10- To Protect, Serve, and Understand: Cycle 4
February 16 - Art Buffet
March 15-April 14 - The Life of Galileo
April 20 - Art Buffet
May 10 - 35th Anniversary Gala Inspire: honoring Alan Alda
June 8-9 - To Protect, Serve, and Understand: Cycle 5
June 15 - Art Buffet
June 21-30 - Sea of Common Catastrophe
July - Mother Courage and Her Children
October - Good Person of Szechuan
---
Irondale is located at 85 South Oxford Street in Brooklyn, New York. The theater is accessible by Subway: C to Lafayette; B, D, M, N, Q, R, 2, 3, 4, or 5 to Atlantic Avenue/Pacific Street; and G to Fulton Street.
Located in the heart of the Downtown Brooklyn Cultural District, Irondale is the home of the Irondale Ensemble Project. It is a theatre ensemble, a performance think-tank and a collaborative laboratory for non-traditional artists. Irondale's unique and transformational space has gained much attention as a place for both established and emerging artists to premiere major projects and showcase developing work. The Irondale Ensemble Project was founded in 1983 by Jim Niesen, Terry Greiss and Barbara Mackenzie-Wood and is one of the longest established permanent ensemble theaters in the country. The ensemble has created over 60 Off-Broadway productions from intimate chamber productions of Shakespeare to company devised epic work. Irondale's learning programs provide high quality, cutting-edge workshops and school residencies designed to develop the artist in every human being.