Interview: Joshua William Gelb, Johnny Lloyd and Nehemiah Luckett Talk Confronting Controversy with JAZZ SINGER
It's true what they say; the classics never do go out of style. That's particularly true with 1927's The Jazz Singer. The first feature-length "sound film," Alan Crosland's The Jazz Singer made history with its use of synchronized sound, however it's also remembered for its controversial use of blackface.
Now, almost a century later, audience members get the opportunity to re-discover such a significant production in an entirely New Medium.
From director and performer Joshua William Gelb, and composer and performer Nehemiah Luckett, comes the world premiere of "jazz singer", a musical rendering that offers a new contemporary take on such a distinctly American story, along with an original score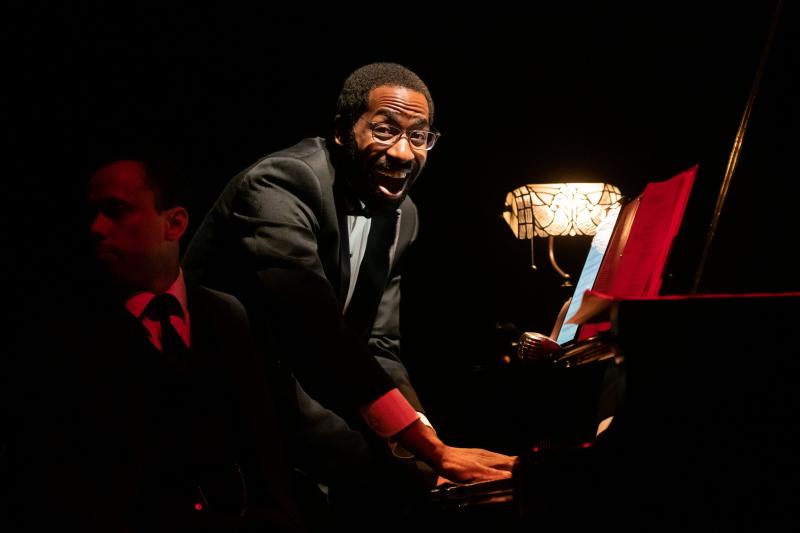 that fully embraces the passion and art of jazz music.
Gelb's career boasts several successful re-imaginings and adaptions of classic, well-known works while Luckett is the Composer in Residence / Assistant Director of Music at Asbury United Methodist Church and has several music directing credits Off-Off Broadway.
Gelb, Luckett and "jazz singer"'s associate director Johnny Lloyd took the time to chat with BroadwayWorld about the upcoming production.
What was the creative process like for this production?
JWG: Nehemiah and I started working on "jazz singer" about 2 years ago, when we were first commissioned by Abrons Arts Center, and it's taken us a long time to find the right entry point, not to mention the right group of collaborators. It's not material to be taken lightly. It's not material every artist wants to confront. There was a long incubation period filled with research. We consumed all the different iterations of our source (it was first a short story and a play before the 1927 movie, then it was a radio play, not to mention the remakes including one with Jerry Lewis and one with Neil Diamond). We dove into all sorts of sources from the period - Langston Hughes' poetry collection "Fine Clothes to the Jew," '20's ethno/musicology from the likes of Harlem Rennaissance luminary Alain Locke and anti-semitic capitalist extraordinaire Henry Ford.
And all of that research was supplemented by more research - James Baldwin, Toni Morrison, 19th century minstrel guidebooks, jazz albums by the dozens - that provoked us to think about the cultural construction of racial identity in America. Research, research, research... which at times ran the risk of becoming a sort of security blanket for us, but which ultimately yielded some discoveries that became the genesis of the thing people are about to see. Ultimately we learned that the only way to approach creating a piece inspired "The Jazz Singer" at this cultural moment, was to make a piece about how we might make a piece inspired by "The Jazz Singer," and let the work unravel from there. We liken the devised process to that of an improvisatory jazz ensemble.
JL:
Once we got to the rehearsal room, we really had to listen to each other in order to discover how the show wanted to be structured and what elements wanted to exist in the world. We had decided on an overarching container for the show, but because of the sensitive nature of the material it became important that the entire team - designers, actors, stage management - really considered the piece and aided in sculpting its message. We started off with a week of tech exploration which allowed us to begin learning what the world could look like before we dove into the specifics of the text.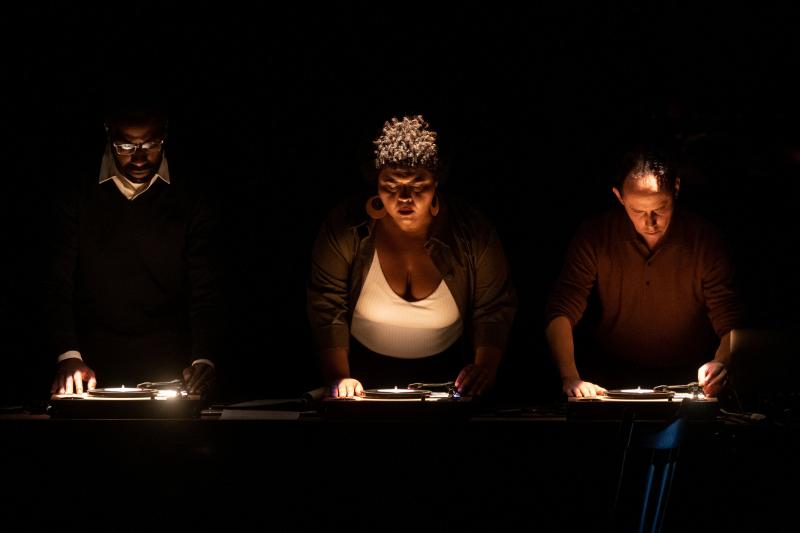 What drew you to such a classic film such as "The Jazz Singer" originally?
JWG: I wish I remembered. Abrons was interested in commissioning something that had a local story, and I had always been wanting to do a piece based on "The Jazz Singer." It's set on the Lower East Side and certain scenes were even shot on location right on Orchard Street, so it seemed perfect. But that's just how the production came to be, I was always struck by the Jewish story at the center of the piece. It's a story that always felt to me, as a strictly cultural Jew, deeply personal in its depiction of the cost of assimilation. But there was this issue of the blackface. Which I was always interested in on a symbolic level in the film (the erasure of self, etc) but didn't quite know how to deal with on a racial level.
JL:
Coming into the project, I had been interested in art that has been in some ways erased - culture that was relevant in its time but that today we have chosen to forget about instead of dealing with what its previous popularity means. "The Jazz Singer" falls squarely into this category. For me, investigating "The Jazz Singer" coincided with a pop-culture moment where we're beginning to reckon with the overwhelming effect minstrelsy still has on music and art today, and I was interested in how hard we've tried to forget about the legacy of minstrelsy and whether that's been a means of protecting society from its ills or allowing the seeds of minstrelsy to go unacknowledged and untarnished. But at the same time, it's
also a Jewish story about assimilation - and what does it mean that we've been so willing to completely negate that part of the history of the piece?
How have you adapted "The Jazz Singer" for modern audiences?
JWG: We don't really call it an adaptation. We throw around a lot of words like interrogation and exhumation because that feels a little more in touch with the process we've gone through. We're trying to dig up and confront the ghosts of this movie. We're trying to see what happens if we sit in the discomfort of what it means to be making a work inspired by something as inherently controversial as "The Jazz Singer." That's not to say that we didn't adapt, or reimagine, the story in some sense.
JL:
In a way, we've adapted the structure of "The Jazz Singer" to make a play that is about "The Jazz Singer" more than we've created an adaptation of "The Jazz Singer." It's in three parts - the origin, the return, and the atonement. And of course, it's got live music.
The story behind "The Jazz Singer" is certainly timely right now. How do you think the recent blackface controversies may help or perhaps hinder this production?
JWG:
Well, so far we haven't gotten wind of any Twitter induced protests, the likes of which "Slave Play" was dealing with at New York Theater Workshop. But naturally the first question people ask is "Are you doing the blackface?" And I find that question revealing in and of itself because people are either trying to gauge the sincerity of our intentions - Are you racist? Will I be triggered by this work? - but also there's this fetishization of the taboo at play. And I think that's what's behind so many of the controversies that are emerging (because let's face it, blackface minstrelsy was nearly out of fashion in the 1920's, so no one in the 1980's has an excuse). So we like to think that our piece is really about the question itself. We're taking ourselves to task for selecting this problematic piece in the first place and trying to grapple with what it means to not simply cancel something just because it makes us uncomfortable. Maybe there's something to be learned. Maybe it's a springboard for conversations that can heal.

JL: Whenever an audience goes into a production with expectations there's a great opportunity to illuminate and tackle the assumptions that led them there. In this case, it's been helpful to know that there are audience members who are expecting some kind of answer regarding "The Jazz Singer" or blackface, and it's made us be more rigorous about interrogating our own expectations of the piece and our own intent in creating it.
Why do you think it's important for audiences to see this production?
NL: I think there has always been a line between artists creating work and society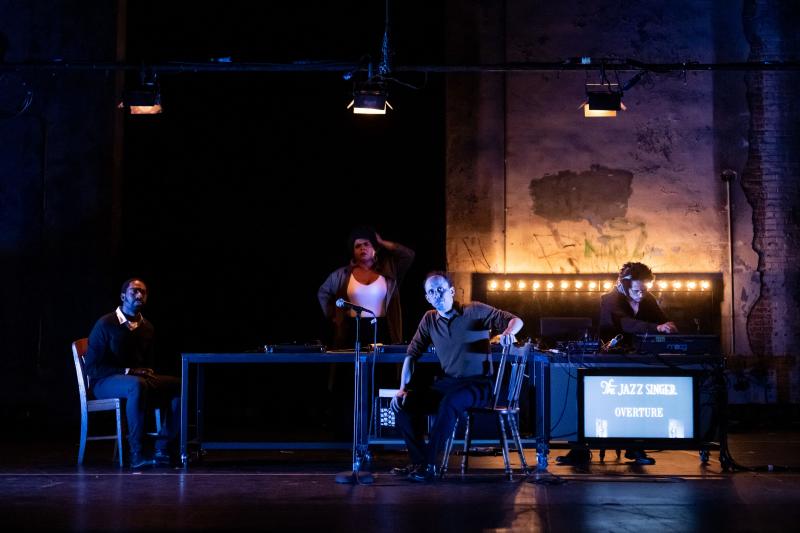 limiting what art is worthy to be experienced. The speed of which these decisions are being made today with social media and the internet has led to a culture of just ignoring and "cancelling" any work that is problematic. But, I strongly believe that this robs all of the opportunity to understand and fully interrogate why something is and/or becomes problematic. In this piece we are not offering solutions we are simply trying to enable more conversations.
What do you hope audiences take away from "jazz singer"?
JL: As much as the piece is about "The Jazz Singer," it's also about collaboration and how to be vulnerable and honest when it comes to challenging work. We hope that the audience feels as though they've experienced a brave creative space on stage and will be able to carry that bravery with them after the piece.
What's next for you after this production?
JWG: First we have to get through the next three weeks of performances until I can think of what's next.
NL:
I'm excited to be heading back to
Joe's Pub
with the Stop Shopping Choir for the 5 Sundays following Thanksgiving and starting work on "A Burning Church" with
Zhailon Levingston
and
Alex Hare
as a part of New Ohio's Archive Residency.
jazz singer runs until October 12 at Abrons Arts Center. For more information and to purchase tickets, visit abronsartscenter.org
Production Photo Credit: Ian Douglas