Astoria Performing Arts Center To Present Benefit Concert Of LUNA PARK: A NEW MUSICAL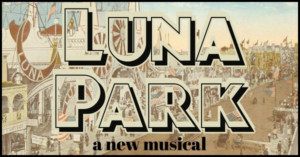 This December, Astoria Performing Arts Center will bring the magic of Coney Island to Queens. For two performances only, Luna Park: A New Musical will bring audiences back to 1903 Brooklyn when the lights of the world's most iconic amusement park went on for the very first time.
Astoria Performing Arts Center (Jesse Marchese, Executive Director; Dev Bondarin, Artistic Director) will present a two-performance Benefit Concert of Luna Park: A New Musical on Saturday, December 1st at 8pm and Sunday, December 2nd at 3pm at the brand new RIOULT Dance Center (34-01 Steinway Street, Queens). Tickets, which are now on sale, range from $25 to $45. For select ticket buyers, both performances will be followed by a Coney Island-themed post-show celebration with the cast. All proceeds will directly benefit Astoria Performing Arts Center.
Luna Park: A New Musical is by Hyeyoung Kim (Jonathan Larson Award Winner), Michael Cooper (Outer Critics Circle Nominee for It Shoulda Been You on Broadway, Jonathan Larson Award Winner), and Daniel F. Levin (Richard Rodgers Award Winner). APAC Artistic Director and NYIT Award Nominee Dev Bondarin will direct.
The cast of Luna Park: A New Musical will include LaDonna Burns (APAC's Follies, NYIT Award Winner), Ashley Chiu (Ars Nova's KPOP), Jonathan Gregg (APAC's Blood Brothers), Aline Mayagoitia (Pittsburgh Civic Light Opera's In the Heights), Jonathan Mousset (Ogunquit Playhouse's Jersey Boys), Toren Nakamura (Pioneer Theatre Company's Chess), Tony Perry (APAC's Raisin), Jason Pintar (APAC's Merrily We Roll Along), Rachel Rhodes-Devey (APAC's Merrily We Roll Along), Cliff Sellers (APAC's Follies), Anne Wechsler (APAC's Merrily We Roll Along), and Keith White (Broadway's A Bronx Tale: The Musical).
On May 16, 1903, over 250,000 electric lights illuminated the Brooklyn sky when Skip Dundy and Fred Thompson, the true fathers of the modern themed amusement park, opened Luna Park at Coney Island. A full generation before Walt Disney, they created a fantastical place where New Yorkers could forget the pressures of modern industrial society and remember how to play. Not everyone was enchanted by the eye-popping spectacle of Luna Park, however, including Russian writer and political activist Maxim Gorky, who was appalled by the superficial extravagance of this emerging American pastime. Set against the theatrical backdrop of Coney Island at the turn of the century, Luna Park: A New Musical chronicles the turbulent partnership of Dundy and Thompson and the birth of the most iconic-and controversial-amusement park in the world.
Luna Park: A New Musical was initially commissioned by SUNY Cortland, when its authors were artists in residence for the 2007-2008 season. Following a week-long summer workshop, a student premiere of the musical was produced in fall of 2008. In 2011, a professional studio demo of selected songs from the show was recorded, and in 2014, Luna Park: A New Musical was invited to participate in the 4×15 Series at Musical Theatre Factory. The musical was next selected for the Oregon Performance Lab orchestration workshop in August of 2016 and further developed at the From Page to Stage Festival of New Musicals (produced by Aria Entertainment), receiving three staged readings in London in November of 2016. In December of 2018, Astoria Performing Arts Center will continue the development of Luna Park: A New Musical with two benefit concerts of the musical in its newest incarnation with a revised book featuring original text by Maxim Gorky.
The Astoria Performing Arts Center (APAC), a not-for-profit organization, was founded in 2001. APAC's mission is to bring high-quality professional theater to Astoria and Western Queens, and to support local youth and senior citizens through robust community programs. On its mainstage, APAC produces revivals and premieres of plays and musicals, and also develops new works through concerts, readings, and workshops. APAC offers free annual community programs, including a summer performance camp for children ages 8-13, an after-school playwriting program for middle school students, and a performance program for Queens residents 60 and over. These programs deepen ties with the community and develop new audiences for theater. Diverse programming and consistent quality attracts a loyal and growing audience that reflects the diversity of Western Queens and also draws from the other boroughs and beyond.
For more information and tickets to Luna Park: A New Musical, visit www.apacny.org.