Click Here for More Articles on GLEE
Photo Flash: THE BULLY At Bleecker Street Theater
VITAL THEATRE COMPANY is pleased to announce its upcoming revival of THE BULLY, an original musical for children with music and lyrics by JOHN GREGOR and book by DAVID L. Williams, directed and choreographed by TRoy Miller, at the BLEECKER STREET THEATRE. Performances run Saturdays at 11 a.m. and 1 p.m. and Sundays at 11 a.m., July 6th through August 2nd. Weekday performances for camps and groups can be arranged upon request. The show is appropriate for children ages 4-10. All tickets are $25.00 and can be purchased by visiting www.vitaltheatre.org or calling (212) 579-0528. The BLEECKER STREET THEATRE is located at 45 Bleecker Street at Lafayette.
When a bus mix-up strands Lenny, the nerd, and Steve, the bully, at the wrong school, they both get picked on for being "the new kids." The boys have to work together to get back to their school and begin to learn that they might not be so different after all.
Featured in the cast are JOSH BEYERS, Jay Paranada, PATTI DeMATTEO, ASHLEY HANNON, GREG KALAFATAS, JOHN MALGALHAES, FRANK PAIVA, GEORGE E. SALAZAR, STEPHEN STOCKING, Abigail Taylor and JESSE R. TENDLER.
JOHN GREGOR (Lyricist, Composer and Orchestrator) received a 2004 Frederick Loewe Award for his musical WITH GLEE, for which he wrote the book, music and lyrics. WITH GLEE was presented in a workshop by the Skirball Center for the Performing Arts, NYU, and premiered at the New York Musical Theater Festival. His musical adaptation of Gogol's tragicomic short story THE OVERCOAT has been presented in London at the Bridewell Theatre, and at the Barrington Stage Company and The New York International Fringe Festival. He has also co-written several children's musicals for Vital Theatre Company, including THE CHANGELING, THE BULLY, and PINKALICIOUS, THE MUSICAL.
DAVID L. Williams (Book) most recently wrote the book and lyrics for (and directed) the musical THE JOHNNY, which was a part of the 2008 New York International Fringe Festival. Career highlights include directing and writing the book for the musical TESS' LAST NIGHT (2003 Fringe NYC), and writing the plays THE INFORMATION SHE CARRIED (2005 Fringe NYC), THE ARMAGEDDON DANCE PARTY (2006 Fringe NYC), and THE TAILERS (2007 Crown Point Festival). A Phi Beta Kappa graduate of Cornell University, David L. Williams is a member of the Dramatist Guild of America, Inc., and the author of more than 25 plays, including the Riverside Stage Company Founder's award-winning AMPERSAND, and four winners of the Heerman's McCalmon Playwriting Contest, THE MURDER OF GONZAGO, BEHIND THE NINE BALL, NEAR TRAGEDY, and INGULF.
TRoy Miller (Director and Choreographer): Broadway: THE LIGHT IN THE PIAZZA (assistant to Craig Lucas), Opera: IL TABARRO (Vertical Rep Players), LA TRAVIATA (City Opera SSDC Observer), Off Broadway: Craig Lucas' BATHROOM HUMOR (Playwrights Horizons, 'Stories on Five Stories'). Other Regional and NY directing credits include: HORATIO (NY Fringe Festival '07), CRASH starring Marylouise Burke, OUR LADY OF THE SEA, POSTCARDS FROM A DEAD DOG (Emerging Artists Theater); NOISES OFF! (Festival 56); DON'T DRESS FOR DINNER (Cortland Rep.); THE DYING GAUL and ALL'S WELL THAT ENDS WELL (Trinity Rep.). Mr. Miller holds a Master's of Fine Arts in Directing from Trinity Rep in Providence, RI and is a proud member of SSDC and Emerging Artists Theatre. Visit www.troymiller.org.
Located on New York City's Upper West Side at 76th Street and Broadway, VITAL THEATRE COMPANY commissions four to five new musicals for children each season. Since its founding in 1999, Vital Theatre Company has been honored with two AWARDS FOR EXCELLENCE by the Off Off Broadway Review and received high acclaim from audiences and critics alike for being "a wonderful place for parents to introduce their kids to the glories of live theatre, done well and at modest prices." Now in its tenth season, the company is dedicated to producing entertaining and educational theatre for young audiences. To date, the company has presented 41 original productions for over 150,000 children and their families.
Now in its third smash year, PINKALICIOUS, THE MUSICAL was commissioned by Vital Theatre Company and presented at the company's home theater in New York City from January 13 to February 25, 2007. It moved Off-Broadway to Soho Playhouse in March of 2007. In January of 2008, the production opened Off-Broadway at New World Stages where it ran for eight months, and it is currently enjoying an extended run Off-Broadway at the Bleecker Street Theatre in New York City. PINKALICIOUS, THE MUSICAL opens at the Richmond Hill Centre for the Performing Arts in Toronto, Canada in October of 2009 under the leadership of Carrie Libling, Director of Family Programming - Canada.
Photos courtesy of Vital Theatre Company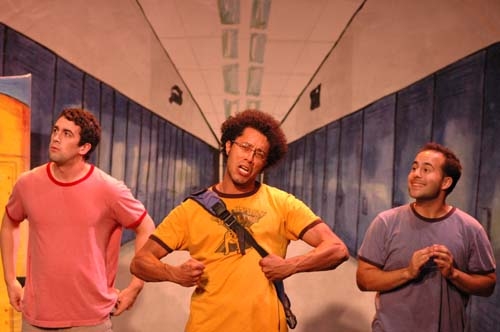 Stephen Stocking, Bill DeMeritt, John Magalhaes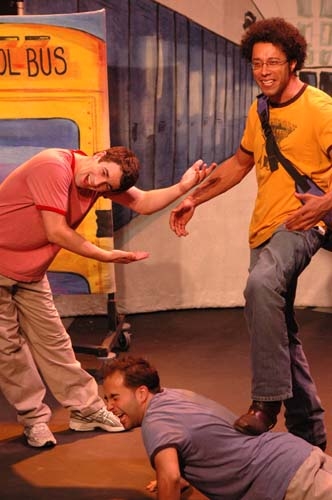 Stephen Stocking, Bill DeMeritt, John Magalhaes
Stephen Stocking, Bill DeMeritt, John Magalhaes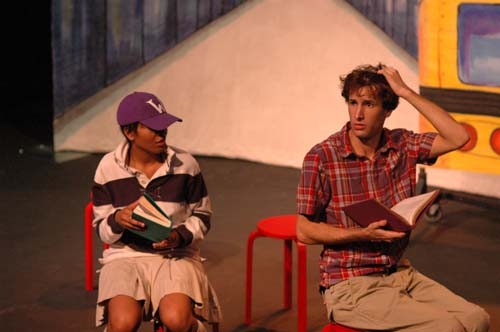 Monique Beasley and Scott Lilly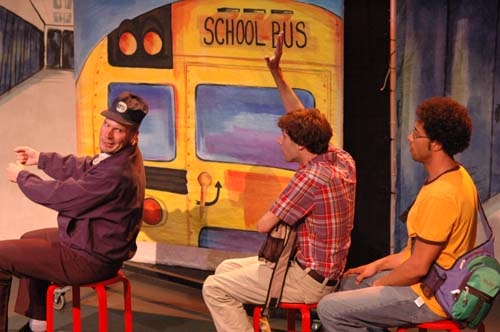 Kyle Minshew, Scott Lilly, and Bill DeMeritt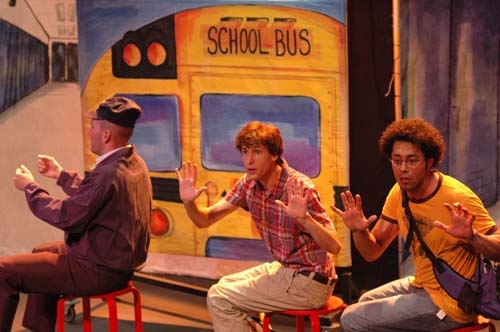 Kyle Minshew, Scott Lilly, and Bill DeMeritt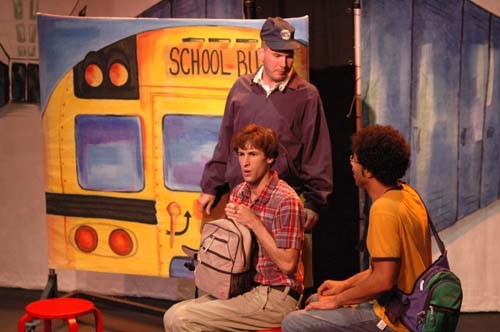 Kyle Minshew, Scott Lilly, and Bill DeMeritt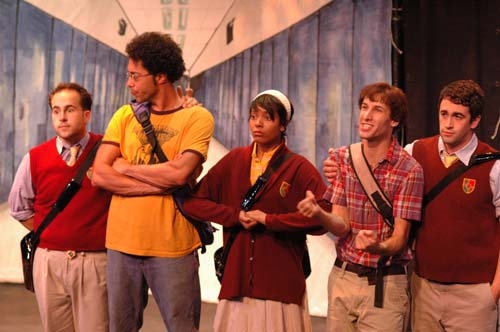 John Magalhaes, Bill DeMeritt, Monique Beasley, Scott Lilly, andStephen Stocking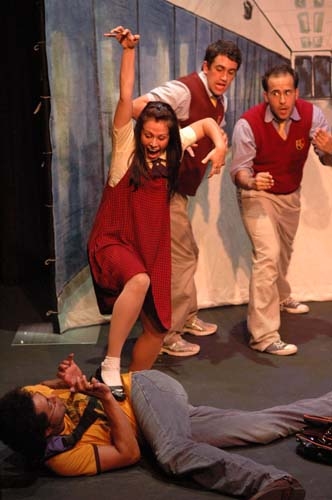 Bill DeMeritt, Diane Zel, Stephen Stocking and John Magalhaes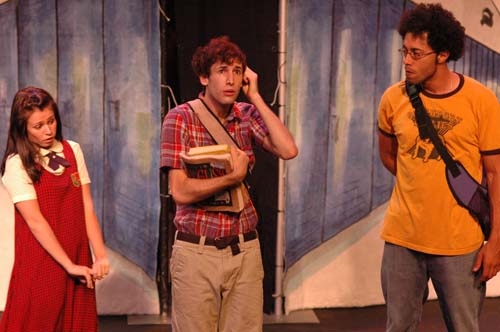 Diane Z, Scott Lilly, and Bill DeMeritt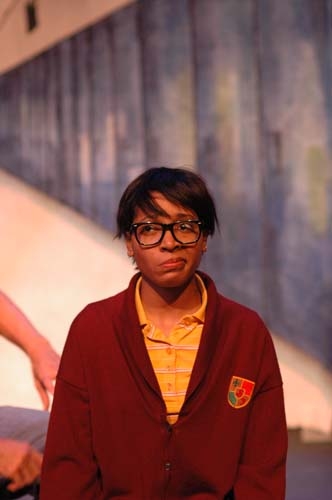 Monique Beasley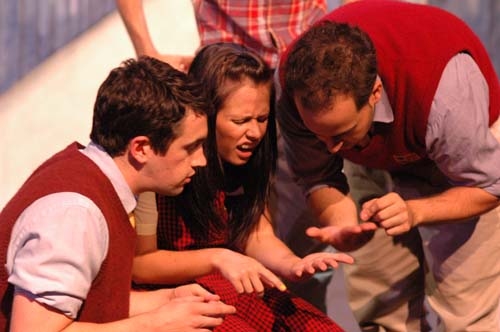 Stephen Stocking, Diane Z, and John Magalhaes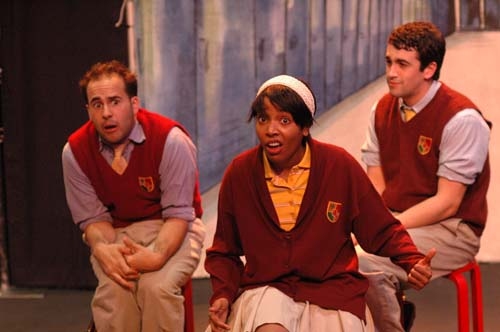 John Magalhaes, Monique Beasley, Stephen Stocking
Monique Beasley, Bill DeMeritt, Stephen Stocking and Diane Z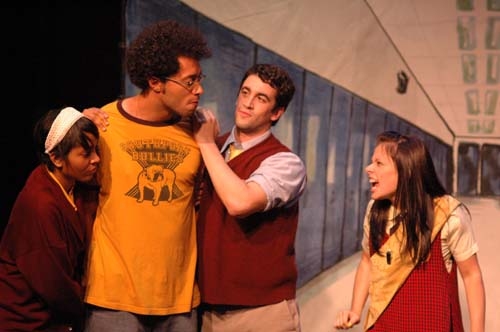 Monique Beasley, Bill DeMeritt, Stephen Stocking and Diane Z
Bill DeMeritt and Scott Lilly
Bill DeMeritt and Scott Lilly
Bill DeMeritt, Scott Lilly, and Diane Z
John Magalhaes, Bill DeMeritt, Monique Beasley, and Stephen Stocking
Scott Lilly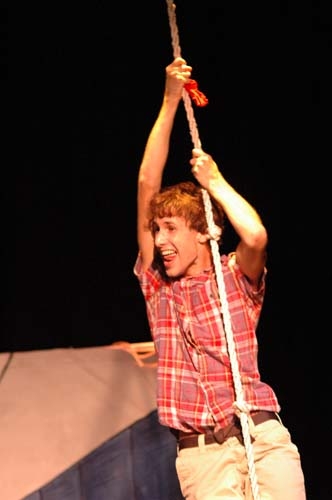 Scott Lilly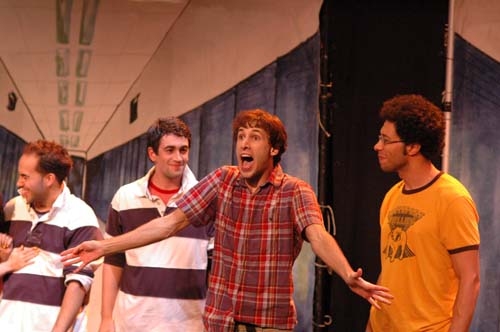 John Magalhaes, Stephen Stocking, Scott Lilly, and Bill DeMeritt
Stephen Stocking, Scott Lilly, and Bill DeMeritt
Related Articles
More Hot Stories For You