Photos: Negro Ensemble's CABARET EMIGRE, Opening at Theatre Row, 11/2
The Negro Ensemble's "Cabaret Émigré," a stageplay by Sophia Romma, will make its debut on November 2 at 8 pm at the Lion Theater in NYC's theater district. A satirical story about emigrants who have traveled to the U.S. throughout the 1900s, the play spotlights a Russian Jew, African, Latino, German and various other émigrés who made this difficult travel in pursuit of the American Dream. The show makes the audience question: Did they achieve this dream? Was it worth it? And, just in time for New Yorkers to decide which president will help them to achieve their goals in the upcoming years. The show runs through Sunday, November 18. 
Get a first look at the production in the photos below!The play is directed by
Charles Weldon
, Artistic Director of the Negro Ensemble (NEC), and member since 1970 having performed in over 40 NEC productions and directed such plays as, "Colored People Time" by
Leslie Lee
, "Savanna Black and Blue" by
Raymond Jones
, "The Waiting Room" by
Samm-
Art Williams
and "Ceremonies in Dark Old Men" by Lonnie Elder. Weldon saw the reading of "Cabaret Émigré," at that time called "Doroga" or Russian for "the road," at the Dramatist's Guild. He was attracted to the play's theme of being an unwelcome stranger in a strange land. In 2010, at The Cherry Lane Theater, Weldon directed "With Aaron's Arms Around Me and The Mire," an evening of two one-acts by Sophia Romma, both of which dealt with themes of intolerance from an émigré's perspective. "Cabaret Émigré" explores each character's inner-most feelings on emigrating in the setting of a coarse cabaret. Romma ties each ethnicity and culture together through the characters common, never-ending feeling of displacement in a new country. Written in the rhythmic beat called Quantum Verse, the characters experience great turmoil, from a Columbian drug lord throwing a Latino and Russian Jew overboard into the sea to a Nigerian butcher in a boxing match with an Irish drunk. The play is based on interviews that Romma conducted with other émigrés last October in preparation for a play she was drafting for the Women's Initiative of the
Dramatists Guild
. After interviewing Russian and Ukrainian immigrants, a Mexican and a Nigerian, Romma saw the setting of a cabaret most fitting for the telling of these tales, and as a place where émigrés would amuse each other with their individual stories. The emigré experience is one in which Romma can relate, having relocated with her mother from Moscow to the US in 1979. "You don't know where your community is," she says. "Where you belong nationally is eradicated. You get confused and dislocated. Every single person I have come across had the same experience." Romma is author of the film "Poor Liza," directed by Slava Tsukerman starring Oscar Winners
Ben Gazzara
and
Lee Grant
. She has had three productions at
La Mama E.T.C.
: "Love, in the Eyes of Hope, Dies Last" (1997), a journey through contemporary Jewish/Russian immigration in a series of eight playlets, "Coyote, Take Me There!" (1999), a surrealistic work on the ordeal of immigration and the corruption of the American dream, and "Defenses Of Prague" (2004), a story of revenge set among the gypsies in 1968, on the brink of the Soviet invasion of Prague. Her last production, "With Aaron's Arms Around Me and The Mire," contained one original scenario ("With Aaron's Arms Around Me") and one loosely adapted from Chekhov ("The Mire"). The
Negro Ensemble Company
, Inc. (NEC) is an organization formed in 1965, which provides African-American, African and Caribbean professionals in the theatrical community with support, work and growth opportunities. The NEC has produced more than two hundred plays including, "A Raisin in the Sun" and Tony award winning "River Niger," and several of Romma's plays, "Coyote, Take Me There!" and "Defenses of Prague." In presenting plays by Sophia Romma, The
Negro Ensemble Company
continues its mission to explore and expose intolerance and bigotry. Theatre Row is a collection of newly renovated historic theatres in Time Square including The Acorn theatre, The Beckett Theatre, The Clurman Theatre, The Kirk Theatre, The Lion Theatre and The
Studio Theatre
. It is owned and operated by the 42nd Street Development Corporation. Theatre Row Studios is on 410 West 42nd Street in Manhattan.Tickets can be purchased 
HERE
.
Photo Credit: Adele Bossard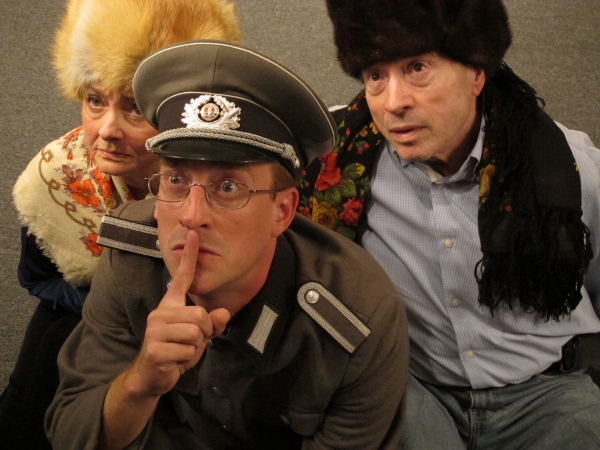 Carolyn Seiff, Grant Morenz and Allan Mirchin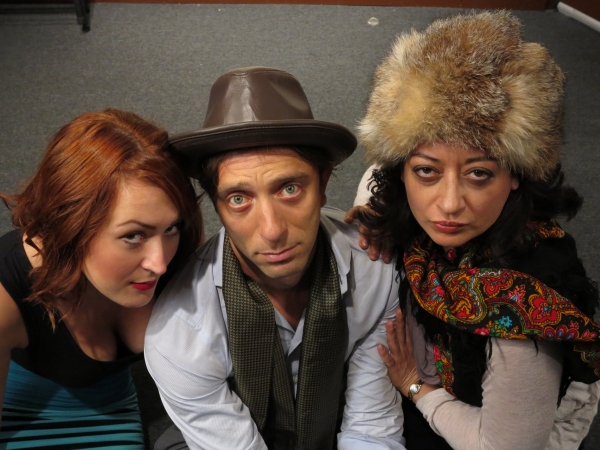 Dana Pelevine, Tosh Marks and Adriana Sananes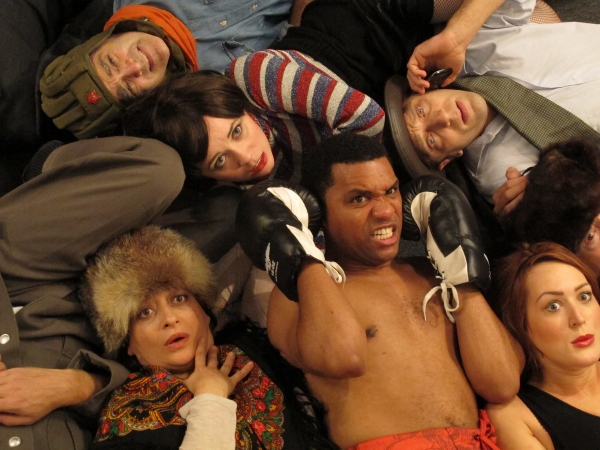 Clockwise from top left: Randy Schein, Gwenevere Sisco, DeLance Minefee Tosh Marks, Dana Pelevine and Adriana Sananes