Photo Flash: Cast of BEDBUGS!!! Performs in Times Square
Written by composer, Paul Leschen with book & lyricist Fred Sauter with direction and choreography of Robert Bartley with musical supervision by Deborah Hurwitz. Bedbugs!!! began performances on September 9 and opened on September 14 and was originally set to end it run on October 26, due to popular demand, will now extend its run at the UWS's ArcLight Theatre (152 West 71 Street) through November 2, 2014. The cast of Bedbugs!!! performed at Times Square in Ripley's Believe it Or Not this past Saturday, and you can check out photos of the appearance below!
Bedbugs!!! is the award winning girl-meets-bug sci-fi-rock-musical-comedy. Carly, an exterminator, is hell-bent on avenging her mother's bedbug-related death. In an effort to permanently rid the city of its infestation, she accidentally mutates the pests into an army of human-size, intelligent, carnal creatures out for blood and world domination.
Leading the cast are Chris Hall (Jessie's Girl at Poisson Rouge, Revision Theatre's Rocky Horror Show) as Cimex, Grace McLean (Natasha, Pierre and the Great Comet of 1812) as Carly, Brian Charles Rooney (Bway: The Threepenny Opera) as Dionne Salon and Nicholas Park(Mr. Irresistible, Dear Edwina) as Burt; the cast also includes Danny Bolero (Bway: In the Heights, Joseph and the Amazing Technicolor Dreamcoat), Tracey Conyer Lee (Sistas: The Musical, TV's "SMASH"), Barry Shafrin (WikiMusical Regional: Good News), Gretchen Wylder (Til Divorce Do Us Part, Regional: Avenue Q) Courtney Bassett (POP! (Who Shot Andy Warhol?) ) and Colin Scott Cahill (Regional:Damn Yankees, Into The Woods).
The creative team includes costume design by Philip Heckman, lighting design by Kirk Fitzgerald, scenic design by Adam Demerath,sound design by Ed Chapman, wigs, hair and make-up design by Bobbie Cliffton Zlotnik, props design by Cameron Pate andAdam Roberts is the associate choreographer and Emily Cates is the production stage manager.
Photos courtesy of Bedbugs!!!

Colin Scott Cahill, Danny Bolero, Courtney Bassett, Gretchen Wylder, Barry Shafrin and Nicholas Park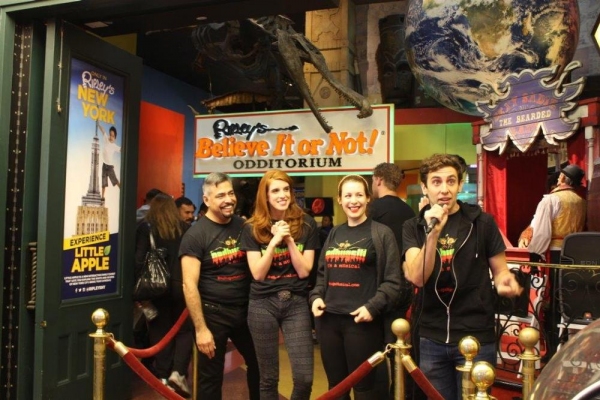 Danny Bolero, Courtney Bassett, Gretchen Wylder, and Nicholas Park

Composer Paul Leschen, Danny Bolero, Courtney Bassett, director Robert Bartley(back) Gretchen Wylder, producer Dale Joan Young, Colin Scott Cahill (back), Barry Shafrin (back) and Nicholas Park

Cast of Bedbugs!!! in front to Times Square Ripley�s Believe It Or Not

Cast of Bedbugs!!! in front to Times Square Ripley�s Believe It Or Not