Photo Flash: BALLROOM WITH A TWIST Stars Visit RUTHLESS! Off-Broadway
The cast of Off-Broadway's smash hit Ruthless! The Musical met the stars of the live dance sensation BALLROOM WITH A TWIST, which is currently touring the country. And the sparks flew! It was a love-fest for the talented showmen and women after the August 10th performance of RUTHLESS! when the stars of both of both shows mingled and posed for photos. Scroll down for backstage shots!
BALLROOM WITH A TWIST features top contestants from TV's "Dancing with the Stars," "So You Think You Can Dance" and "American Idol," including Chelsie Hightower, Dmitry Chaplin, Legacy, Von Smith, Jacque LeWarne, Emily James, Jonathan Platero, and Nick Garcia.
RUTHLESS! opened Off-Broadway July 13th to unanimous rave reviews led by Entertainment Weekly which called the show, "Uproarious! A mash-up of THE BAD SEED, GYPSY, ALL ABOUT EVE, plus the films of Douglas Sirk and John Waters!" Book and lyrics are by Joel Paley with music by Marvin Laird. Joel Paley also directed the original production of RUTHLESS! as well as productions in L.A., South Beach and the record-breaking concert event starring Bernadette Peters. He once again serves as director of the new production, with Marvin Laird on board as music supervisor as well.
When THE BAD SEED meets GYPSY, it's fun for the whole dysfunctional family! Tina Denmark is a pretty, charming and diabolical eight-year-old who "was born to entertain." With the encouragement of slick and overbearing potential agent Sylvia St. Croix, Tina will do anything to play the lead in her school play. The question is, where does such remarkable talent and unstoppable ambition come from? The answer is shocking in this award-winning Stage Mother of all musicals.
RUTHLESS! first appeared Off-Broadway 23 years ago at the Players Theatre, winning both the Drama Desk Award for Best Lyrics and the Outer Critics Circle Award for Best Musical. Most notably, the production featured a few young girls in the role of Tina including Britney Spears, Natalie Portman and Laura Bell Bundy. The show continues to be a favorite among regional theaters and productions are continually being staged around the globe.
But make no mistake - this is not your mother's RUTHLESS! This is no mere revival, but a newly imagined meditation on narcissism, talented tykes and stage mothers in a world that has since been introduced to such gems as "Toddlers & Tiaras" and 'Honey Boo Boo.'
Featured in the cast of RUTHLESS! are Kim Maresca (Westport's TWELFTH NIGHT), Paul Pecorino (DEVIL BOYS FROM BEYOND, THE ROCKY HORROR SHOW), Rita McKenzie (ETHEL MERMAN'S BROADWAY, RUTHLESS! L.A.), Andrea McCullough(URINETOWN, GREASE), Tracy Jai Edwards (HAIRSPRAY, LEGALLY BLONDE), and introducing Tori Murray (Paper Mill's NEW VOICES OF 2014: OH, WHAT A NIGHT!)

The RUTHLESS! company with stars of BALLROOM WITH A TWIST

MAGDA FIALEK, KIKI NYEMCHEK, PAUL PECORINO, JENYA SHATILOVA, NICK GARCIA, JACQUE LEWARNE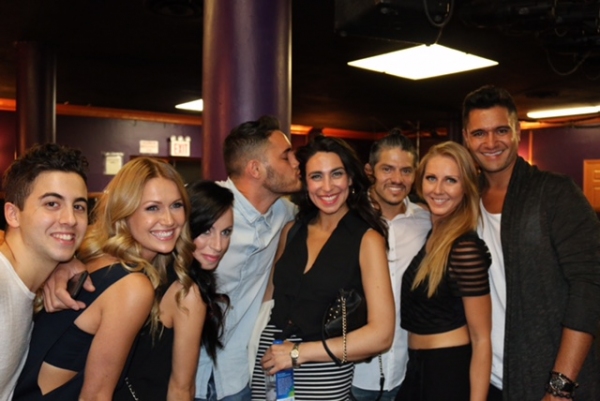 NICK GARCIA, JANA SAPIR, NIKKI GREEN, CJ BAIR, KIM MARESCA, LEGACY, PATRICIA KANIOWSKI, TONY PUTUTAU

RITA McKENZIE (center) surrounded by stars of BALLROOM WITH A TWIST