New Yiddish Rep's RHINOCEROS Enters Final Week Off-Broadway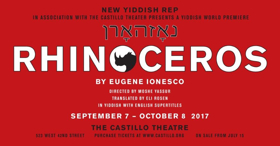 The Yiddish world premiere of Eugene Ionesco's Rhinoceros will conclude its acclaimed limited run this Sunday, October 8th at the Castillo Theatre, 543 West 42 Street(between Tenth & Eleventh Aves.) The production opened September 14th to excellent reviews.
Called "an allegory for our times" by The New York Times, Ionesco's Rhinoceros is generally cited as one of the main influences of Theatre of the Absurd. Nearly 60 years since its premiere, Rhinoceros merges the sublime with the ridiculous in a savage commentary on the human condition where an individual citizen of a small town watches his friends turn into Rhinoceroses one by one until he alone stands unchanged. The cast of Rhinoceros features Alec Burko, Amy Coleman, Macha Fogel, Malky Goldman, Sean Griffin, Chezky Israeli, Mira Kessler, Caraid O'Brien, Eli Rosen, Gera Sandler, and Luzer Twersky. Rhinoceros is performed in Yiddish with English supertitles.
Eugene Ionesco (1909 - 1994) was one of the foremost figures of the French avant-garde theatre. Among his most popular plays are Rhinoceros, THE BALD SOPRANO, THE LESSON, THE CHAIRS, AND THE KILLER.
A veteran of both the Yiddish and modern theatre, director Moshe Yassur, who was born in Ia?i, Romania (the cradle of the Yiddish theatre), worked for several years with Jean-Marie Serreau at the Théatre de Babylone in Paris, taking part often as assistant director in several first productions of Beckett and Ionesco. In New York Yassur was a protege of Woody King Jr., directing at the New Federal Theatre, and he helmed New Yiddish Rep's acclaimed productions of WAITING FOR GODOT and DEATH OF A SALESMAN.
RHINOCEROS marks the second Yiddish world premiere at New Yiddish Rep following their 2013 Off-Broadway production of WAITING FOR GODOT, which was subsequently presented in Paris and at the Beckett Festival in Northern Ireland. New Yiddish Rep is dedicated to creating modern theater which speaks to a diverse contemporary audience, including those who never might have thought they could connect to a performance in a language other than their own.
For more information, visit www.NewYiddishRep.org.