Nationwide Search Underway To Cast Michael Scott In THE OFFICE! A Musical Parody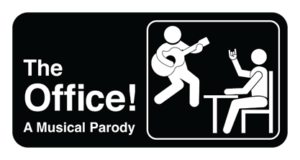 There is a BIG opening (that's what she said) in the cast of The Office! A Musical Parody (www.theofficemusicalparody.com).
Producers have announced a nationwide search for the lead role of Michael Scott! Are you the world's best boss? Visit www.theofficemusicalparody.com/michael for more information. Audition videos must be received before Monday, August 20 to be considered. Because Dunder Mifflin firmly believes in Diversity Day: all genders, ages and races will be considered for this role. The Office! A Musical Parody is premiering at the renowned Jerry Orbach Theater in New York City on September 20.
"Are you the next Regional Manager for Scranton's 3rd largest paper company? Seeking a handsome, strong, handsome, funny, handsome world's best boss," says writers and creators Bob and Tobly McSmith. "Must be a triple threat: singer, dancer, paper lover. No babies, scabies, or rabies. Must know how to power point. ALL PEOPLE NAMED TOBY NEED NOT APPLY."
The creative team and cast members were also announced today for the show, which kicks off its New York residency at The Jerry Orbach Theater (1627 Broadway at 50th Street) on September 20 for an open-ended run of five weekly performances.
Cast members for The Office! A Musical Parody include:
Dwight: Michael Santora
Jim/Andy: Tom McGovern
Pam/Erin: Taylor Coriell
Angela/Others: Katie Johantgen
Phyllis/Meredith/Others: Rebecca Mason-Wygal
Kelly/Others: Ani Djirdjirian
Swing: Madeline Glenn
Swing: Patrick Swailes Caldwell
Bob and Tobly McSmith (Writers/Creators) are distinguished gentlemen who met while applying for jobs at the Dippin' Dots in the mall. They did not get the job but went on to create the following masterpieces: FRIENDS! The Musical Parody, Bayside! The Saved by the Bell Musical, Full! House! The Musical (Starring Perez Hilton), Katdashians! The Musical, Showgirls! The Musical and JonBenet! Murder Mystery Theater. They are hard at work on their next musical: The Passion of the Teletubbies.
The Office! A Musical Parody tickets range from $35.00 - $77.00 and are available through Ticketmaster or at The Jerry Orbach Theater box office (212.921.7862). Premium seating includes exclusive access to the stage after the show where you will have the chance to meet the actors and take photos "inside" Dunder Mifflin.
The performance schedule for The Office! A Musical Parody is: Wednesdays at 7:30pm, Thursdays at 7:30pm, Fridays at 9:30pm, Saturdays at 7:30pm and Sunday at 2:00pm and/or 5:00pm.
In The Office! A Musical Parody, it's a typical morning at Scranton's third largest paper company until, for no logical reason, a documentary crew begins filming the lives of the employees of Dunder Mifflin. Don't miss this hilariously loving lampoon of your favorite TV show! Step into Dunder Mifflin in this immersive parody experience and "work" with all your favorite officemates.
More Hot Stories For You