Michael Stuhlbarg, Austin Smith, Among Initial Cast of SOCRATES at The Public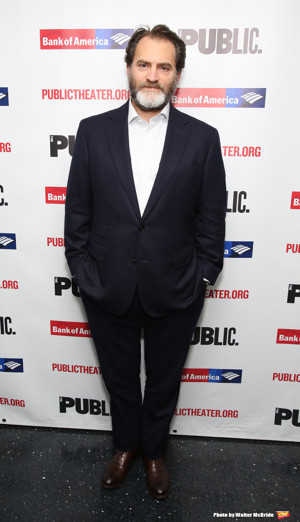 The Public Theater announced initial casting today for the world premiere of Socrates, written by acclaimed actor, director, and writer Tim Blake Nelson. Directed by Tony Award winner Doug Hughes, the powerful new play will begin with a Free First Preview performance on Tuesday, April 2 and run through Sunday, May 19 with an official press opening on Tuesday, April 16.
Initial casting for Socrates includes Dave Quay (Diokles, Meletus), Austin Smith (Alcibiades), Michael Stuhlbarg (Socrates), Joe Tapper (Agathon, Meno), and Andrew Weems (Proxenus, Gorgias, Aristophanes). Complete casting will be announced at a later date.
"Given its physical, emotional, and technical demands, this role might have been next to impossible to cast," said playwright Tim Blake Nelson. "Luckily, I've known Michael since drama school, and was able to bring him in to read the part in my living room when the play was only a first draft. He's the only actor I envisioned to play this complex character, and I'm ecstatic he will now bring his nearly unparalleled talents to Doug's and The Public's production of the play leading this exquisite cast."
SOCRATES is a witty and endlessly fascinating new drama about a complicated man who changed how the world thought. This powerful new play by actor, director, and writer Tim Blake Nelson (O Brother, Where Art Thou?; Holes) is an intellectual thrill ride from the philosopher's growing prominence in democratic Athens through the military and social upheavals that led to one of the most infamous executions in Western history. Tony Award winner Doug Hughes (Doubt, Junk) directs Socrates, a timely and timeless new work that serves as a passionate tribute to the man who continues to inspire us to question authority and defend freedom of belief. Socrates is made possible with the generous support of the Onassis Cultural Center NY and Onassis Foundation USA.
Tim Blake Nelson (Playwright), a veteran actor, playwright, and filmmaker, next stars in the Coen Brothers' western anthology film, The Ballad of Buster Scruggs, releasing November 9 theatrically and November 16 on Netflix, which reunites him with the Coens for the first time since O Brother, Where Art Thou? He is also currently in production on HBO's highly-anticipated "Watchmen." His remarkable filmography spans over 80 features including films by legendary filmmakers Steven Spielberg, Ang Lee, and Terrence Malick, to name a few. He has appeared onstage at MTC, Playwrights Horizons, MCC, NYTW, Soho Rep, and The Public's Delacorte Theater in Free Shakespeare in the Park. As a playwright, his works include Anadarko, The Grey Zone, and Eye of God, the latter two of which he also adapted and directed as feature films. His other film and TV directorial efforts include Lionsgate's O, a modern retelling of Othello; Millennium's Leaves of Grass; IFC's Anesthesia; and Amazon's "Z."
Doug Hughes (Director). His Broadway productions include Junk, The Father, Outside Mullingar, The Big Knife, An Enemy of the People, Born Yesterday, Elling, Mrs. Warren's Profession, Oleanna, the Tony-nominated revival of The Royal Family, A Man for All Seasons, Mauritius, the Tony-nominated revival of Inherit the Wind, A Touch of the Poet, Frozen (Tony nomination, Best Director), andDoubt, for which he won the Tony Award for Best Director. Off-Broadway productions include Dan Cody's Yacht, Incognito, The City of Conversation, Death Takes a Holiday, The Whipping Man, An Experiment with an Air Pump, Flesh and Blood, and Defiance. In addition to the Tony, he has been awarded Drama Desk, Outer Critics Circle, Lucille Lortel, Obie, and Callaway Awards for his productions.
Dave Quay (Diokles/Meletus) has appeared at The Public in The Low Road and Row. His additional Off-Broadway credits include The Heir Apparent(Classic Stage) and Donogoo (Mint). Regionally he has appeared at the Dorset Theatre Festival, Shakespeare Theatre Company, New Jersey Symphony, Chautauqua Theater Company, Georgia Shakespeare Festival, and Alliance Theatre. His film and television credits include The Unsilent Picture, Until Next Time (upcoming), "Looming Tower," "Bull," "Gotham," "Blindspot," "House of Cards," "Royal Pains," "Unforgettable," "Forever," and "Drop Dead Diva." He has also appeared at the Big Apple Circus.
Austin Smith (Alcibiades) has appeared on Broadway in Hamilton and Off-Broadway in Zürich (New York Theatre Workshop), How to Transcend a Happy Marriage (Lincoln Center Theater), and An Octoroon (Theatre for a New Audience). His television credits include "Random Acts of Flyness" and "Odd Mom Out."
Michael Stuhlbarg (Socrates) has appeared in 10 plays with The Public, including title roles in Hamlet and Richard II, Measure For Pleasure, Twelfth Night, and The Winter's Tale. His Broadway credits include The Pillowman (Tony nomination, Drama Desk Award), The Invention of Love, Cabaret, Taking Sides, Saint Joan, Timon of Athens, and The Government Inspector. He has appeared Off-Broadway in 10 plays including The Voysey Inheritance (Atlantic Theater-Obie, Callaway Awards). His film credits include The Shape of Water, Call Me by Your Name, The Post, Miss Sloane, Doctor Strange, Arrival, Miles Ahead, Trumbo, Steve Jobs, Cut Bank, Pawn Sacrifice, Blue Jasmine, Lincoln, Hitchcock, Seven Psychopaths, Hugo, Men In Black III, A Serious Man (Golden Globe nomination), and the upcoming Shirley. His television credits include "The Looming Tower" (Emmy nomination), "Fargo," "Transparent," "Boardwalk Empire," and the upcoming "Jerusalem" (Netflix).
Joe Tapper (Agathon/Meno) has appeared at The Public in Henry V and A Midsummer Night's Dream. He has appeared on Broadway inYou Can't Take It With You and Off-Broadway and regionally at Gym at Judson, Esperance Theater Company, Cherry Lane Theatre, Shakespeare & Company, Berkshire Playwrights Lab, 59E59 Theaters, Mabou Mines/La Mama, Studio 42, Huntington Theatre Company, Pioneer Theatre, Yale Repertory Theatre, and the Edinburgh Fringe Festival. His television credits include "Chicago Med," "Blue Bloods," "Masters of Sex," "American Odyssey," "Taxi Brooklyn," and "Law & Order: SVU."
Andrew Weems (Proxenus/Gorgias/Aristophanes) has appeared at The Public in Manahatta. His Broadway credits include The Green Bird, Inherit the Wind, London Assurance, and Born Yesterday. He has appeared Off-Broadway in A Man's a Man (CSC); Blood and Gifts (LCT); The Heart is a Lonely Hunter, Bach at Leipzig (NYTW); The Broken Heart, Troilus and Cressida, Cymbeline, Pericles (TFANA); and Telethon (Clubbed Thumb). His regional credits include Uncle Vanya (Guthrie); Who's Afraid of Virginia Woolf? (Center Stage); The Merchant of Venice, (NJ Shakespeare); and the upcoming Kleptocracy (Arena Stage). He has appeared as an author and performer inNamaste Man (Intiman, BCT, Two River) and Damascus (4th Street, BCT).
SOCRATES begins performances in The Public's Martinson Theater on Tuesday, April 2 and will run through Sunday, May 19 with an official press opening on Tuesday, April 16.
The performance schedule is Tuesday through Friday at 7:30 p.m. and Saturday and Sunday at 1:30 p.m. and 7:30 p.m. (There is no 1:30 p.m. performance on Saturday, April 6).

Tickets for Socrates will be available at a later date. For more information, visit www.publictheater.org.
Photo Credit: Walter McBride / WM Photos